Fines over Russia tennis player bans factor in LTA loss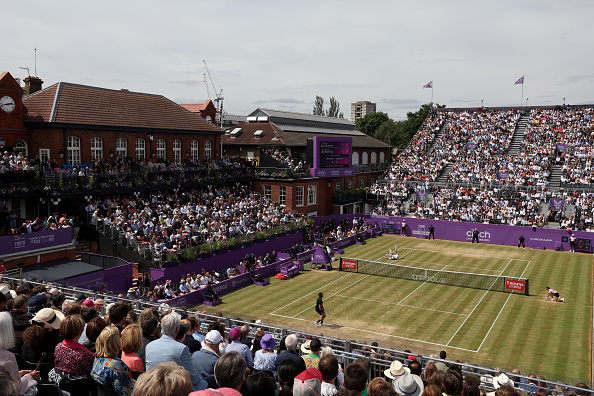 The fines imposed on the Lawn Tennis Association (LTA) due to their banning of players from Russia and Belarus in 2022 have contributed to the organisation's financial loss.
Last year the LTA implemented the ban which meant players from the two countries were unable to play in pre-Wimbledon grass-court tournaments.
Wimbledon's All England Lawn Tennis Club (AELTC) also banned players from the two countries, though that ban has been lifted for this year's Championship.
The bans came as a result of Russia's illegal invasion of Ukraine in 2022, some of which was launched from Belarus.
The major LTA pre-Wimbledon tournaments include Queen's and the Eastbourne International.
As a result of the ban the LTA was slapped with fines by the ATP and WTA – the men's and women's tour organisers – equating to around £1.3m and were further threatened with a ban on hosting events – such as in Nottingham and Birmingham – in the future.
The organisation's chief executive Scott Lloyd has confirmed that the LTA will make a loss for the 2022 financial year and said the fines have impacted how the group would have spent that money.
"We would have spent those funds in a different way. We'd rather not invest them in fines," he said.
"Does it mean we have fundamentally retracted from our performance competition calendar in 2023? No, because we feel so strongly that is the right thing to do and the right thing to continue to invest in, so we have prioritised doing so.
"It does mean there is activity elsewhere that we've had to slightly pull back on across a wide range."
The LTA are appealing the WTA fine and hoping for a rebait of around £300,000 according to PA – they are also asking for a reduction from the ATP.
Britain's bids to host the Davis Cup Finals and Billie Jean King Cup Finals also contributed to the loss.
"We think it was an important show of commitment and support to those events, and to our teams, but also to maintain and build on the momentum that we've got right now in British tennis," Lloyd added.
"They came at a bit of a cost but we would do it again."
In April last year, an LTA statement read: "The LTA is today united with the All England Lawn Tennis Club in announcing a ban on all Russian and Belarusian players at its events.
"After careful consideration the LTA believes that tennis must join many other areas of sport and public life in sending a clear signal to the Russian and Belarusian states that their actions in Ukraine are the subject of international condemnation."