Many horror films begin with an opening period of calm serenity. 
A group of fresh-faced innocence teenagers go to a cabin by a lake. A family check into a remote, eerie, cobweb-filled mansion. A group of friends head off on a road trip across the barren countryside. 
Initially the characters go about their lives with a degree of certainty, and yet, despite their attempts, there's no lulling the audience into a false sense of security because they are fully aware of what is to come. After all, they bought a ticket to watch a film with a foreboding title and a scary image on the poster.
Read more: Why Trevor Bayliss leaves behind a lopsided legacy with England
On day one of the fifth Ashes Test against Australia at The Oval today England may have reached 169-3 at tea, underneath blue skies and on the truest batting wicket in the country, but no-one was kidding themselves. We knew what was coming. 
Like someone walking into the cinema to see a horror film we knew what we had signed up for. England fans take nothing for granted. 
Grim predictability
After winning the toss, Australia captain Tim Paine may have made, at best, a bold decision to bowl first.
With the Ashes already retained he may have offered an olive branch to England, handing them the best opportunity to recover from the decisive defeat at Old Trafford and level the series at 2-2.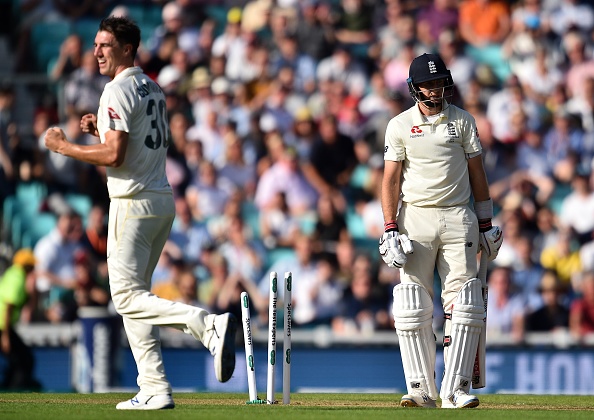 But when England bat there's always danger lurking just around the corner. There's always a possessed doll in the mirror's reflection, a murderous axe man in the bathroom, or a ghost looming outside the window. 
And so, with grim predictability, after fans returned to their seats, 169-3 turned into 199-6 and then 226-8 as the hosts contrived to throw away the present offered to them by the opposition captain and revert to type. 
It was only Jos Buttler using his freakish white-ball strengths to put on rearguard action with batsman-tailender partnership specialist Jack Leach who ensured England reached 271-8 at the close.
First blood
We can't say we weren't warned. Joe Root made 57 before he was bowled by Pat Cummins shortly after the tea break, but, like the first blood in a horror film, it had been coming. 
Reminiscent of a shoddy script writer adding in an ominous atmosphere, moving objects and scary noises, the England captain had foreshadowed his own demise. 
Peter Siddle dropped a simple catch at long leg on 24. Paine dived in front of David Warner at first slip to shell another chance on 25. Steve Smith failed to cling onto a tough opportunity at full stretch from second slip on 30. 
But just when it looked like it might by Root's day, like he might finally convert a half-century into a full one, he was castled by the irrepressible Cummins to trigger the collapse. 
First blood had been spilled and now it was Mitchell Marsh's turn to cause chaos. 
The younger Marsh brother has the appearance of a friendly, gentle fourth seamer, but to fit into the casting of the scene he was transformed, for a six-over spell, into a pumped-up, blood-thirsty fast bowler intent on gutting England's middle order.
As he so often has in this series Jonny Bairstow missed a straight one to fall lbw for 22, Sam Curran slashed a full, wide one to Smith at second slip and Chris Woakes copied Bairstow's mode of dismissal to leave the innings in tatters at 205-7.
Flat pitch? Perfect batting conditions? Opposition dropping catches? Bowling attack operating with just three days rest since the efforts of Old Trafford? Buoyant home crowd?
No problem for this England side. Their batting really should come with a rating of 18.
Fight back
The reason the slaughter didn't turn into a full-blown massacre was Buttler's change of gear. With only bowlers for company at the other end the One-Day specialist flicked a switch, aiming huge shots at Australia's best deliveries.
Josh Hazlewood was launched for back-to-back sixes down the ground, while the deft flick was aimed over the wicket-keeper's to no avail. Undeterred, Buttler went to 50 with a powerfully-struck pull into the crowd and he continued to farm the strike with Leach to perfection.
A reverse-sweep for four of Marnus Labuschagne followed and by the time the light faded he had made 64 from 84 deliveries, putting on 45 from 11.2 overs for the ninth wicket with Leach (10 not out).
Thanks to him England are still alive and kicking in their first innings. But if they are to improve they really ought to stop ushering chaos in through the front door.
After all, if England's top order can look relatively at ease for large parts of the day, just think how many runs invincible cyborg Smith will pile up on his relentless pursuit of victory.
Main image credit: Getty Images