Crypto takes centre stage, but Bitcoin is rarely in the amateur dramatics spotlight
The week in Review
Buckle up, it's been a busy 24 hours!
Three little letters on each side of a legal equation – XRP and the SEC – managed to cause a stir yesterday when the results of the case that has been dragging on since 2020 were finally revealed.
Now, it's true to say that whichever way this went there would be major ramifications in the markets but the announcement came suddenly and, in my case, unexpectedly. The first I knew was when the monitor I use to track the price movements of the top coins suddenly presented a giant green candle against the XRP ticker. My setup is heavily geared towards Bitcoin, but the candle was so big it stood out entirely on its own merit.
Sure enough XRP was already trending on what's still left working on Twitter followed closely by Ripple and it was clear Judge Torres had handed over her judgement.
Broadly speaking, it was a win for XRP and Ripple, and, by extension, the crypto industry at large.
Now, I'll be honest. I didn't expect this. I had publicly said that I thought the most likely outcome was that XRP would be classed as a security resulting in some paperwork and a hefty fine, plus some additional ramifications for exchanges going forward. But Judge Torres says "no".
Well, mostly.
Turns out that XRP IS classed as a security when the Howey test is applied, but only when sold to institutional investors. I'm not an expert on US law by a long shot, but I rather suspect this will create some headaches with classification of "institutional" sales. I'm glad I'm not the one who is going to have to sort this out. And I suspect the legal train will continue for years yet, which, in my view, is hardly helpful for consumers, investors or the industry as a whole.
The key point is that XRP, for most of us, under US law, is NOT a security. Unsurprisingly, this news was followed almost immediately by news from all the major exchanges who had de-listed XRP in 2020/1 that they were re-listing it. At time of writing XRP is trading at around $0.80, almost double where it was yesterday.
Markets generally were buoyed by this news with a green day across the board which is largely holding up and while this is an expected initial reaction, I think the longer term impact of this has yet to be really understood or absorbed by the markets. Legally, this is fascinating.
Meanwhile Celsius announced they were "pleased" with the "resolutions reached" with various government bodies concerning their bankruptcy and a $4.7bn fine, currently suspended, in this rather odd tweet from yesterday. Helluva spin, don't you think? And not one that went down well with the people who lost money.
At the same time, former CEO Alex Mashinky has been arrested and is now facing multiple criminal charges of fraud in a fall from grace that seems to have become de rigueur over the last twelve months.
Maybe in the long term this is good for the crypto market as the mess (and it was a mess) will eventually get sorted out one way or another.
Meanwhile, Bitcoin remains completely indifferent to the whole thing as always and continues to grow quietly in the background, as this week's +6.5% jump in difficulty and a new hashrate high attests.
And all without even a whiff of a legal case in sight. Just sayin'.
Have a great weekend!
Bitcoin expert or Bitcoin novice? Either way, you're welcome to join the new BitcoinHODLers Telegram Group, designed to help people get confident with using Bitcoin as well as a bunch of great benefits for members. It's FREE to join, find out more here!
Yesterday's Crypto AM Daily
In the Markets
The Bitcoin Economy
*Data can be found at https://terminal.bytetree.com/
🌅Total crypto market cap
🔵 $1.18 trillion
What Bitcoin did yesterday
🌄 Closed $31,476
🔺 Daily high $31,814
🔻 Daily low $30,268
Bitcoin market capitalisation
🟠 BTC $606.835 billion
🟡 Gold $12.933 trillion
💳 Visa $509.58 billion
Bitcoin volume
🪣 Total spot trading volume $26.4 billion
SP500
🌅 24hrs +0.74%
Fear and Greed Index
Bitcoin's market dominance
📊 49.99
Relative Strength Index (RSI)
💪 57
Values of 70 or above indicate that an asset is becoming overbought and may be primed for a trend reversal or experience a correction in price, while 30 or below indicates an oversold or undervalued condition.
What they said yesterday
Would you like to help spread the adoption and education of Bitcoin in the UK and even stack some Sats while you're doing it? Well, now you can!
The Bitcoin Pioneers community, backed by Barry Silbert's Digital Currency Group, was created to introduce Bitcoin to a mainstream audience in a meaningful way and now has members right across the UK.
We share tips, stories and ideas on how to encourage others to try Bitcoin for the first time. And, thanks to support from Luno, each Pioneer gets £500 of Bitcoin a month to share with beginners, helping them get started.
So, if you're passionate about Bitcoin, why not join today? Click here to find out more!
All feedback on Crypto AM Daily in association with Luno is welcome via email to James.Bowater@cityam.com 🙏🏻
Crypto AM: Editor's picks
FCA's new crypto advertising rules met with mixed industry response
ChatGPT urges crypto conference panel not to become over-reliant on AI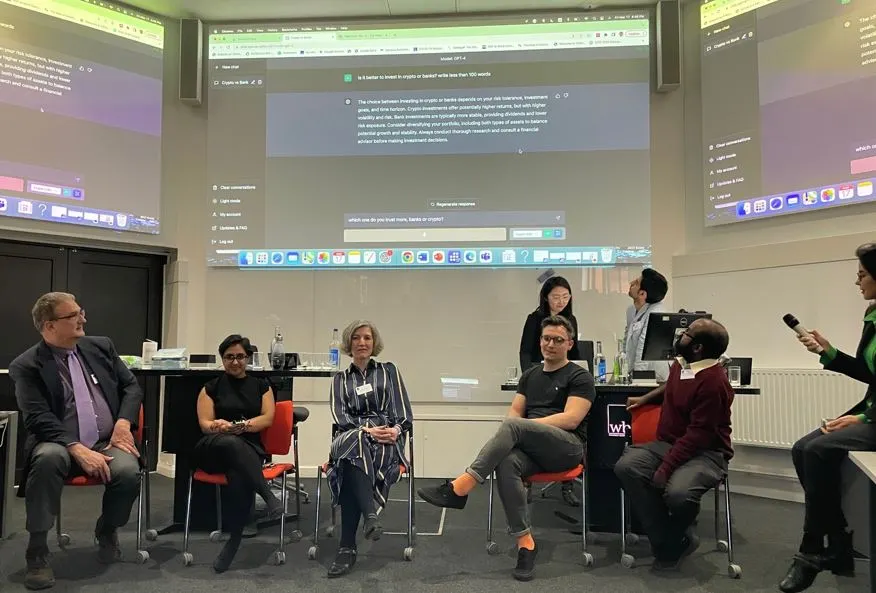 Mt. Gox customers will have to wait until November to recover lost Bitcoin funds
Sam Bankman-Fried: A tissue of lies soaked with fake tears?
Three-in-four wealth managers are gearing up for more cryptocurrency exposure
Crypto.com granted FCA licence to operate in UK
Q&A with Duncan Coutts, Principal Technical Architect at IO Global
Jamie Bartlett – on the trail of the missing 'Cryptoqueen'
MPs are falling silent over potential of cryptocurrency
Erica's 'Crypto Wars' handed honours in Business Book Awards
Crypto AM: Features
Crypto AM: Founders Series
Crypto AM: Industry Voices
Crypto AM: Contributors
Crypto AM: In Conversation with James Bowater
Crypto AM: Tomorrow's Money with Gavin S Brown
Crypto AM: Mixing in the Metaverse with Dr Chris Kacher
Crypto AM: Visions of the Future, Past & Present with Alex Lightman
Crypto AM: Tiptoe through the Crypto with Monty Munford
Crypto AM: Taking a Byte out of Digital Assets with Jonny Fry
Crypto on the catwalk
Crypto AM: Events
Cautionary Notes
It's definitely tempting to get swept up in the excitement, but please heed these words of caution: Do your own research, only invest what you can afford, and make good decisions. The indicators contained in this article will hopefully help in this. Remember though, the content of this article is for information purposes only and is not investment advice or any form of recommendation or invitation. City AM, Crypto AM and Luno always advise you to obtain your own independent financial advice before investing or trading in cryptocurrency.