Britain's Lewis Hamilton hails 'greatest moment' after securing third world drivers' championship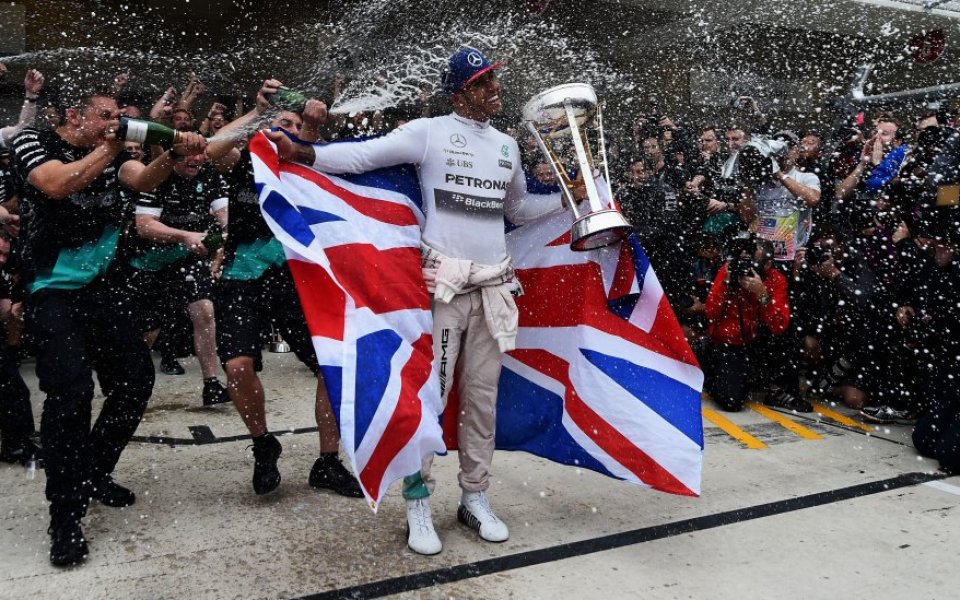 Trailblazing Lewis Hamilton was left close to tears and almost speechless after securing his third drivers' world championship with victory at a frantic United States grand prix last night.
Mercedes team-mate Nico Rosberg appeared on course to delay Hamilton's celebrations and keep the title race open until Mexico this weekend but an unforced error with seven laps remaining allowed Hamilton to seize a lead which he did not relinquish.
Victory in Austin gave Hamilton his 10th of a commanding season and allowed the 30-year-old to adopt the mantle of the first British driver in history to successfully defend his Formula One crown.
He is only the second Briton after Sir Jackie Stewart to win three drivers' titles and the 10th driver to secure championship joy on three or more occasions. Michael Schumacher leads the pantheon of champions with seven title wins.
"It's overwhelming, difficult to find the words," said Hamilton. "I remember my first British championship when my dad and I drove home singing 'We Are The Champions'. It's hard to believe I'm sat here as a three-time champion. I just can't find the right words to express the feeling. It is the greatest feeling I have ever had in my life. It is just unbelievable.
"Today was such a fun race, so many ups and downs. Nico [Rosberg] was ahead by 10 seconds at one point. I was behind, struggling with the car, but then came back with strength.
"I know it sounds crazy, but there wasn't one point during the race where I didn't believe I could do it. There wasn't a second of doubt."
Hamilton needed to outscore Ferrari's Sebastian Vettel and rival Rosberg by nine and two points respectively to secure the championship with three races to spare but that looked a distant prospect at various stages on a wet but drying track.
The lead had switched between Hamilton and Rosberg in a topsy-turvy contest, with the former slipping to fourth at one stage, before launching his fightback prior to Rosberg's decisive error.
Rosberg held off Vettel to finish second and rubber-stamp Hamilton's title. The tension between adversaries Hamilton and Rosberg, however, surfaced when the Briton threw a sponsor's cap in the direction of the German ahead of the podium, only for it to be launched straight back without much conviviality.