Theatre review: Death of a Salesman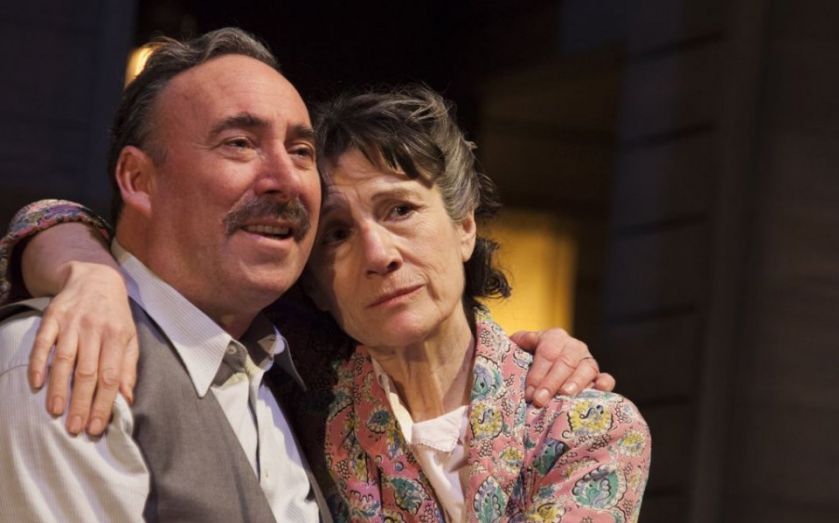 Noel Coward Theatre | ★★★★☆
Incredibly, this year is the centenary of Arthur Miller's birth, and he's still America's most famous playwright. It's incredible because Death of a Salesman – his Pulitzer Prize-winning opus on the American Dream – still reverberates around the claustrophobic walls of our 9-to-5 culture. Through Willy Loman, an everyman on the edge, he explores where the family and the self belong in the land of aspiration.
Antony Sher's Loman is a travelling salesman who desperately wants to be liked. After 30 years of service to one company, his greatest boast is that he can park his car anywhere in New England and receive a warm welcome rather than strange glances. But as he's got older, his contacts are retiring or dying and he's been reduced to working on commission alone. Stripped of his pride, he retreats into his own world where his sons admire him and his brother, stalking the stage in chilling white, like a frosty, over-ambitious ghost, urges him on to achieve greatness.
Sher is flushed throughout, his cheeks burning with a neurotic fervour. But for a man who spends a large portion of the play ranting off-stage to no one in particular, he fills the role with warmth and charisma, which only makes his fate harder to bear.
Back in reality, his wife Linda, played by Harriet Walters, sits at home, waiting for her sons to come home and save the man she loves from himself. In a staunchly faithful and traditional revival, Walters emerges as the only element of re-invention. Her role can be read as weak, a woman who defends a husband who has remained more loyal to his job than his marriage, but Walters' Linda rails against a society that doesn't reward a man for honest work, urging that "attention must be paid!"
The last – and most enduring – image of the play is her crying "We're free" after she's paid off her mortgage. It's heartbreaking, but it's also an act of rebellion, and her magnificent performance lends a note of hope to the ultimate tale of modern sorrow.