Richard Gould interview: Surrey's chief executive on T20 Blast success, The Hundred and the fifth Ashes Test
Surrey are enjoying a bumper summer, but Richard Gould is worried news of their prosperity might be getting lost among other cricket events.
The hype from England's World Cup win in July has, thanks to Ben Stokes, merged seamlessly into Ashes euphoria, creating a phenomenon Surrey have been reaping the benefits of.
The club's chief executive is still revelling in a "significant bounce" from the miraculous events across London on 14 July, with the tournament, and its free-to-air final, turning casual observers into match-going fans.
Read more: England must use Ben Stokes's miracle innings to spark Ashes fightback, says Chris Tremlett
The result is that Surrey sold out all of their T20 Blast fixtures for the first time, with 165,461 people in total watching games at The Oval. Ticket sales were up more than 12 per cent from 2018 and July was their best ever month.
It's not just one-off attendees either: Surrey memberships have increased from 7,000 in 2012 to 13,000 this year. 
It's a picture of success Gould wants to shout from the rooftops of south London. So much so that earlier in the summer he took the unusual step of getting in touch with Lancashire to release a joint statement which detailed the strength of ticket sales in the domestic Twenty20 competition.  
"We felt we needed to help get the message out there, because there have been so many other positive messages – the World Cup and the Ashes – we just wanted to make sure the success we're seeing at county level is being understood," Gould tells City A.M. in his office overlooking The Oval.
"I think that in such a busy, crowded season that county cricket will find it difficult to get traction, sometimes in the media and sometimes indeed within the ECB's own voice. We felt it was important to get that through."
Scepticism
A perennial debate rages in the parochial world of county cricket about the health of the game. The England and Wales Cricket Board have made their preventative move, with a new fourth format, The Hundred, making its grand entrance next summer in an attempt to solve some of the problems.  
Surrey were the only county out of 18 to vote against The Hundred – a "historical note" Gould is "very happy to be recognised" – and the club's chief executive since 2011 is concerned the progress in the existing short format might be undermined.
"Clearly we want to make sure T20 is recognised as the premier domestic short-form competition," he says. "Your next question will be: 'Is that because The Hundred is coming next year?'. And the answer is yes. We need to make sure T20 doesn't take a backwards step next year. 
"We want The Hundred to be successful, because it's a project the ECB is investing a lot of money into, and we've got a responsibility to make sure it is successful, but we also need to make sure that T20 continues to grow.
"Back in 2012, T20 audiences across the country were around 250,000. This year it'll be around 1m – that's not a bad growth profile, so we need to make sure there's no cannibalisation, so we use the success of the T20 to make sure crowds come along for The Hundred, because that starts after. T20 is an opportunity for a run-up."
Fractious relationship
Despite their reservations about the concept and a fractious relationship with the governing body, Surrey's iconic home ground will play host to The Oval Invincibles, as they are set to be named next summer following an ECB-commissioned marketing campaign and consultation with Surrey.
Surrey will team up with Kent to run the side and although Tom Moody has been lined up as head coach and Gould says the clubs' directors of cricket, Alec Stewart and Paul Downton, have spoken regularly, he admits there remains some confusion ahead of the player auction next month.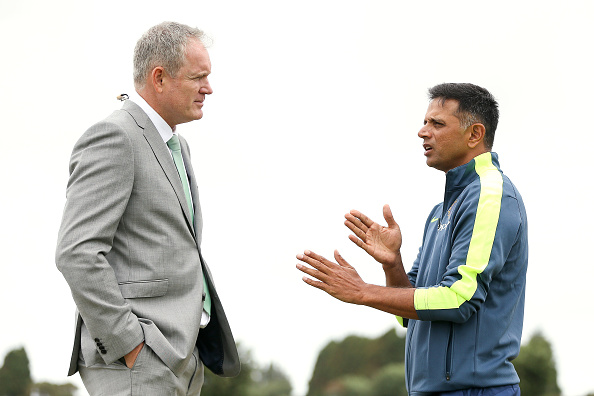 Having ruffled some feathers at the ECB, and reportedly been threatened with the stripping of hosting rights, Gould is now more diplomatic in his approach.
"Clearly there have been disagreements," he says. "Now we've moved into pragmatic delivery mode. There is still an awful lot of work to be done clearly and our role is to do as much of the heavy lifting as we can. 
"Our focus is always going to be on our club, and our club is Surrey. But we also have a huge amount of pride when we host England." 
Although they are resigned to it, the feeling remains that The Hundred is an expensive solution to a problem Surrey don't believe they have. 
"We've got a huge amount of growth," Gould continues. "The ECB have decided they want to bring in The Hundred that they hope will add to the growth. We just need to make sure that it does and doesn't go the other way, because we are cognisant of the marketing spend."
That marketing spend is quite something. The Independent reported in March that each franchise in The Hundred would be given a budget of £800,000 per year, or £200,000 per fixture. For context Gould says Surrey currently allocate £80,000 to £100,000 for their seven T20 Blast group home fixtures.
Disenfranchised
The Hundred is being touted as a new, exciting way to engage a different, younger and more diverse audience. But Gould believes the existing audience is "very loyal", "still very important" and feels "disenfranchised" by the ECB's priorities.
"The ECB have got a better understanding across the whole game, across the whole country," he says.
"I'm more likely to focus on what we've got here: of our T20 audiences, 65 per cent of them have never been to a cricket match at The Oval before. From that I know that we're engaging a new audience, as well as keeping the existing one.
"What we're doing this year is clearly working. The ECB has a wider responsibility and maybe there were some areas where they weren't getting the audiences they were expecting, and that's probably the rationale behind the decision they've made with The Hundred and new teams.
"It also probably explains our difficulties with that. However, the decision has been made and we've got to go with it."
While The Hundred is understandably a hot topic in county cricket, it is far from the only one and it isn't the biggest thing for Surrey, who after the success of the World Cup and T20 Blast are excited to host the final Ashes Test next week.
Unless England lose this week's fourth Test at Old Trafford, The Oval will stage the series decider.
Read more: Why England cannot rely on the Dukes ball to swing for them
Much like their T20 Blast fixtures, the first four days of the fifth Test are sold out, while Stokes's miracle innings at Headingley inspired a 4,000 ticket-buying burst last week, and Gould is looking forward to rounding off a historic season in style ahead of what could be a tumultuous 2020. 
"If we see a reduction in the number of people coming to county cricket, or international games then we will have failed in trying to make the most of this golden summer of cricket," he concludes. 
This summer has inadvertently raised the stakes, and with those inside the game still far from convinced, The Hundred faces a make or break period on which it must capitalise.