Remembrance Sunday 2014: Tower of London poppies extended as London commemorates WWI centenary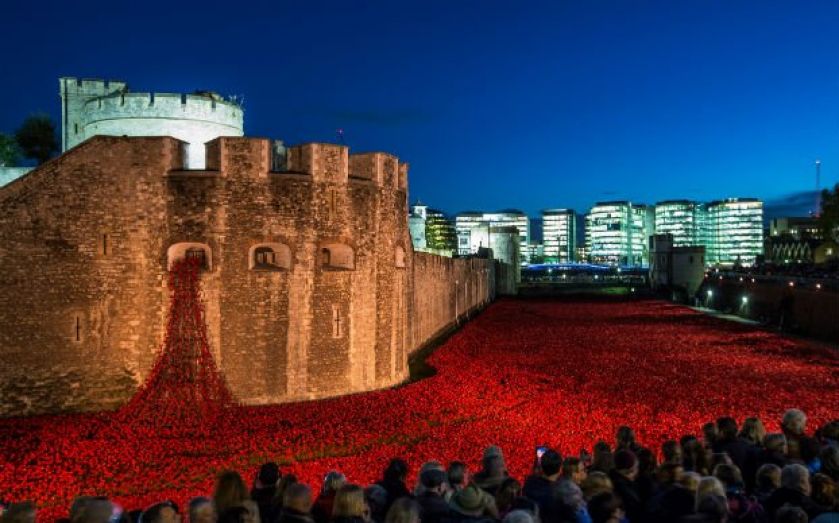 The display of poppies at the Tower of London has been partially extended after the stunning memorial attracted millions of visitors.
Part of the display of more than 800,000 ceramic poppies will remain in place until the end of November, said Prime Minister David Cameron.
The Wave and Weeping Willow segments, which includes the display of poppies as if they are falling from one of the Tower's windows, will later go on display in London's Imperial War Museum after touring the country.
The move follows a public campaign to keep the Blood Swept Lands And Seas of Red installation in place beyond the planned end date of 11 November. The Tower of London had already said it would keep the floodlights around the historic landmark on for longer, allowing more people to see the stunning display up until midnight each day.
London will pay tribute to those killed in action at remembrance services and special services across the city on Sunday and Tuesday in the year of the centenary of the First World War.
Attention will focus on the National Service of Remembrance at the Cenotaph in Whitehall, where the Royal family, political leaders, and current and former members of the armed forces will lay poppy wreaths and lead the nation's two minutes' silence in remembrance of those who lost their lives in conflicts.
From dusk on Sunday, falling poppies will be projected onto Big Ben, animating the city skyline.
Westminster Abbey displays a field of remembrance in its grounds which the public can visit until 16 November, while the Royal British Legion hosts its annual festival at the Royal Albert Hall on Saturday evening, and due to be broadcast on BBC One.
A new sculpture commemorating the WWI centenary has also been unveiled in Trafalgar Square by the charity. The 7.5 metre high Centenary Soldier sculpture will stand in the square until 16 November before a four year tour of Britain. The bronze statue was created by artist Mark Humphrey for the charity's Every Man Remembered centenary campaign and is based on the unknown soldier.
Trafalgar Square will also stage Tuesday's two minutes' silence at the eleventh hour of the eleventh day of the eleventh month, on Armistice day marking the end of WWI.
Explore the capital's commemorations below.