Qatar 2022 World Cup: The six biggest problems with the controversial tournament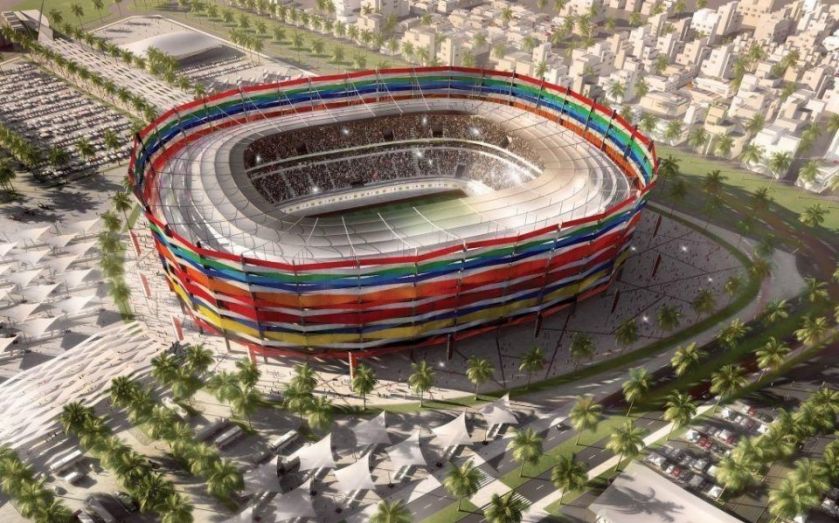 It seemed almost impossible to believe in 2010, but five years after Fifa awarded the 2022 World Cup to Qatar, the prospect of the world's biggest football tournament in the tiny gulf state is more real than ever.
Despite a litany of scandals associated with the bid and an outcry over the host country's human rights record, Fifa is pushing ahead with the controversial tournament and this week announced its "Task Force" had recommended an unconventional November – December schedule for the tournament in order to best avoid Qatar's sweltering summer heat.
At times it's been a tough task to keep up with all the reasons football fans are so opposed to the tournament. In case you needed a refresher, here are the six biggest problems with the 2022 World Cup in Qatar:
1. The date
Despite this week's media furore, a winter tournament is arguably one of least objectionable aspects of the Qatar World Cup.
England fans may be disappointed to miss out on the tops-off, lager in hand, summer sing-along atmosphere that usually accompanies the tournament, but a November – December event is only really an issue due to its conflict with the European domestic football calendar.
Many other leagues around the world have to adjust their schedules or sacrifice players for a summer World Cup, and would argue it's only fair for Europe's to take their turn.
Yet it's worth remembering that the vast majority of players who make the tournament so special for fans – and so lucrative for Fifa – come from Europe's top leagues. Around 74 per cent of all the players present at last year's tournament in Brazil came from Europe.

Considering European leagues will provide the stars whose fame Fifa will undoubtedly exploit to maximise marketing revenue (around £800m at the Brazil World Cup), it's understandable why they are feeling pretty peeved.
2. The bid
Qatar won the right to host a tournament specifically designated for the summer. Bids were developed and votes were cast for an event that was supposed to take place in June – July.
Qatar's bid for the tournament made no mention of hosting it winter. No, this is how it genuinely proposed it would combat the searing temperatures:
Each of the five stadia will harness the power of the sun's rays to provide a cool environment for players and fans by converting solar energy into electricity that will then be used to cool both fans and players at the stadia. When games are not taking place, the solar installations at the stadia will export energy onto the power grid. During matches, the stadia will draw energy from the grid.

This is the basis for the stadia's carbon-neutrality. Along with the stadia, we plan to make the cooling technologies we've developed available to other countries in hot climates, so that they too can host major sporting events.
Insisting that WC should be moved to winter = admitting that the candidate (for a summer WC) should never have been even considered.

— Sid Lowe (@sidlowe) February 24, 2015
The United States, which finished runners-up to Qatar in the voting, has a right to be annoyed that it lost to a bid which Fifa has now decided is not suited to the dates it proposed.
3. The corruption allegations
Fifa's ethics committee, which cleared Qatar to host the tournament after an investigation into allegations of World Cup, kickbacks found that while there may have been the odd dodgy dealing, any breaches of the rules were of "very limited scope".
For many it's a problem that an investigation was necessary in the first place, but doubts have been cast on Fifa's published summary of the investigation's findings after its author, Michael Garcia, described the resulting report as "materially incomplete" with "erroneous representations".
The Sunday Times has published a number of stories with claims it has obtained documents detailing payments made by former Asian Football Federation chief Mohammed bin Hammam to member confederations in exchange for votes. All those accused have denied the allegations.
4. The treatment of workers
Qatar has promised 12 shiny new stadiums in time for the tournament, yet the human cost of its ambitious construction plans is depressingly high.
The International Trade Union Confederation estimates that as many as 4,000 expatriate construction workers will die before the World Cup gets underway in 2022.
Criticism for Qatar's kafala labour system – which requires immigrant workers to have an in-country sponsor responsible for their legal status – has led to the country promising new legislation based on employment contracts, although the extent of the reforms to what has been described as "modern day slavery" remains unclear.
5. The attitude towards LGBT rights
Same-sex sexual activity is completely outlawed in Qatar, with a punishment of up to seven years in prison, or possibly even death for Muslims.
In 2013 it was reported that Qatar and other Gulf Cooperation Countries (Bahrain, Kuwait, Oman, Saudi Arabia and the United Arab Emirates) were even developing a "medical" test to detect and bar foreign homosexuals from entering the country.
But don't worry. Qatar's sports minister Salah bin Ghanem bin Nasser al-Ali has said the host country will come up with "creative" solutions to the issue of LGBT fans or players travelling to the tournament.
Al-Ali told the Associated Press last year that Qatar doesn't want to create "this impression, illusion that we don't care about our tradition and our ethical values … We are studying all these issues. We can adapt, we can be creative to have people coming and enjoying the games without losing the essence of our culture and respecting the preference of the people coming here. I think there is a lot we can do".
6. The football culture
Relatively minor compared to some of the above issues, but Qatar's complete lack of footballing pedigree or culture is far from ideal for the host of the biggest football competition on earth.
The men's national team is ranked 109th in the world by Fifa, below heavyweights such as Faroe Islands, Belarus and Iraq. Never before has it appeared at a World Cup final and only twice has the team progressed from the group stage at the Asian Cup.
With the a native population of less than 300,000, some believe Qatar will look to naturalise professionals from abroad in order to increase its chances.
That was certainly the case when it hosted the World Men's Handball Championship earlier this year, where its team finished second. Qatar had never finished higher than 16th previously, but with a team composed of former internationals from Serbia, Spain, France and elsewhere, this tournament ended in less ignominious fashion for the hosts (depending on your perspective).
Sceptics argue Qatar's well-funded Aspire Academy, which screens nearly 500,000 young players a year (mainly based in Africa) and brings the best prospects to train with European coaches in Doha, could be used for a similar purpose – although Qatar has denied the suggestion. The country's squad for the recent Asian Cup in Australia featured seven players born elsewhere.
It's not just players Qatar is lacking either: migrant workers have even been paid to watch sports events in order to fill up empty stadiums.