Par amour: Pauline Roussin thanks caddie boyfriend after winning $1m Aramco Team Series – Singapore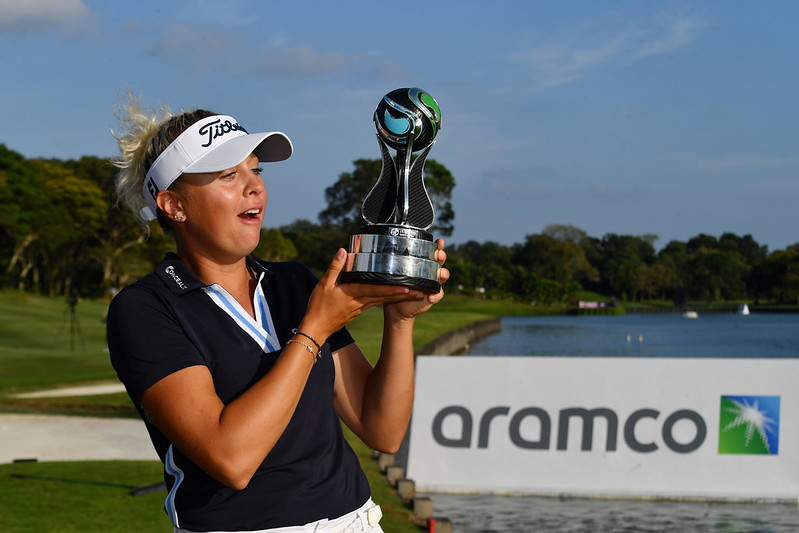 French rising star Pauline Roussin's ploy of choosing a loved one to caddie for her paid off again as she won the individual title at the Aramco Team Series – Singapore.
Roussin made eight birdies in a bogey-free final round of 64 to finish on 15 under par and see off major winners Danielle Kang and Lydia Ko at Laguna National Golf Resort Club on Saturday.
The 22-year-old had her boyfriend on her bag for the $1m tournament, her second title since turning professional and joining the Ladies European Tour in 2021.
It harked back to her approach in her first win, the Didriksons Skatfo Open, where Roussin's mother caddied for her.
"My mom was on the bag for the first time; this week was my boyfriend. I think it tells a lot about the mindset that I want to keep on the course," she said.
"It's that having fun part and being me, and doing things in a good mood, not letting the game affect that. It's not always going to be the case, I'm aware of that, but that was the mindset.
"Now after a year and a half as a pro, I have realised where I can be when I'm on top of my game and it feels good that it comes out with a win."
Roussin started the final round in a three-way share of the lead and took until the seventh hole to make her first birdie, but from thereon in she played immaculate golf.
She made consecutive birdies from holes nine to 12 and then again from 14 to 16 to finish four clear of runner-up Kang, with world No1 Ko a further shot behind in third.
"Honestly, I was just surfing the wave that was just happening," Roussin added.
"We kept it very chill with my caddie, my boyfriend, and we just talked about TV shows and what to watch, what not to watch. It kept me in a really good place during the entire round."
LET order of merit winner Linn Grant tied for fourth place with fellow Swede Elin Arvidsson in the first of five Aramco Team Series on the European circuit this season.
A day earlier in Singapore, Austrian Christine Wolf's quartet, which also featured Casandra Alexander, Eleanor Givens and amateur Katsuka Blalock, won the team competition.
Alexander rolled in the winning putt at the 18th hole to take Team Wolf to 29 under par, one shot lower than Team Roussin.
Wolf said: "We all knew we needed a birdie on the last few holes and thank god the girls pulled through. They've all played really well for the whole two days and I couldn't be prouder."
The Aramco Team Series next calls at Florida in May before the London leg in July, Hong Kong in October and the finale in Riyadh in November.