From the outside, Sessions House is a slightly menacing proposition. Squat and grimly imposing, it looks mistrustfully out onto Clerkenwell Green, seemingly miles removed from the surrounding buildings.
If you're a frequent visitor to central London, you might recognise its austere, almost gothic facade, all dreary grey brick and prison-bar windows. Upon entering the building, however, the vibe shifts dramatically from ominous to warm. You are apprehended almost immediately by a vast, coffered dome, modelled after the Roman Pantheon. Painted a pretty off-white, and with its steep central skylight surrounded by neat decorative polygons, it's more akin to something you'd find in a Renaissance Church than a central London office.
"Sometimes I do have to pinch myself, as a reminder that I am actually at work," says Charlie North, head of design at the hospitality company Ennismore, which has been headquartered at Sessions House for the past year. Ennismore is a young organisation, having been founded in 2012 by entrepreneur Sharan Pasricha, whose office-door plaque describes him as 'The Caretaker'.
The firm first made waves by renovating the ailing Hoxton Hotel in Shoreditch, and in 2015 acquired Gleneagles, home to the iconic golf course, and the centrepiece of what some (with tongue firmly in cheek) call the Scottish Riviera. Its portfolio now numbers eight hotels and spans four countries, with locations in Paris, Portland, Chicago, Amsterdam and New York set to be joined later this year by a new venture in Los Angeles.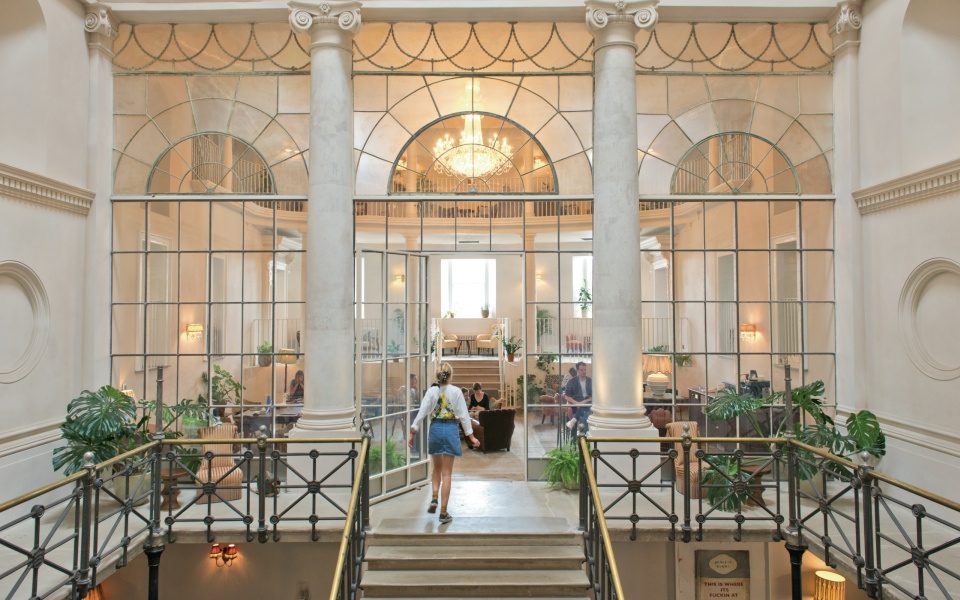 None of that, however, is as interesting as Sessions House. Beneath that monumental dome is 250 years of history, as rich and storied as any office building in the capital. Built in 1779, it began life as a magistrate's office, and was at one point the largest and busiest courthouse in Europe. New employees are given tours to acquaint them with its past, which was often rather gruesome – North tells me that executions were performed out on the Green, where families used to gather to watch their loved ones die. One story, possibly apocryphal, alleges that the building gave rise to the phrase "being sent down," because the holding cells were located in the basement.
Another, which I'm assured is true, describes how condemned inmates were dropped through a trapdoor into one of London's lost underground rivers. From there, they were hurried onto boats that took them to the docklands, and then ferried directly to Australia.
A keen awareness of history pervades the building's design, and the effort put into it is hard to ignore – with every step we take, we seem to bump into another original feature. At one point North opens a small, unassuming door to reveal a perfectly preserved 18th century staircase, now repurposed as a makeshift storage space.
"It seems as if there's been a lot of work on the building, but they've actually done nothing to restore it, apart from applying a couple of finishes to return it to what it was," he says. The walls have been carefully stripped back, revealing either exposed brickwork or the original Victorian paint job. Many of them are a beautiful mint green, which North tells me was a popular choice in the Victorian era, as it provided colour to otherwise dimly lit rooms.
Ennismore's workplace structure emphasises constant communication, and the historical awareness it drills into its employees is (somewhat awkwardly) incorporated into its inclusive corporate ethos. Employees call one another 'inmates', a hierarchy-flattening policy that extends all the way to the boss (I do wonder how far this commitment to authenticity extends; bartering for cigarettes in the canteen at lunch?).
No one has a private office; instead, there are hot desks and communal workspaces, though employees can book one of the quirkily named meeting rooms ('Good Vibes Only'; 'Dream on Dreamer') if things get too hectic. "As a company, we're reflecting the fact that people work differently now," says Martina Luger, Ennismore's chief marketing officer. "Some days you want to work at a table, some days you want to work on a sofa. We want people to feel comfortable here."
Ennismore organises regular wellness and fitness classes for employees, part of a strategy that Luger describes as 'investing in people'. "We hope to encourage discussion and collaboration; the idea that everyone has a valid point of view. The way the space is set out feeds into that, because there's no physical floor of seniority". This philosophy, she says, translates into an open, friendly workplace atmosphere: "More than any other company I've worked for, I think we've been really successful in fostering that closeness – everyone here is friends, genuinely."
This is lofty talk, though you shouldn't think that Ennismore is some kind of utopian worker co-operative. Its communal ethos is underwritten by the same bloodless calculation that leads Google to install table tennis tables at their offices: a happy worker is a hard worker. "When you walk in here, it's cosy and warm and collaborative, but it's also aspirational," says Luger. "You feel you have to step up and be productive". There's even a table tennis table on the first floor – though, appropriately, it doubles as a collective workspace.
The first floor is also where the judge would sit, and the site is still marked by the original Victorian staircase. This part of the building is especially pretty, though it's more than matched by the ground floor Sessions Bar, which has the slightly shabby feel of a colonial mess hall, replete with fading period wallpaper and a palatial chandelier.
One of the building's neatest features is a pair of soundproof phone boxes, labelled 'Good News' and 'Bad News', that North picked up on a whim from a trade fair. Adjacent to them is an outdoor terrace, built in beautiful off-white stone, with an outdoor fireplace and covetable views over the smoggy streets below. Currently it functions mainly as an impromptu meeting room, though North tells me the company is planning to host work barbecues there over summer. Not for the first time that day, I am more than a little envious.