Nolly review: Helena Bonham Carter reaches career high in Russell T Davies' ITV triumph
Nolly review and star rating: ★★★★★
Would a drama about a faded eighties television star appeal to modern audiences? It was a question posed by one concerned journalist at a pre-launch event for new ITV drama series Nolly. "It'll appeal to everybody," clapped back Helena Bonham Carter, its lead star, focusing her stare and exuding more than a whiff of sass.
She's right: there is no-one that Nolly won't appeal to, despite its nicheness. Russell T Davies has done what he does best: found an immensely relatable story from the vaults of television history and embellished it to lend it rich mass appeal. He achieved similar greatness from the same era with AIDS drama It's A Sin, and now the Doctor Who showrunner is back with another ode to a forgotten part of history, and my goodness, it's exquisite.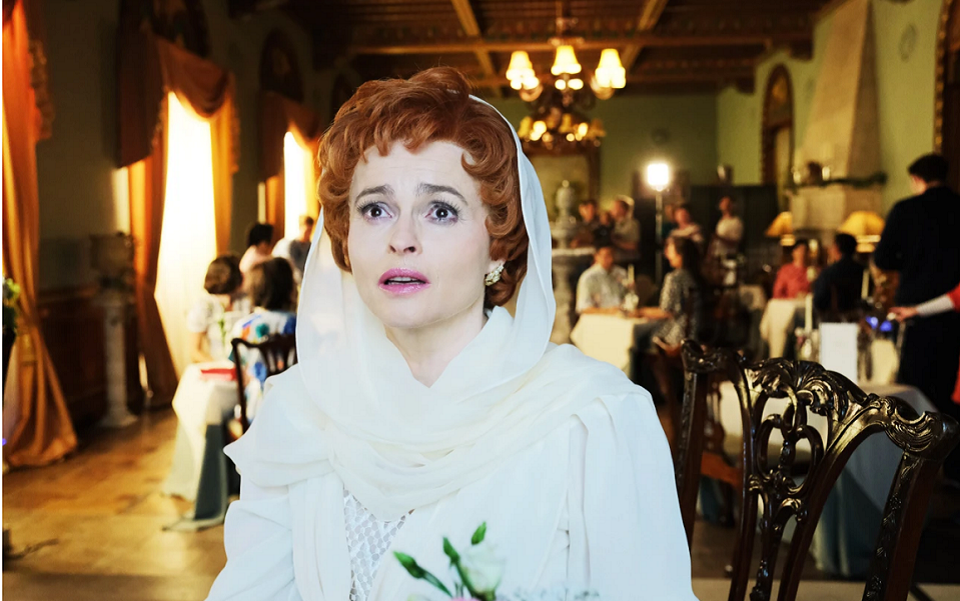 Industry bods were surprised when Bonham Carter revealed she'd be doing a three-part ITV drama, but we live in a world where film magazines cover episodic series as if they were made for the Big Screen, and duly, Nolly is right up there with the best television drama. It's as visually sumptuous as you can get, and funny and heart-breaking too, without veering into sentimentality.
Helena Bonham Carter is clearly having so much fun – it is a career high role for the British acting legend
Noele Gordon was the lead star of Crossroads, a soap opera that ran from the sixties to the eighties that was seen by many as famously bad. The set walls wobbled and kids would get high and watch it for a laugh. But die-hard fans poured over it. Then, one day, Gordon was publicly sacked without justification by executives who weren't held accountable for their actions; the message is that she was another woman to have been systemically oppressed. The firing affected her deeply: watch the end of this YouTube clip to see the real Gordon crying while live on TV, singing a self-penned song called 'Goodbye', written about leaving Crossroads, to get an idea of how much her exit upset her.
She died in 1985, four years after her departure from the show, and until now had basically been forgotten. But she was a pioneer: the first female to appear on colour television and the first woman to interview a prime minister on screen.
Bonham Carter brings her roaring back to life. Her witful Nolly is hard-edged but warm when broken down. She has clear shades of the actor's turn as Princess Margaret in The Crown, Bonham Carter exuding a natural campness that is so much fun, and makes her look perfectly at home with a cigarette and whiskey in hand. Reports suggest Gordon was firm about the way she liked to work on set; men called her "difficult," but Bonham Carter does a great job of unravelling that public image and projecting something truer and more devastating: a lonely but funny matriarchal figure who had her wings clipped. Bonham Carter is clearly having so much fun in a career high role for the British actor.
Russell T Davies is singular in his vision of celebrating the lives of people that have had a raw deal. With Nolly, like with It's A Sin, he's put marginalised figures on the map
Russell T Davies' world sings with detail. Those powder pink lampshades of the eighties, the dreary patterned wallpaper of the seventies, those fabulous suits, the fussy restaurant interiors seen through curls of smoke. There's a gorgeous symphonic soundtrack too that's as vivid as the furnishings. But it's the characters that can be heard the loudest, creating a lavish image of Noele Gordon's life and the places she inhabited in her health and in later years when she became ill.
Davies has a way of bringing stories to life through an ensemble supporting cast, and much care has been given to the development of smaller roles – actors on the Crossroads set, fans Gordon meets on the bus – in order to create a holistic picture of Gordon's world. Russell T Davies is singular in his vision of extracting joy from and celebrating the lives of people that have had a raw deal. With Nolly, like with It's A Sin, he's put marginalised figures on the map.
Nolly is available on ITVX now and on ITV shortly