London Report: Reports of new Pfizer Astra bid pushes up FTSE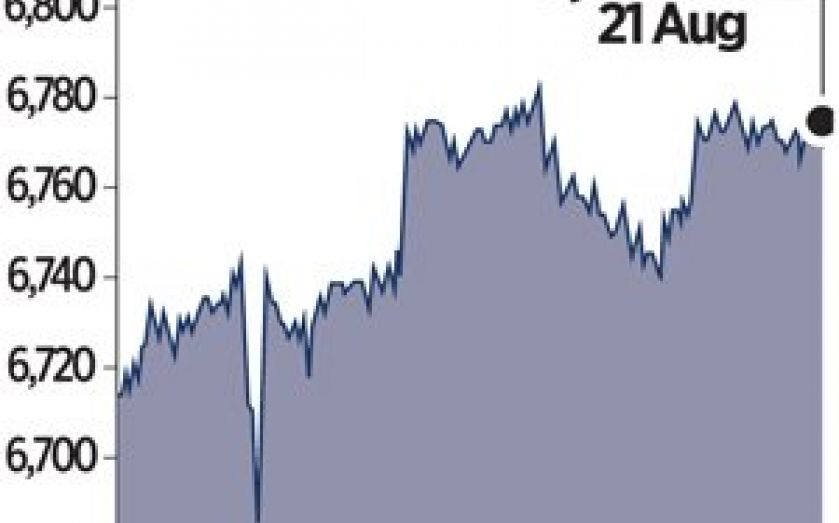 BRITAIN'S top equity index yester­day rose on gains in healthcare stocks, led by Astrazeneca on speculation that previously rejected US suitor Pfizer might make another bid.
The blue-chip FTSE 100 index closed up 22.18 points, or 0.3 per cent, at 6,777.66 points.
Astrazeneca rose three per cent to 4,411.50p, while domestic rival Glaxo­smithkline advanced 1.2 per cent to 1,434.50p, adding the most points to the FTSE 100 by some margin.
Beaufort Securities sales trader Basil Petrides said: "Astrazeneca can invite Pfizer back for talks, and that's what is driving up the shares."
AstraZeneca snubbed a Pfizer bid earlier this year, and under UK takeover rules, talks could be back on the cards as early as next Tuesday after a cooling-off period. But many investors and analysts see the year-end as a more likely time for any return.
Lower down the drugs chain, Jordan-based Hikma Pharmaceuticals enjoyed second place on the mid-cap FTSE 250 index, rising three per cent to 1,742p, after falling more than six per cent in the previous session following its first-half results.
Irish building supplies group CRH also saw good gains, up two per cent to 1,401p, with traders citing a rating upgrade to "market-perform" by Bern­stein, partly on valuation grounds.
Mining firms were badly hit. mainly due to poor results and a slowdown in China.
Fresnillo was at the bottom of the main index, falling 2.6 per cent to 947p as silver prices fell further.
Behind it were Antofagasta, down 1.3 per cent to 808.5p, and Anglo Ameri­can, down 1.3 per cent to £15.74.
Kazakhmys, the Eurasian copper miner, reported core first-half profit of $324m – ahead of market expectations thanks to cost cuts but down from $714m last year. Czech coal miner New World Res­our­ces fell 9.5 per cent to 9.38p after reporting weak coal prices that forced it to a second quarter net loss of €30.2m.
With food spending seeing its first year-on-year decline on record, Tesco was down 0.57 per cent at 245.5p. Sainsbury's was almost flat at 307.1p but Morrisons advanced 0.86 per cent at 176.3p.
HG Capital Trust, the fund that provides investors exposure to private equity deals, topped the FTSE small-cap index, climbing 4.5 per cent to 1,061p after reporting a 5.8 per cent rise in net asset value per share for the first six months.