London Pride 2019: Where is the parade and when does it start?
There is less than a week to go until London Pride 2019, when the capital is set to host a parade that is bigger and brighter than any that have gone before it.
Last year around 1m people attended the event as people from London and beyond participated in the capital's biggest LGBT+ celebration.
But this year's event is set to be even more popular.
More than 300 floats are due to take part in the parade with music, dancing and more on show as London celebrates its LGBTQ+ communities with a flourish.
While the parade itself only lasts until the evening, there are plenty of celebrations that will go on well into the early hours for the most hardcore of Pride fans.
Read on to find out everything you need to know about the parade, events and outfits that will make London Pride 2019 the most memorable Pride celebration so far.
When is London Pride 2019 set to take place?
The annual parade is on Saturday 6 July and gets underway at midday before finishing at 5.30pm.
But there will be plenty of parties and celebrations around the main event.
Those include a Cabaret Stage running from 12pm until 7.30pm in Dean Street, Soho, as well as a day of music and entertainment in Trafalgar Square, where the parade ends up.
That will run from 11.45am through to 8pm.
Where does the parade start and what is the route?
The London Pride 2019 parade begins in Portland Place at 12pm.
It then moves along to Oxford Street, down Regent Street to Piccadilly Circus, Pall Mall and then passes Trafalgar Square – where live performances will be held – before finishing at Whitehall at 5.30pm.
With hundreds of thousands expected to attend, places along the route are likely to be extremely busy.
Transport for London is yet to release any travel advice, but areas such as Trafalgar Square, Piccadilly Circus and Oxford Circus are expected to be very congested.
Who is performing at the London Pride 2019 parade?
There will be more than 100 people performing this year, with a stage set up in Trafalgar Square toward the end of the parade.
Broadway star Billy Porter will headline the gig in London's Trafalgar Square at 7pm, with plenty of other artists performing beforehand.
Another big name for London Pride 2019 is Eurovision and X Factor singer Saara Aalto.
RuPaul's Drag Race stars William, Scarlet Envy and Soju will also appear at Trafalgar Square, along with various Pride's Got Talent contestants.
There will also be a women's stage at Leicester Square with a line-up of all-female talent, such as Sinitta, Four of Diamonds, Heather Peace, SuRie, Toya Delazy and The Voice finalist Lauren Bannon AKA Lloren.
They will appear alongside some of the acts that competed in Pride's Got Talent 2019, including Saachi, Ina Shai and Amber Dee.
How long has London Pride been around?
London first got involved in Pride in 1971, two years after its first weekend took place in New York.
It was first officially held in London in 1972 with 2,000 people involved, some way off today's figures.
London mayor Sadiq Khan has spoken in favour of the movement and has had Tube signs painted in Pride's signature rainbow colours at some of London's key Tube stations ahead of London Pride 2019.
"London is a place where you can be who you want to be and love who you want to love. The Pride roundels, celebrating LGBT+ Londoners of all races, backgrounds, sexual orientations and gender identities, will show visitors from across the world that everyone is welcome here and London is truly open to all," he has said.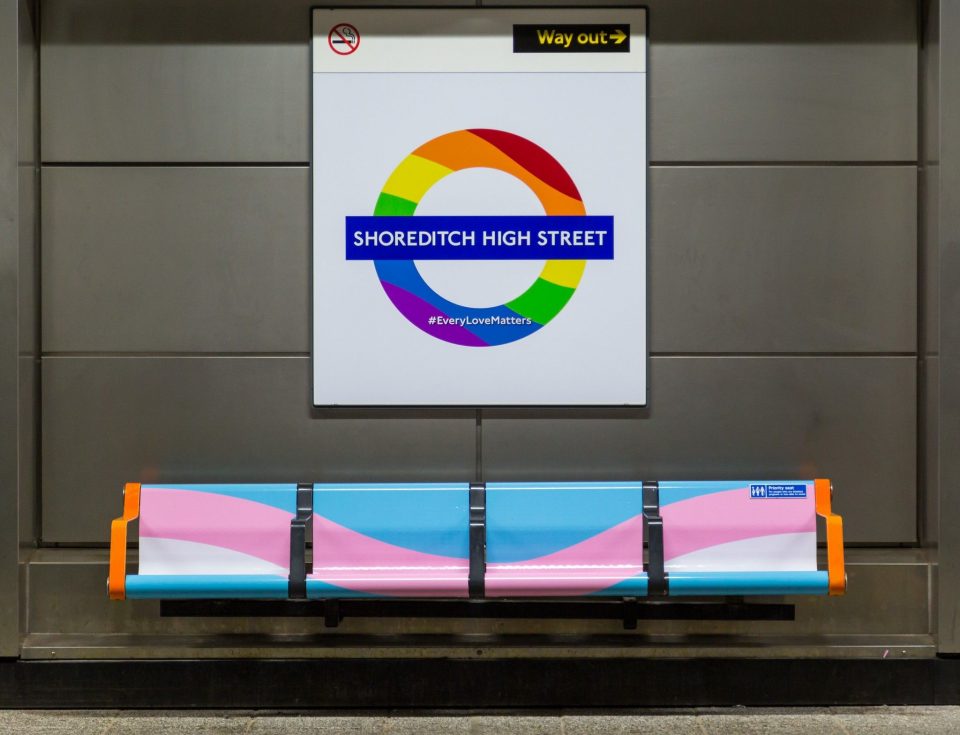 "I know this year's Pride will be another bold and vibrant celebration of London's LGBT+ community which plays such an important role in shaping the culture of our city."
You can find these LGBTQ+ Tube signs at stations including Tottenham Court Road, Camden, Southwark and Westminster.
How much does it cost to go?
London Pride 2019 is free to attend – unless you want a great view of the show.
The Parade Grandstand at Waterloo Place in St James offers a great spot to watch the action unfold but tickets will cost upwards of £50. For more information just click here.
You can also apply to be a steward at the parade here.
What other events are on at London Pride 2019?
The official London Pride 2019 after party takes place at The Grand in Clapham, with a Lady Gaga theme – expect outrageous outfits and excellent music.
'Gaga-geddon' drag shows will take place, and punters can even get a glitter makeover in the vein of the pop star herself.
Meanwhile LGBTQ+ club collective Little Gay Brother will host a 13-hour street party in Flat Iron Square, with space for 2,000 Pride attendees.
For those who want to keep things a little more low-key with little ones in tow, there is a family-friendly area nearby Trafalgar Square at St Giles-in-the-Fields.
Families can escape the crowds there and take part in activities organised by Camden Council and the Scouts.
Ronnie Scott's will also host an afterparty for London Pride 2019 in Soho. It promises to be a great night. Comedian Julian Clary will perform while the London Gay Big Band will provide music.
Planning to travel: What areas should I avoid?
One of the few downsides to Pride will be the travel chaos likely to grip parts of the city as roads are closed off. Below is a list of some of the bigger streets set to be closed. For a map, click here.
8am to 6.30pm
Langham Pl, upper Regents St (above Oxford Street), Devonshire St, Weymouth St, Park Cres, Mansfield St, Duchess St, Great Portland St, Chandos St, Harley St.
9am to 7.30pm
Hanover St, lower Regents Street (below Oxford St), Princes St, Maddox St, Mill St, St George St,New Burlington St, Vigo St, Warwick St.
10am to 6.30pm
Oxford St.
6am to 4am
Golden Sq, Dean St.
10am to 9.30pm
Parts of The Strand and The Mall
7am to 9.30pm
Waterloo Pl
10am to 9.30pm
Picadilly, Whitehall Pl, Whitehall Ct, Horse Guards Ave, Northumberland Ave, Orange St, Whitcomb St, Oxendon St.
6am to 9.30pm
Pall Mall East
12 noon to 4am
Soho Sq, Soho St, Frith St, Greek St, Old Compton St, Wardour St, Berwick St, Wardour Mews, Duck Ln, Poland St, Ingestre Pl, Lexington St, Great Pulteney St, Great Windmill St, Sherwood St, Lower John St, Kingly St, Ramillies St, Argyll St, Noel St, Great Marlborough St, Ramillies Pl, D'Arblay St, Foubert's Pl, Santon St, Beak St, Little Argyll St, Brewer St, Denman St, Archer St, Old Compton St, Sheraton St.