Harry Redknapp has spent more than Arsenal and Manchester United in January transfer windows
Harry Redknapp has poured cold water on suggestions he left QPR due to a dispute over transfers, citing an urgent need for knee surgery as the reason behind his shock exit, just one day after the January transfer window closed, yet it's not hard to see why those suggestions arose in the first place.
This is usually a happy time of year for the former Spurs manager, who has more often than not had new players to choose from after being allowed to spend his employer's money in the January transfer window.
As manager of Portsmouth, Southampton, Tottenham and QPR, Redknapp has spent £107.8m in January transfer windows since the measure was first implemented in 2003. That's more than Premier League giants Arsenal and Manchester United have spent in the same amount of time.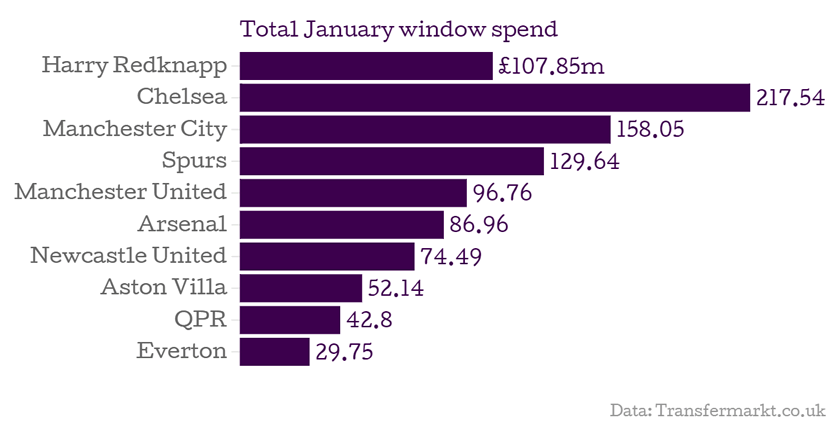 Arsenal and United have spent a total of £87m and £96.8m respectively in January windows, as only Liverpool, Manchester City, Chelsea and Spurs have bigger collective January spends than Redknapp.
The 67-year-old's cumulative spending in the window even dwarfs what Burnley and Swansea City have spent in their entire history as football clubs.
.
Rumours of a dispute between Redknapp and QPR owner Tony Fernandes over transfers were triggered when Fernandes took to Twitter to warn fans the club would not be spending more money in the window. The AirAsia owner tweeted: "No more chequebook. Bought all the players manager asked for in summer. Given the right motivation, tactics and coaching, we can achieve much more."
However, in an interview with Mail Online Redknapp dismissed rumours of a falling out, claiming:
I haven't got the hump, we [Redknapp and club owner Tony Fernandes] haven't had a row. I knew some while ago that we were not going to be able to get much done in January.

We had one real target on the last day, Emmanuel Adebayor, because we are short up front. But he was too much money. I accept that.

There are no hard feelings on my part – I've not had a problem with Tony Fernandes in all my time there.
Two years ago Redknapp spent a sizable £22.4m in January yet could not prevent QPR's relegation to Championship. Southampton suffered the same fate after a £4.9m outlay in 2005.
Since QPR's 2013 relegation, Fernandes has been less forthcoming with the purse strings and has not allowed his manager to spend a dime in the winter window.
Redknapp's biggest January splurge came in his first year as Tottenham manager in 2009 when he spent a massive £45.1m on Wilson Palacios, Jermain Defoe and Robbie Keane.