As Google shares pass $1,000 analysts says the company remains a top pick
Shares in internet giant Google have passed the $1,000 mark after unveiling stunning results last night.
Google beat expectations with net profits growing by 36 per cent to $2.97bn (£1.2bn) in the three months to 30 September. That number was well ahead of consensus profit forecasts.
Those results have seen Google add over $35bn to its market cap today – in other words, Google has added the value of Yahoo, or two times that of Netflix, in a single day.
Colin Sebastian, an analyst with Baird, says that the stock remains a top large-cap pick. Sebastian says that the "near-term trends remain favourable for Google" as key areas such as producing listing adverts see healthy growth.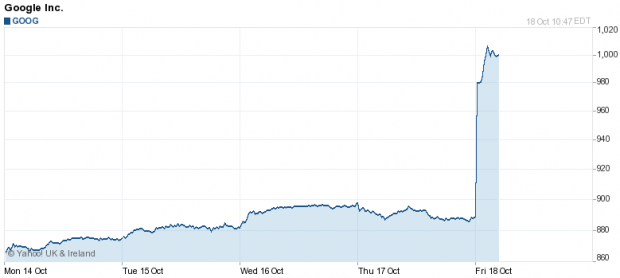 Sebastian says that trend should "contribute incremental paid click volumes over the holidays" and help "drive near-term momentum".
Despite worries that a short-term disruption caused in July by the transition to Google's Enhanced Campaigns would dent the company's performance in this period, Sebastian said that this probably wasn't "clearly evident in results".
Advertising remains the single largest source of revenue for Google, contributing around 85 per cent of the firm's total revenue.