AFC Wimbledon are a club founded by fans and now, 17 years on from their rebirth, they are hoping their supporters can help lay the foundations for a move back to the corner of south-west London they call home.
The Dons are building a new stadium at Plough Lane, which they believe will be ready for the 2020-21 season, and to fund the £25m ground on the site of Wimbledon's old greyhound stadium the club are asking their fans to lend a hand.
To pay for the construction the League One club, who currently play at Kingsmeadow in the Kingston area, are aiming to raise £7m through crowdfunding to supplement a bank loan.
Read more: Stevenage want to raise £1.2m using crowdfunding platform
Having come a long way since 2002, when supporters founded the club as a protest against the original Wimbledon's uprooting to Milton Keynes, the hope is that same community spirit can help the club take the next step on its journey.
AFC Wimbledon's move into crowdfunding is part of a growing trend in football. Premier League newcomers Norwich City raised £5m for their academy using the platform Tifosy, while League Two Stevenage announced last month that they are taking a similar route in the hope of raising £1.2m for a promotion push.
The Dons are using Seedrs – the first share-issuing crowdfunding platform to be authorised by the Financial Conduct Authority – to sell 25 per cent of the club, with the remaining 75 per cent remaining with the Dons Trust and current shareholders.
While the club recognise that raising the equivalent of around £2,300 per current season ticket holder is ambitious, they are hoping their unique story will attract plenty of non-fans too.
"Without a wealthy benefactor, the challenge for us has been to find ways for a fan-owned club to raise finance," chief executive Joe Palmer told City A.M.
"In terms of the stadium build, the solution, without a doubt, has been crowdfunding. It's perfect for us because it lets us not only reach out directly to the people who matter the most – our own fans – but it also provides us with a platform which enables us to reach thousands of other potential investors who admire what the club has achieved and want to be part of the story."
Seedrs has raised some £600m across 800 deals, including 70 in the sports and leisure industry, but this is the company's first venture with a professional football club. Rich Mason, Seedrs' business development director, hopes AFC Wimbledon can be the "start of a wave" of crowdfunding in sport.
"It's a way to engage fans and customers of the business and build a community of advocates – to get fans of the club who are also incentivised by its success," he said.
Naming rights
AFC Wimbledon are keen to show their gratitude to potential investors, with every one of them receiving a physical memento at Plough Lane as a token of their commitment.
"For our first season at our new ground, we are going to ring-fence 20 per cent of our home matches for a unique draw," Palmer explains.
"Every fan who invests – even if it's simply to buy one £10 share – will automatically qualify, and the winners will each get to enjoy the stadium naming rights for one home game.
"Every single shareholder will also get their name on a permanent plaque at the ground. And if fans invest more and buy more shares, the rewards get even more special. For example, they can get their name on our goalposts, corner flags, turnstiles – even the beer taps and urinals."
AFC Wimbledon achieved five promotions in nine years to rise from where they began in the ninth tier to the third, where Wally Downes's side finished 20th last season. All the time their success on the pitch has been underpinned by their ethos off it.
While the hope of course is that further promotions could follow and provide investors with a return on their money, ultimately it is financial necessity which has driven the step into crowdfunding, not any notion of romanticism.
"The aim is to raise as much as physically possible via an equity raise," Palmer explains. "The more we can raise via crowdfunding then the less we have to borrow in debt from the bank.
"If we fall short, and have to increase our debt funding amount, that will increase our annual repayments. That inevitably would mean less money being available for the playing budget."
Soul of football
Economist and AFC Wimbledon trustee Lord Stern believes that most AFC Wimbledon investors will be attracted by the club's unique nature, rather than the lure of making money.
"It would be nice to think of the possibility [of a return on investment], but we shouldn't push that too hard," the former senior vice-president of the World Bank told City A.M.
"This is the chance to be a part of something. But it's just possible that if the success story goes on that the shares could develop into things that have a real market."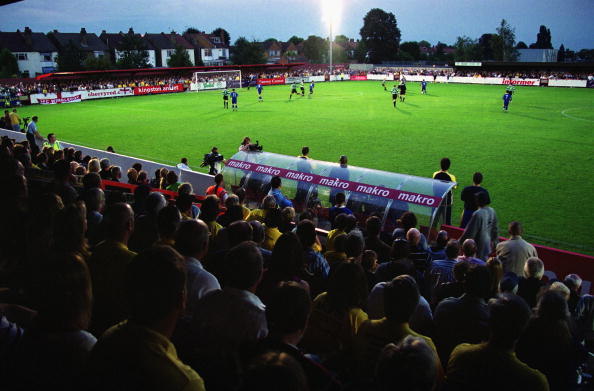 Lord Stern, who has been a season ticket holder for five years, says the shares that he buys will represent more than just bricks and mortar.
"In an area where so many clubs are owned by very rich people there's something to celebrate in a fan-owned club – it speaks to the soul of football," he says.
"We hope it would start a trend because that would be the affirmation of the way a good part of football should operate: with the community and with the fans at heart."
To find out more information, please visit: www.ploughlanestadium.co.uk
Main image credit: Getty Images