Genesis G80 review: The car brand climbing the Korea ladder
Genesis is a new premium car brand that, after success in the US and South Korea (with 130,000 sales in 2020 alone), is now available in the UK. The luxury division of Hyundai, it launches here with two cars: the BMW X5-rivalling GV80 SUV, and the BMW 5 Series-challenging G80 saloon.
We've sort of had Genesis here before – the 2015 Hyundai Genesis, a decent but dull saloon ultimately doomed by depreciation. This time round, Genesis is much more serious, from its standalone brand status, to the fact it will only sell cars online. Like Tesla.
There's plenty to come: a G70 that will take on the BMW 3 Series saloon, and a BMW X3-rivalling GV70 SUV. Genesis is even bringing a just-for-Europe G70 Shooting Brake estate to market – and it looks fantastic.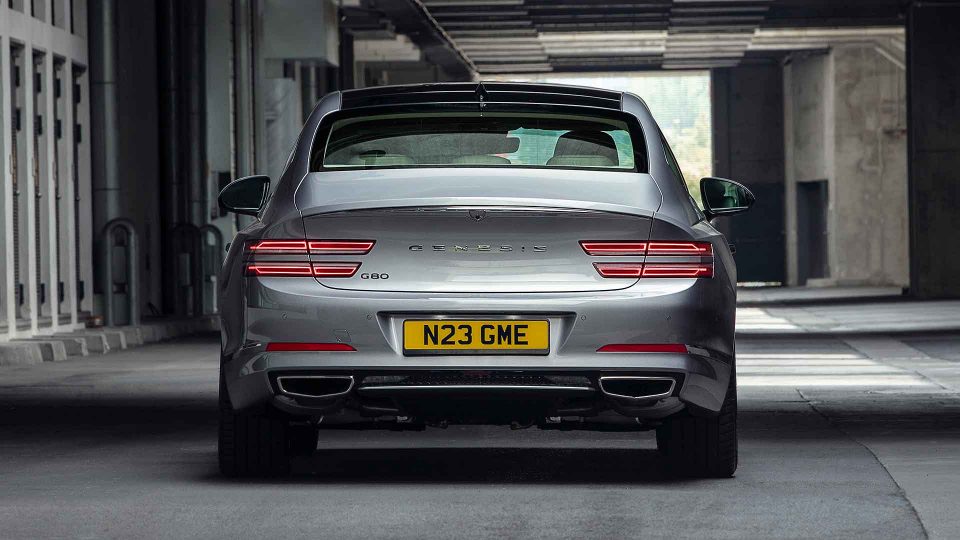 The G80 is our starter, though: It's sold well in other markets and now aims to offer an alternative to cars such as the Lexus ES, Mercedes-Benz E-Class and Jaguar XF over here.
Take it with either 2.2-litre diesel or 2.5-litre turbo petrol engines, the latter fitted with all-wheel drive as standard. Trims are simple, too: Premium Line (from £37,460 as a diesel) or the Luxury Line we drove, priced from £47,950. My test car had a host of options and a £63,440 price tag.
As Genesis is at pains to point out, the real difference of the brand is its customer service. Buy one, and you're buying into the same sort of experience you get in a luxury hotel – in stark contrast, insists Genesis, to the traditional brands.
We'll learn more about that in coming months (here's how Genesis is setting out to be different). For now, it's the cars that need to do the talking.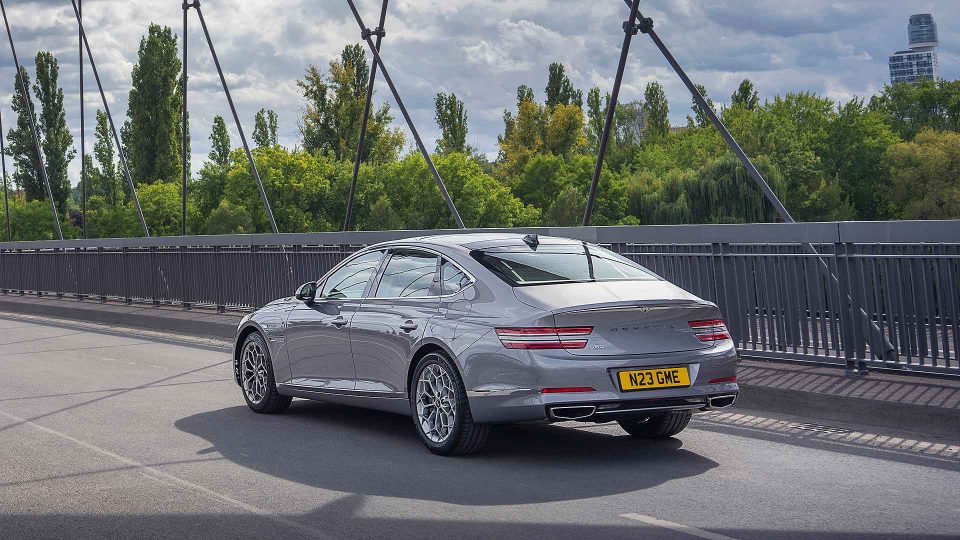 You won't fail to notice the new Genesis G80, nor fail to identify it as a premium car. Its appearance is far more Jaguar than Ford Granada Ghia X. Paintwork is beautifully rich and deep, polished chrome highlights sparkle and the lines flow rather than jar.
It's a big car, five metres long, and has presence, largely because of its huge 'crest' grille complete with G-matrix mesh. With the winged Genesis badge above, it could certainly pass for a Bentley, a comparison Genesis will hardly object to.
A single line gracefully runs from the headlights through to the rear, where it swoops down rather than up, for a 'tail down' attitude that's different to most cars in this sector. It's unusual, and I liked it – there's a retro vibe to it, offset by the high-tech lamps.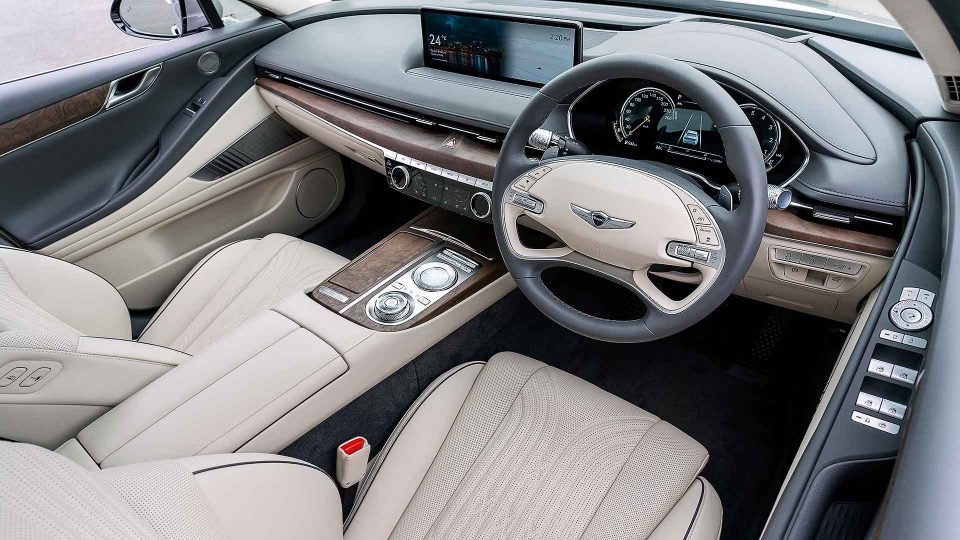 It's beautifully finished inside, too. Material quality is beyond premium, nudging into luxury territory, particularly the optional Nappa leather seats and steering wheel. If it looks like wood, it is wood, says Genesis. If it looks like metal, it's real metal. Throughout, the finish is impeccable.
The widescreen infotainment system is vivid but, typically, requires familiarisation to use smoothly – more time than a two-hour test-drive, certainly. It's a touchscreen, with a supplementary trackpad dial on the centre console. This felt fiddly and I defaulted to touch, even though the screen was a stretch.
The seats are firmly supportive, a bit like a Mercedes-Benz, and are mounted quite high. They gave me (at 6ft tall) a commanding view over the bonnet, although a 6ft 3in colleague complained of restricted headroom.
Super-supportive rear seats are generously sized and well-positioned for exec-level comfort. You can even choose a £4,000 Executive Pack that brings twin touchscreen infotainment systems and rear double glazing. Just remember, drivers, to disable the automatic electric seat 'easy exit' function, or it may whirr back into your CEO passenger's feet.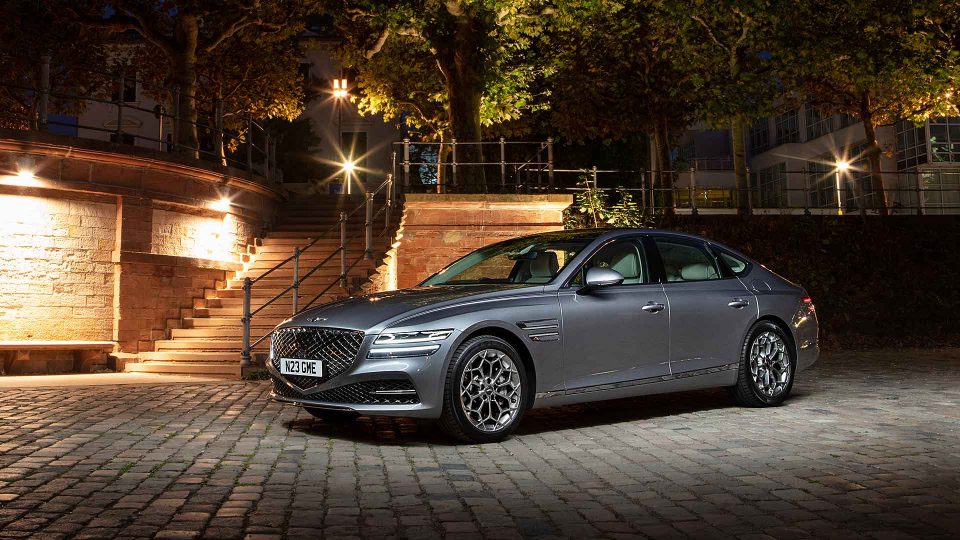 I drove the 2.5-litre turbo, which has a punchy 304hp and 311lb ft of pulling power available over a broad 1,650-4,000rpm rev-range. An eight-speed automatic gearbox is standard, activated by an old Jaguar-style rotary controller. With all-wheel-drive traction, 0-62mph in 6.0 seconds is easy to achieve.
The engine fires up with a bit of a throbby rort when cold, but soon quietens down. Although you don't get a six-cylinder purr, it's still a very smooth, very distant unit, helped by active noise cancellation. Only when revved hard does it begin to sound uncouth– but the same's true for any four-cylinder rival (and it doesn't roar like some).
It gathers speed effortlessly, making easy work of its 1.9-tonne heft. Genesis already feels like it's half-way to an electric car's quietness and eagerness, despite this motor's hybrid-free tech (official combined economy is 33mpg and I averaged 28.7mpg).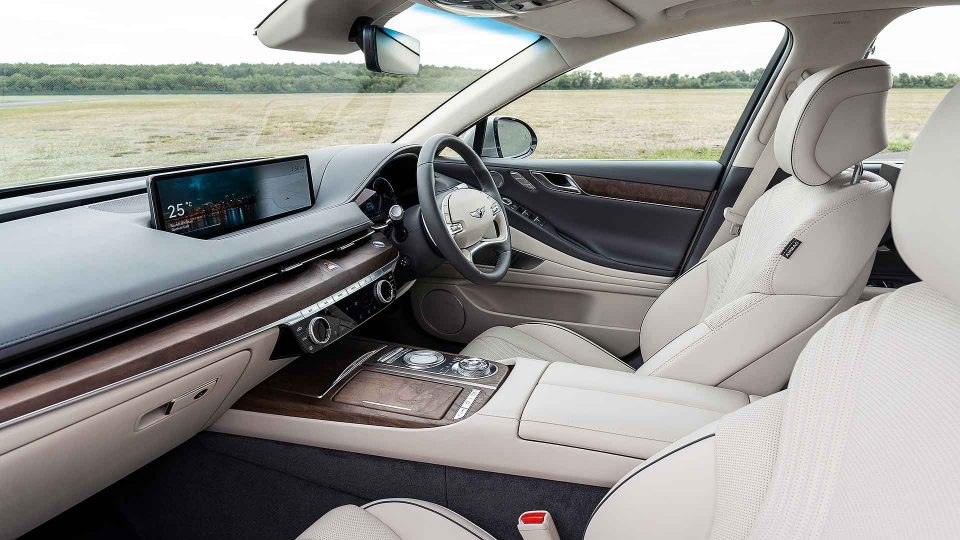 Premium Line G80s have 19-inch alloys, while Luxury Line cars have 20-inch wheels. You feel them at slower speed, where there's in-town irritation over potholes – not crashy or harsh, but still bumbly.
The ride smooths out at speed, to be caught out only occasionally by particularly broken roads. It flows and glides nicely, using compliant suspension travel to give a cushioned, relaxed feel – without, thanks to the computer control of the adaptive dampers, becoming wallowy.
These adaptive dampers mean you can choose a more tied-down Sport setup, but they still respond even in normal mode to keep things relatively roll-free in corners. Although not designed to be a BMW-style driver's car, the European G80 has still been honed at the Nurburgring, and this breeding does show in the way it capably corners and handles.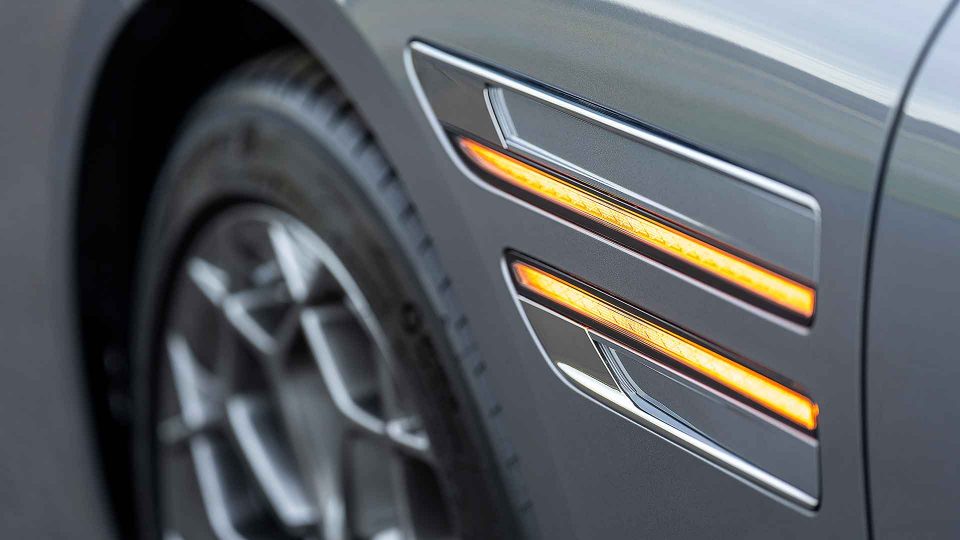 Well-weighted steering is surprisingly crisp and alert, and despite its near-two-metre width, it's an easy, confidence-inspiring car to thread across winding roads. This tightness and accuracy add to its well-bred feel, and the big Genesis is more fun to drive than you might expect.
You can even dial up the active noise tech to make the engine sound a bit like a V8, if you must (for me, it was on and then off again within 30 seconds).
Overall, it's the finesse of the drive that stands out. It's quiet, easy, precise and stress-free. Crank up the brilliant, concert-hall Lexicon audio system (a must-have option at £790, believe me) for a soothing experience that's so refreshingly different to the obsession with sportiness of almost every rival.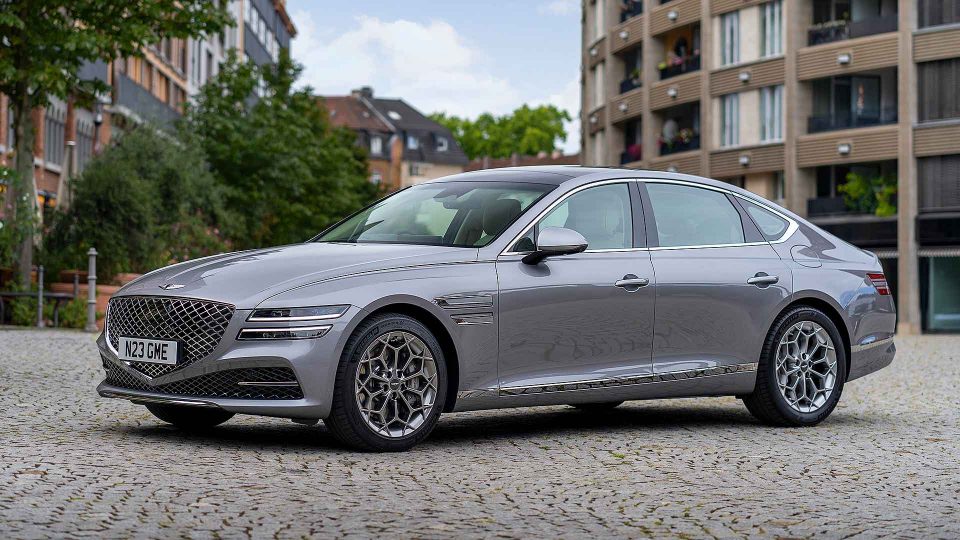 As a line-in-the-sand car, the Genesis G80 is a good introduction to this new premium brand. It's got a lot of work ahead, to draw people from their BMWs and Audis – and to cement itself as a successful alternative (Lexus) rather than a pointless failure (Infiniti).
There's plenty more to come, including electrified versions, EU-only models and a whole host of future-ready EVs. So, if you're interested, try a G80 to see what's in store. Chances are, you'll be nicely surprised.
Richard Aucock writes for Motoring Research
Price from: £47,950 (£63,440 as tested)
Engine: 2.5-litre turbo petrol
Gearbox: 8-speed automatic
Power: 304hp
0-62mph: 6.0 seconds
Fuel economy: 25.5-26.1mpg
CO2 emissions: 205g/km