Eyam at Shakespeare's Globe is an impressive, emotionally draining play about accepting death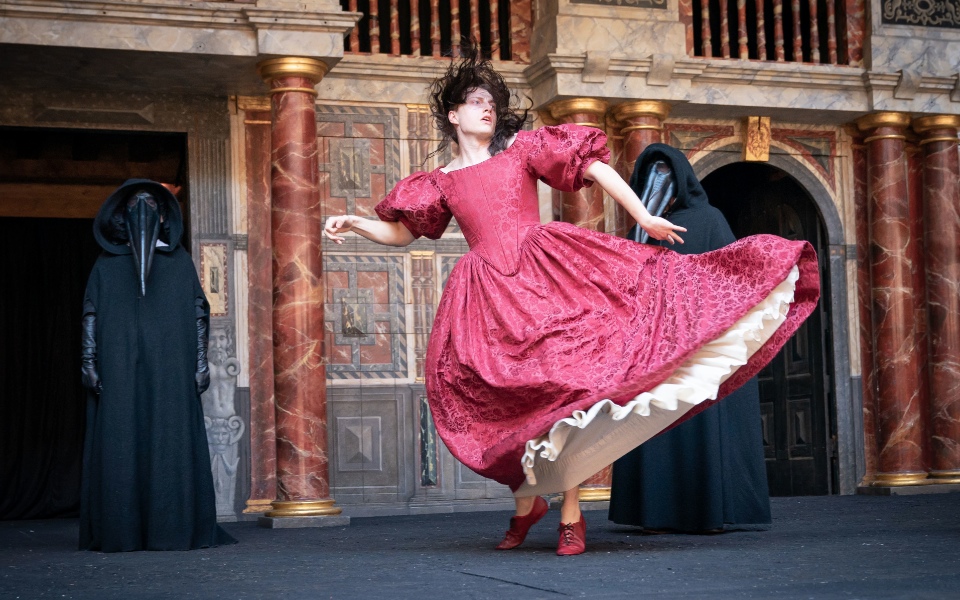 Shakespeare's Globe, until 13 Oct
RECOMMENDED
It's the 17th century, and the people of the plague-struck Derbyshire village of Eyam have made a noble decision to quarantine themselves, rather than risk the illness spreading to neighbouring settlements. By the time the pestilence has ended, three-quarters of the villagers will be dead.
Directed by Adele Thomas and written by Matt Hartley, the first half of this real-life tragedy drags a little, as the newly arrived rector William Mompesson (Sam Crane) and his wife meet the residents of Eyam. The number of characters and conflicts that are established is impressive. But the couple also see ominous allegorical "crows", clad in sinister black plague doctors' garb, with masks contorted to accentuate their avian features.
The crows proliferate, moving ever closer to the stage; their macabre presence lent a greater sense of foreboding by the haunting choral arrangements by composer Orlando Gough. They represent creeping death, and before we can see any of the promised stories played out, lives are brutally cut short.
It's about an hour and a half until the first plague victim's death, but the first half ends with a satisfying frenzy of buboes. This preamble to misery could have been shorter, but it means when the villagers do start dropping, there's an emotional weight to it. Likewise, there might have been more dissension in the village once it was under quarantine, but it shows that the people accepted Mompesson's entreaties to self-sacrifice adhere to old values of piety and communitarianism.
A rich and necessary vein of levity runs through the play, much of it rooted in suitably grim slapstick, which is best evinced in a botched burial, that lands just the right side of Monty Python and the Holy Grail.
The Globe is a period-appropriate venue, and this production makes full use of the pit and galleries, with catwalks extending from the apron stage into the crowd, embracing the audience and drawing them into the community.
Some individual characters leap out, like the ghoulish moppet Harriet Stubbs (Rose Wardlaw) or the idealistic Emmott Sydall (Norah Lopez-Holden), but the play is really about the collective. By the end Mompesson – who began as a weak outsider, propped up by his more ambitious and socially capable spouse – has been transformed into the conduit through which memory of the villagers will be passed to the audience.
The play concludes with his astounding, and visibly draining, recitation of the names of all 273 of Eyam's dead, and his insistence that they will not be forgotten.