Crypto at a glance
Bitcoin roused from its slumber yesterday, charging back from a low of $32,475 to more than $37k in a matter of hours. It's currently trading at just below $37k, up eight per cent over the last 24 hours. It's a pattern we've seen a lot in recent weeks, with a mid-week rally being followed by a sell off over the weekend. Will this week be different?

The latest price move certainly seems to have a lot more behind it, supercharged by the news that El Salvador has made the leading cryptocurrency legal tender. Subsequent tweets from the country's president, Nayib Bukele have also made clear that we have another Michael Saylor in the making. And this time, he's president of a bona fide country. What impact could national adoption and such a powerful advocate have on the space?
All eyes now are on whether other Latin American countries make a similar move, with Twitter commentators excitedly pointing to bullish statements from politicians in Argentina, Brazil, Mexico, Panama, and Paraguay. It's certainly providing a timely antidote to less good news out of China, where miners in Qinghai province have received shutdown orders and some blockchain keywords across the country have been banned. Is the community numb to the country's nonsense now?
The focus on Bitcoin means that, for the first time in a while, it's largely out there alone, with alt coins remaining generally stagnant over the last 24 hours. Bitcoin's market dominance has now recovered to around 44 per cent, having languished at 42 per cent since late May. Only Polkadot (DOT) has seen any significant move, rising 12 per cent to just below $24.
All feedback on Crypto AM Daily in association with Luno is welcome via email to James.Bowater@cityam.com ??
For those of you who missed the Crypto AM DeFi & Digital Inclusion online summit – you can now watch the event in two parts via YouTube
Part one…
Part two…
As I mentioned yesterday, I am attending the Coingeek Conference in Zürich where I will taking on a panel "What the Media Thinks about Blockchain & Digital Currency".
To watch this conference online you can register here – my panel will be on Thursday, 10 June at 14:30 CSET.
All feedback on Crypto AM Daily in association with Luno is welcome via email to James.Bowater@cityam.com ??
In the markets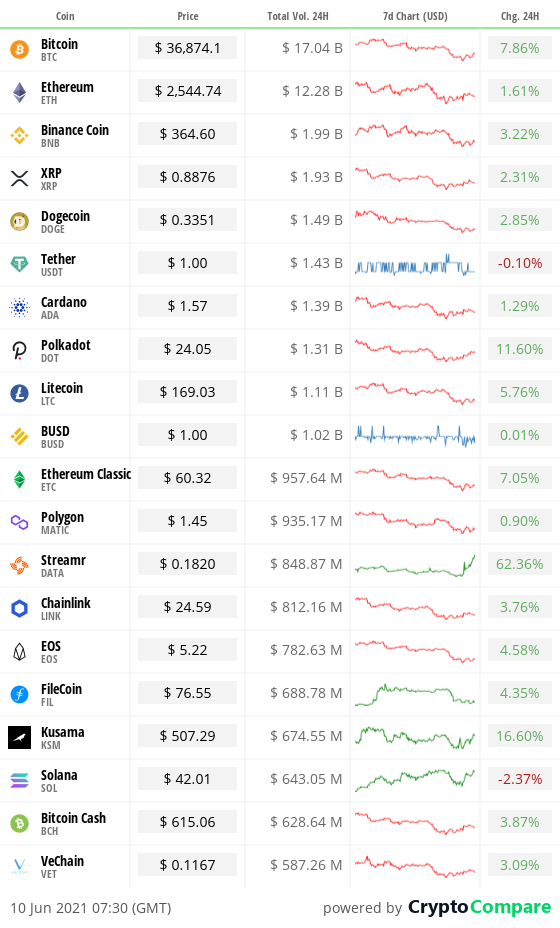 The Bitcoin Economy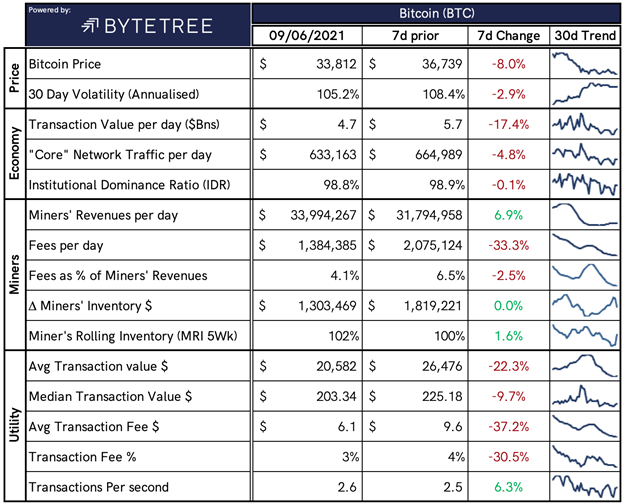 *Definitions and insights can be found at https://bytetree.com/insights/
Total crypto market cap
The total capitalisation of the entire cryptocurrency market at time of writing is currently $1,601,885,464,113.
What Bitcoin did yesterday
We closed yesterday, June 9 2021, at a price of $37,345.12, up from $33,472.63 the day before.
The daily high yesterday was $37,537.37 and the daily low was $32,475.87.
This time last year, the price of bitcoin closed the day at $9,870.09. In 2019, it closed at $8,000.33.
Bitcoin market capitalisation
Bitcoin's market capitalisation at time of writing is $690.54 billion. To put it into context, the market cap of gold is $11.98 trillion and Facebook is $936.41 billion.
Bitcoin volume
The total spot trading volume reported by all exchanges over the last 24 hours was $50,778,692,679, up from $47,806,820,106 yesterday. High volumes can indicate that a significant price movement has stronger support and is more likely to be sustained.
Volatility
The price volatility of Bitcoin over the last 30 days is 97.68%.
Fear and Greed Index
Market sentiment today is 21.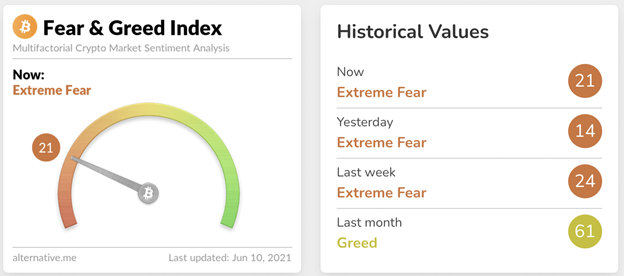 Bitcoin's market dominance
Bitcoin's market dominance today is 43.68, Its lowest ever recorded dominance was 37.09 on January 8 2018.
Relative Strength Index (RSI)
The daily RSI is currently 43.95. Values of 70 or above indicate that an asset is becoming overbought and may be primed for a trend reversal or experience a correction in price – an RSI reading of 30 or below indicates an oversold or undervalued condition.
Convince your Nan: Soundbite of the day
"Bitcoin being classed as legal tender in El Salvador means that every-day Salvadorians can easily make cross border payments without having to rely on the USD. Over 20% of GDP was made up from remittances back to El Salvador last year and therefore if El Salvador can attract even a small amount of crypto economic activity to the country, it could be huge. We may even see crypto-native companies setting up in El Salvador now that banking relationships in the country will be easier.

"Bitcoin, Ethereum and other cryptocurrencies are destined for the balance sheets of more countries, central banks and corporations. El Salvador was the first country to make bitcoin legal tender and the floodgates are now open."

– Ross Middleton, chief financial officer of DeversiFi
What they said yesterday
El Salvador…
Incentivises…
Another kind of volcano…
Crypto AM editor writes
Ripple making waves against the SEC's confusing crypto rule book
John McAfee faces dying in prison for the same thing Elon Musk does on Twitter, says his wife
Further pain ahead for Bitcoin as environmental groups queue up to reject cryptocurrencies
How are cryptocurrencies coping this weekend?
Bruised Bitcoin heads into an uncertain weekend
China's CMB International and Nervos Foundation launch $50m blockchain fund
Cardano teams up with Save the Children for humanitarian initiative
HMRC: We're not clamping down on crypto
Ethiopia overhauls its educational system with IOHK blockchain partnership
Crypto AM: Longer Reads
City AM Markets: What is Decentralised Finance (DeFi) by Aave
Crypto AM: Conversation with James Bowater
Crypto AM: Market View
Crypto AM: Technically Speaking
Crypto AM: A Trader's View with TMG
Crypto AM: Mixing in the Metaverse with Dr Chris Kacher
Crypto AM: Talking Legal
Crypto AM: Spotlight
Crypto AM: Founders Series
Crypto AM: Industry Voices
Crypto AM: Tiptoe through the Crypto with Monty Munford
Crypto AM: Definitively DeFi
Crypto AM Parliamentary Special
Part one of two – April 2021
Part two of two – April 2021
Five-part series – March 2021
Part one…
Part two…
Part three…
Part four…
Part five…
Crypto AM: Recommended Events
Crypto AM City of London Roundtable
Crypto AM DeFi & Digital Inclusion Summit
&
Crypto AM Awards 2021
September 29 and 30 2021
Cautionary Notes
It's definitely tempting to get swept up in the excitement, but please heed these words of caution: Do your own research, only invest what you can afford, and make good decisions. The indicators contained in this article will hopefully help in this. Remember though, the content of this article is for information purposes only and is not investment advice or any form of recommendation or invitation. City AM, Crypto AM and Luno always advise you to obtain your own independent financial advice before investing or trading in cryptocurrency.
All information is correct as of 08:30am GMT.