Since taking charge of England in 2015, Eddie Jones has been working towards victory in the now-imminent World Cup.
Everything he has done over the past four years has been with lifting the Webb Ellis Cup in mind. Yet at the 11th hour he has gambled, opting to sacrifice experience within the squad for talented but internationally unproven players.
Jones has repeatedly preached the importance of experience within the squad in order to win the World Cup, often referring to a cap threshold – 600-700 per XV – he deemed necessary and was determined to meet.
Read more: Youngs and Watson impress in otherwise subdued England win over Italy
He similarly saw it as non-negotiable for there to be two world-class coaches within the team and so brought in former All Blacks boss John Mitchell to work on the defence.
However, the England squad that arrived in Japan on Monday consisted of 31 players who have only 1,072 caps between them. When New Zealand triumphed in London four years ago, their squad had a total of 1,482 caps; there were 1,013 caps between the starting XV in their opening game alone. Meanwhile, the England squad that floundered in front of a home crowd in 2015 had just 789 caps heading into the tournament.
While England have increased that tally this time around, it is a strategy that appears to defy Jones's own beliefs but is in line with his tendency to be unpredictable.
Out with the old
Among the squad are newly-capped Ruaridh McConnochie, Lewis Ludlam and Jack Singleton, none of whom had been called up prior to this summer's warm-up matches.
Meanwhile there are a host of players used over the last four years that were left behind, including Mike Brown, Chris Ashton, Ben Te'o, Danny Care, Ben Moon, Dylan Hartley and Nathan Hughes, to name but a few.
"One of the vital things about selection is knowing when a player is just about to fall off," Jones said. "After two years, I thought we would carry quite an experienced team to the World Cup. Then I found out I needed to make changes so I had to start again. I wouldn't have done it any differently."
Despite the decision to incorporate "a couple of young, X-factor players", England are still one of the most experienced of the Six Nations sides heading to Japan.
How rivals stack up
The Ireland and Wales squads carry a similar number of caps, with 1,063 and 1,076 respectively, while Scotland, France and Italy are a little way off their northern hemisphere counterparts, all with fewer than 1,000.
Champions New Zealand will once again boast an impressive number of caps with 1,242 between their 31 players, albeit down on their previous two winning campaigns. In 2011, the All Blacks squad had 1,210 caps.
Perhaps surprisingly, given their mixed form over the last 12-18 months, it is Australia who will go into this tournament with by far the most experienced side.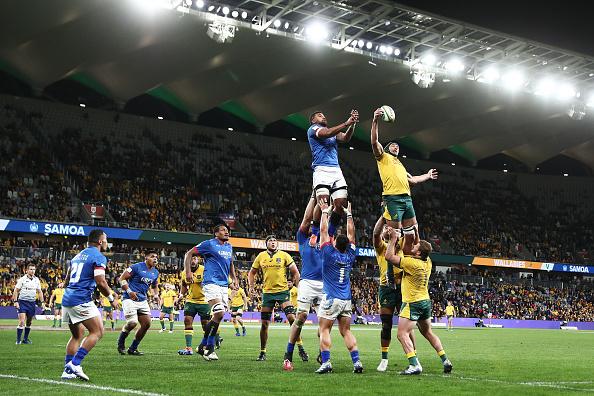 With 1,429 caps among the squad, they are the nearest side to matching the overwhelming know-how that New Zealand possessed in 2015, and have beaten the All Blacks twice in the last two years, including a 47-26 victory in this summer's Rugby Championship. That victory was, however, against 14 men for the majority of the match and avenged the following week 36-0.
But the Wallabies have a knack of performing well on the big stage and, by Jones's calculations, their experience will stand them in good stead once again.
Read more: George Ford has given Eddie Jones a World Cup selection headache with warm-up performances
South Africa's 1,052 caps is not dissimilar to that of England, Wales or Ireland, although their World Cup victory in 2007 came with 850 caps, and in 1995 with just 154 caps – albeit that the number of international games played has grown significantly since then.
England's winning World Cup side of 2003 was another squad bursting with experience, however. Among the likes of Martin Johnson, Jason Leonard and Lawrence Dallaglio, Sir Clive Woodward's men possessed 1,103 caps between them, with just one player having made fewer than 10 international appearances.
With this current England squad lacking that same depth of experience, Jones will be depending on the senior personnel he has selected even more if England are to go distance again.