Conservative manifesto: David Cameron gives "absolutely no detail" of major cuts, says IFS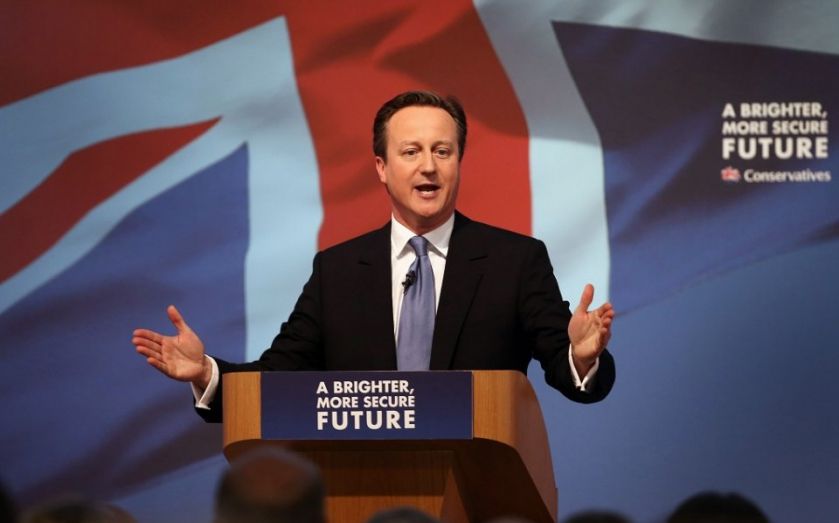 The plan David Cameron hopes will win the Tories the General Election back has been blasted by the independent Institute for Fiscal Studies (IFS) over a "lack of detail".
The Tory leader presented his party's manifesto in a speech delivered in Swindon earlier today. The document was brimming with goodies for the electorate, including an extension of the right-to-buy, taking those on the minimum wage out of tax and doubling free childcare.
But the Conservative manifesto came under scrutiny from one of the country's most respected economic think tanks for failing to provide any detail over future tax rises or spending cuts.
Director of the IFS, Paul Johnson, told Sky News:
What you got was a lot of the good stuff of course – more money for childcare, more money for the health service and so on – but absolutely no detail on the bad stuff… There's going to have to continue to be really big cuts on welfare spending, really big cuts in local government spending, really big cuts in all the other bits of spending, which haven't been specifically protected.
Cameron said the Conservatives were the "party of working people" with a plan "for every stage of your life."
The Tories hope their big offer to extend to the right-to-buy to housing association properties will help grow support among swing voters who backed Blair in the 1997 but had previously delivered successive victories for Margaret Thatcher.
However, the Conservatives could risk their hard-won reputation for economic credibility by promising as host of benefits to the electorate without specifying where the Treasury will make-up the difference to prevent the country from drowning in red ink.
Mark Littlewood, director general of the Institute of Economic Affairs (IEA), said: "Given the Conservative Party's moderate success in restoring much-needed economic growth to the UK, it is surprising to see this manifesto focus on giveaways rather than their relative economic competence."
The latest TNS poll gives the Tories a two point lead over Labour today, but YouGov put Labour in the lead by one point.