Can professional video gaming take off in the UK? Gfinity just launched the first eSports arena – welcome to the weird world of video game voyeurism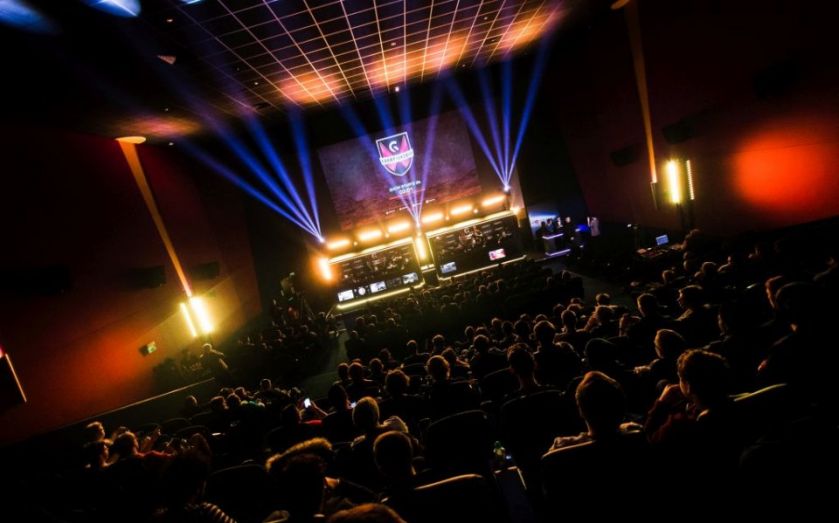 It's been a big couple of weeks for UK sport. Roy Hodgson's England side took a step closer to qualifying for Euro 2016, the Six Nations came to a dramatic conclusion, Sheffield boxer Kell Brook defended his world title – and the UK's first eSports arena staged its premier event.
Professional video gaming has launched itself in the UK, and could bring its millions of fans and blockbuster revenues with it. The Aim-listed company Gfinity entered into a £350,000 agreement with the Vue cinema chain last month to turn three screens of its Fulham Broadway multiplex into a 600 capacity venue for eSports. In other words, an arena entirely devoted to watching teams of people bash away at keyboards and console controls for huge cash prizes.
According to a recent report from games market researchers Newzoo, 205m people watch eSports around the world. That figure is projected to rise to 335m by 2017 when total industry revenue is expected to top $465m (£312m). Although occasionally televised, most fans watch through online streaming services such as Twitch, which attracts more than 100m viewers each month and was recently acquired by Amazon for close to $1bn.
Whether it's League of Legends, Starcraft, Counter-Strike, Call of Duty, Dota 2 or any of the many other games competed on at a professional level, fanatical followers will fill arenas, stream live events, buy official team merchandise and debate the game online afterwards.
Top players (and many average ones) grapple with the trappings of modern fame: hundreds of thousands of Twitter followers to please, autographs to sign, selfies to smile for and seven-figure paychecks to win.
Dreamhack, the Swedish computer festival which features the world's biggest tournament of first-person shooter Counter-Strike:Global Offensive (CS:GO) with $250,000 in prize money, attracted over 26,000 ticket-paying fans last year. Similarly, last year's League of Legends World Championship in Seoul sold out a 45,000 arena and had 27m people streaming around the world. This past weekend millions will have watched the 2015 Call of Duty World Championship from Los Angeles.
Can similar numbers be achieved events in the UK? Gfinity is betting that eSports can become as much of an institution in the UK as it is in South Korea, Sweden or anywhere else.
Gfinity, which launched in 2013, is rapidly growing. Last year the company raised £3.5m from its IPO and staged the UK's largest ever eSports event at the Queen Elizabeth Park in London, attracting a record crowd of 4,000 paying spectators, and drawing in an online audience of 8.7m.
At the same time revenue grew 791 per cent from £16,303 to £145,401. Registered users grew from 43,000 to 300,000 between June and December (they now top 350,000).
Gfinity has forked out for top teams and notable commentators and journalists to put together the best-possible show for eSports fans. Now it aims to steadily consolidate and grow its core audience by hosting its 25 weekly events at its Fulham Broadway hub throughout the year.
Last weekend City A.M. visited the arena for its first of 25 live events; a three-day CS:GO tournament involving teams with players from Sweden, the US and the UK battling for a their share of $50,000 (£33,632) in prize money.
Walk through the barriers of Fulham Broadway station and the logo emblazoned across the protruding panel opposite is unmissable. Stamford Bridge, the home of the current Premier League leaders, is just next door – but it is the Gfinity insignia which looms over the litter of the more ubiquitous brands whose logos splatter the station's walls.
Before the event got underway Gfinity chief executive Neville Upton gave a tour of what is an undeniably impressive set-up.
"You probably need about two months [for the set-up process], but we've done it in two weeks," he explains as he walks through the customised theatres.
In front of each theatre's large cinema screen are the necessary game-playing booths for two teams and their coaches, complete with individual HD screens placed in front of each player to beam back their progress to the audience. Laser beams of bright colours crawl over the walls as electronic dance music pumps through the speakers.
In the lull before the start of proceedings, gamers browse Facebook, post on forums or (even) watch football highlights in full view of the fans, who are beginning to trickle into their seats. Food is sold from a cart at the entrance, the sweet chemical smell of fluorescent energy drink floats in the air.
"For the person arriving you get a great experience: Really comfy seats, great audio and digital, a good food hall, shopping. You could spend the weekend here," suggests Upton of his new eSports hub.
However, on Gfinity's opening night there were meant too many present who shared that idea.
Not only were the majority of seats left unoccupied, but the evening was plagued by ongoing technical issues that hit only minutes into the opening game between Swedish heavyweight team Ninjas in Pyjamas (NIP) and Polish collective Virtus.Pro.
Bored fans, many of whom were decked out in their favourite team's merchandise, milled around the cinema for a few hours, debating the game, hunting out players for photos and offering the odd frustration at the advancing hours and lack of action to watch.
The "technical issues" which included commentators' sound cutting out, continued throughout the weekend, while some competitors even took to Facebook or Twitter to post not-so-subtle moans at the lack of space in the booths which kept some gamers' elbows awkwardly tucked close to their chests.
Yet none of that stopped the arena from filling up as the weekend progressed and the tournament reached its latter stages. On Sunday, when two more catchily-titled teams – EnVyUs and NIP – battled it out in the final, 330 capacity main stage was completely sold out. In total, 9.86m watched the tournament online across the three days, with each unique viewer watching for an average of 37 minutes.
But the team at Gfinity insists teething problems were to be expected. Martin Wyatt, Gfinity's head of partner relations who spends most of the evening rushing around ensuring fans and players are happy, remains cool and philosophical throughout.
"It's going to take a while to get going," he says, "but we're comfortable with that".
Later that night, Wyatt takes to the CS:GO community's busy subreddit to apologise for the situation.
"The Gfinity masters is a 4 [sic] tournament series, this being the first", he writes.
"Our aim is to continually improve with each day of each tournament, and to deliver something better than the last.
"It's no secret that we are new to CS:GO however we are fuelled by an ambition to deliver exciting tournaments and of course, our passion for the game."
His boss echoes the sentiment: "The learning barriers to get this right are big", says Upton.
"We get better every time we do it. There's so much to get right; the game, the streaming, the production, the choreography. It's a different skill set."
If Gfinity needs time to get things right, it seems the UK eSports community is prepared to grant it a little patience. Despite the teething troubles, there is little dissent among the faithful who turn up on the arena's first Friday. As you'd expect, there are caustic comments online, yet everyone at the event is happy it's taking place at all.
In the analysts' studio, where experts discuss events in between games, esteemed eSports journalist Richard Lewis sums it up: "We've been starved of these events in the past in the UK."
The UK eSports community is hungry, knowledgeable and ready to part with its cash to watch professional events. Live streaming games online opens up a huge, growing global fanbase to seduce sponsors while more conservative marketing executives' ears may be twitched by talk of broadcasters' interest in Gfinity events.
Like the smooth operation of the events themselves, bringing on board sponsors in order to maximise future revenues is a long-term project but one that will make or break companies such Gfinity's ambitions to establish eSports in the UK.
Despite big rises in revenues, Gfinity racked up an operating loss of £1.4m last year as it worked to establish itself as a major player in the industry and prove its worth to potential sponsors. Unlike the sports they're supporting, investors should not expect immediate returns at the click of a mouse.
Upton tells us: "What I want to do is nail it absolutely right so we develop the business on solid rock, on firm foundations. I don't want to start cutting corners because this is a long term vision of creating a very special business of substantial value and presence globally.
"If you start messing up your reputation for short term gains that would be wrong. I've managed the expectations of investors that we'll make money when the time is appropriate rather than setting ourselves a date which puts [the company under] a lot of pressure.
"It takes a lot longer to bring in revenue than people think. To change people's mindsets and say 'divert your sponsorship money from here to here' or 'divert your broadcast money from here to here'. People tend to dip their toe in and spend a lot of time thinking about it, assessing it."
Opening night may not be remembered as the breakthrough event, but Upton is in no doubt that eSports will soon be a major player on the UK's sporting landscape. And once that happens, the money will surely follow.
"When the money comes it will be big. Because our figures are big and the opportunity is big for sponsors", he says with boyish enthusiasm.
"The UK has got over 5m eSports fanatics. And those are people who are watching 19 times a month, double Premier League football fanatics. What we haven't done is created the infrastructure and hopefully this [GFinity arena events] will help.
"In five years time we'll be running competitions all around the UK, there'll be schools with teams, universities with teams. There'll be corporate events. It will be embedded across the whole of the UK. I could see us filling 5 – 10,000 every weekend. I'd love to fill the O2 Arena. Hopefully we will one day."