Why Las Vegas' El Cortez hotel in 'Old Vegas' is the city's best stay
The El Cortez hotel's recent renovation shows how Las Vegas is finally celebrating its history, says Adam Bloodworth
If you thought the Las Vegas Strip was nuts, try Downtown Las Vegas, which one local tells me has recently adopted the nickname of 'Drowntown.' "Growing up here, everything is crazy," he says, his expression suggesting he's still processing the city he's spent his whole life in. "I used to think all cities were like this…"
On the horizon, the rollercoaster curls, stately pyramids and Eiffel Tower punctuate the skyline. Imagine thinking all cities were like this. But it's the other direction that has me enthralled: 'Drowntown,' where the locals go when they want to get on it. Away from the Strip, Las Vegas is a relatively affordable, surprisingly ordinary city. It has 650,000 residents, who visit the Strip as often as Brits who live in the suburbs visit London.  Drowntown is the exception. It has shades of the Strip's energy, with flashing lights and all-night-long casinos but with a massive dollop of authenticity.
It's a contradictory splurge of modernity and classic Las Vegas history that's a hundred times more appealing than the classic Vegas highlights and, dare I say it, more addictive than a slot machine. (I spent 10 days in Las Vegas and never spent a penny.) On Fremont Street, the Downtown thoroughfare, snakes curl around the shoulders of their human owners, looking nervously at the LED ceiling enveloping the road, where a zipline runs. A student with a cardboard sign reading "do what you want to me" has his legs akimbo and is doing his best to look unfettered as tourists play with his limbs; performing a one-man version of Twister for money. 
A cabaret club called Cheapshot and the Discopussy nightclub are utopian visions of what a Downtown area should feel like: an appealing mix of hedonism, sleaze and creativity
It's not all weird: a free-to-view stage hosts loud rock concerts and nightly DJs. Taylor Momsen and The Pretty Reckless played a show when I visited. Fremont Street is a precision-tooled creation of social space, where lucky locals go to lap up the Las Vegas that mainstream tourists don't know about. Californian and Arizonan tourists might be in on the secret, privy to 'Drowntown' because they have a friend living in Vegas who takes them here. Visitors are too savvy to end up trawling around the overpriced casinos of the Strip when the entry bets are lower here, and there are still free drinks if you're playing.  You can still smoke indoors in all Las Vegas casinos, but if the hotels on the Strip have revolutionary machines to suck of smoke out of the air, in Drowntown there's still the occasional whiff of cigarette smoke as you walk the casino floors. 
On nearby East Fremont Street, a cabaret club called Cheapshot and the Discopussy nightclub are utopian visions of what a Downtown area should feel like: an appealing mix of hedonism, sleaze and creativity. Here lies the El Cortez hotel, one of the last remaining motel-style hotels in Las Vegas, which dates back to the 1940s. It is the last standing hotel that was once owned by notorious mobster Bugsy Siegel, one of America's most notorious criminals who murdered at least 30 men.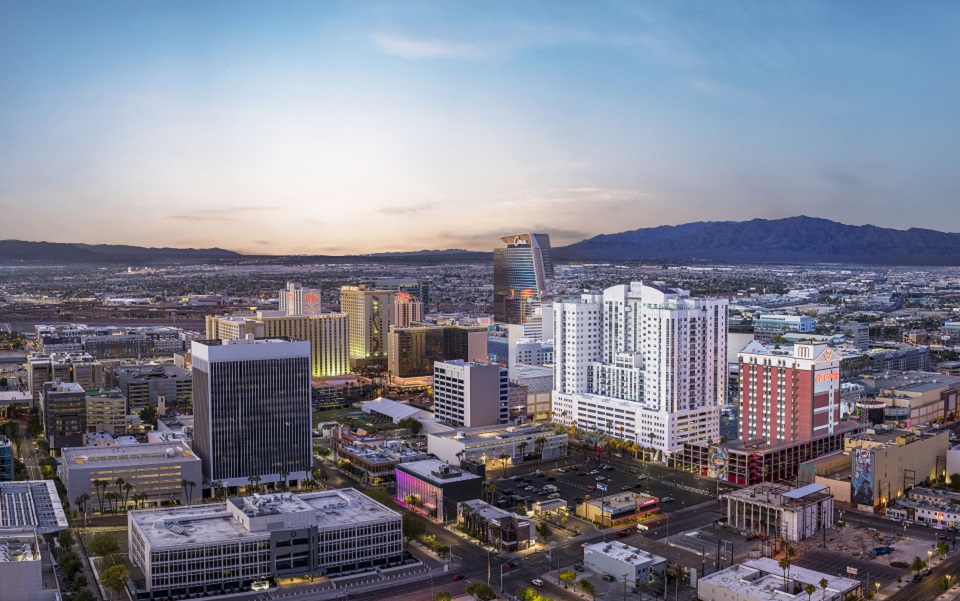 Las Vegas is a city of constant, ferocious change. The family-friendly hotels of the 1990s are currently being torn down because – surprise surprise – families don't spend money gambling. They're being replaced by hotels offering more straightforward but top-draw luxury, like the Aria on the Strip. Amid this change, the El Cortez has remained a constant. There is no swimming pool and the service can be blunt, but this is 'real' Las Vegas. The gorgeous monogrammed lobby floor has '1941' written in black stone, the year the floor was laid, and some staff have been here a decent portion of that. The hotel has just opened its 'Original 47' rooms in the part of the hotel that was first built and occupied by Seigel and his cronies.  "We spent a lot of money on those rooms," says Kenny Epstein, the El Cortez owner, now well into his eighties. "A lot of money…"
I go to sleep feeling partially thrilled, partially nervous about the ghosts of mobsters past, who must surely stalk these corridors
In my Original 47 room, I open the curtain to enjoy the view of the hotel's handsome original neon sign, within touching distance from my window. Neon signs are made individually and are treated as works of art in Las Vegas, but they're increasingly rare in a Vegas insistent on reinventing its image.  It's staggering to think of the crooked deals that went on in this room, or the murderous plans, and there's something humbling about the intimacy of the space. There have been no extensions, just modernisations, which means up-to-date amenities in very historic hotel rooms. I go to sleep feeling partially thrilled, partially nervous about the ghosts of mobsters past, who must surely stalk these corridors.
The next night I check into the Jackie Gaughan Suite at the El Cortez, the most special place I have ever stayed, and I've stayed in some amazing hotel rooms. Comprising the lion's share of the top floor of the hotel, it has seven balconies, and retains its original fixtures and fittings, like ostentatious metal swan bath taps, from when it was fitted in 1980. Jackie Gaughan, the hotel's former owner and a Las Vegas legend who owned a hotel empire worth $82m, lived here from 1980 until his death in 2014.  "We almost ripped it out and turned it into three luxury suites," says Epstein. What makes the El Cortez special is they don't have any idea how amazing their hotel is. Consultants came in and suggested they keep the suite as it is – and thank goodness they did.
The Jackie Gaughan Suite costs $1,500 per night, but with three double beds and enough room to throw a party for 50 (and boy, back in the day, were they thrown) it's the biggest steal in the city. You'd get a forgettable room somewhere modern for the same price. Everything's been faithfully kept as it was in the 1980s. The original manual for the washing machine is in its drawer, the fridge is fabulously OTT, like things were in the disco era, and on the mantelpieces, mugs etched with Jackie's name are presented like he's about to walk back in.  There's a powder pink theme throughout the furnishings, and did I mention the jacuzzi with gold duck taps that has a Strip view? Here's a video I took of the Suite to give you some idea.
Trust me, this is the best money you'll spend on any holiday this year. Look out for Epstein, by the way, who wanders the foyer to speak to guests in the hotel's restaurant every day, like his predecessor Mr Gaughan did. Epstein tells me he prides himself on it.
Circa, a short walk away, is the first new hotel to open Downtown in 40 years and a sign of the spike in interest in this area of the city. Downtown's other hotels take the architectural shape of mini high rises, El Cortez being one, as well as the Golden Nugget – another old gem – though none of its 1940s interiors remain.  Circa is something different, taking the form of a handsome ship's sail; it's every bit as 'Strip' as you'd imagine. I found two nights at the El Cortez and two nights at the Circa gave me enough time to explore both the old and new parts of Downtown, including the Neon Museum, Mob Museum and new Arts District area with thrift stores and craft beer bars where you could easily spend a day, ending up with very a very imaginative meal at the very un-American-seeming Esther's Kitchen restaurant, with its bright sharing platters using fresh ingredients.
Back at the Circa, live DJ plays all day at the pool, which has a set of gigantic screens displaying international sport. Laying in my cabana and sipping a fancy cocktail, I watched all manner of teams I'd never heard of play games I never knew existed.
Rather than signalling the end of an era, Circa signals to Downtown's future: as the secret of the 'other' Las Vegas spreads, the investors, and with them, their cool new hotels, are bound to follow. Get there before they do. 
Visit Downtown Las Vegas yourself
The 'Original 47' rooms at the El Cortez start from £52 and the Jackie Gaughan Suite is bookable via the website at elcortezhotelcasino.com/hotel/jackiegaughan-suite. Circa rooms start from £110 at circalasvegas.com For more information go to visitlasvegas.com.
More Las Vegas: Adam also went searching for Elvis' legacy in Las Vegas, following the recent Baz Luhrmann Elvis film