Marylebone is a strange old place, isn't is? Not quite Mayfair, not quite Soho, not quite Fitzrovia. It's a place you drift listlessly through en route to the train station. But it can also be a destination in itself, especially if you're in the market for somewhere to eat. Let us guide you through a day of culinary ecstasy.
Breakfast
The French basically invented breakfast. Before that we'd just amble around until noon clutching fistfuls of berries, unable to decide which of the two meals was the most important of the day. Marylebone's Aubaine is the perfect place to say thanks to our continental neighbours by tucking into pain au chocolat and croissant aux amandes. Eggs also feature predictably heavily with the eggs Imperial – lobster, poached egg, English muffin, hollandaise sauce – probably the pick of the bunch. Book here.
Brunch
Crazy Pizza's Crazy Bubbles Brunch isn't the usual haunt of the archetypal City A.M. reader, but if you happen to be in the mood to drink copious amounts of Veuve Clicquot and eat some very tasty pizza before lunch-proper, then this is your place. You will hear Crazy Pizza before you see it, with a thumping soundsystem that utterly defies the hour, and you'll see the gaggle of influencers posing for impormptu photoshoots before you enter the flower-laden entrance. Inside there may be a man playing the bongos and every hour, on the hour, you'll be served shots from a man wielding a paddle. It's quite something. Book here.
Lunch
For something completely different we recomment Delamina, an elegant and laid-back restaurant serving quality Middle Eastern and Mediterranean fare. There's a range of excellent mezze or you can go large with poussin roasted over charcoal or seared tuna. The atmosphere is light and buzzy, and it's extremely unlikely anyone will be playing the bongos. Book here.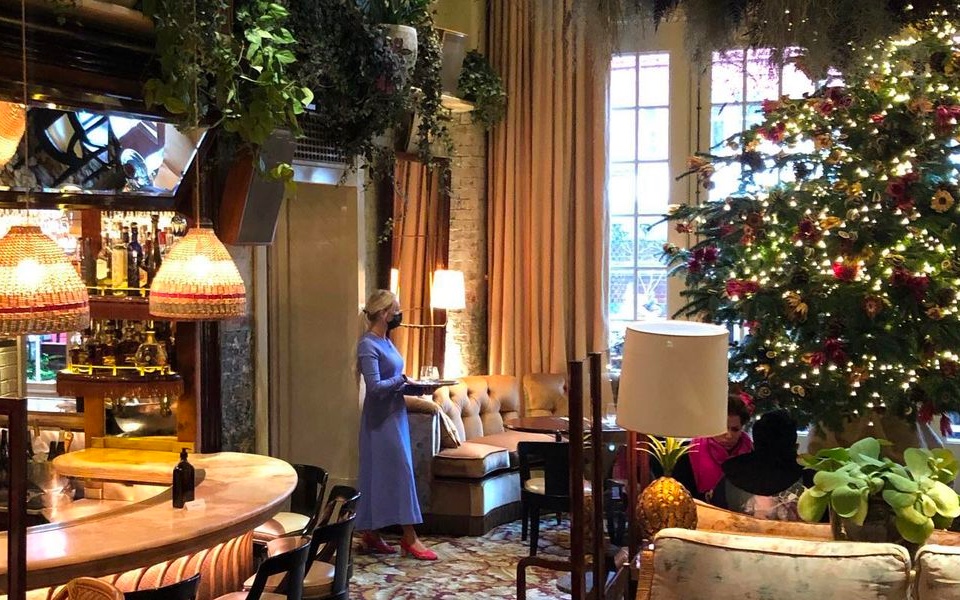 Dinner
You can't really talk about eating in Marylebone without mentioning Chiltern Firehouse, one of London'e premier destination restaurants. Brought to the attention of the beau monde by superstar chef Nuno Mendes, it's now overseen by executive chef Richard Foster, although you can still expect to find the famous and delightful crab donuts alongside a host of inventive modern European dishes. It's a classic for a reason. Book here.