Skiing in St Moritz and Pontresina, the Swiss towns where British ski holidays were born
The Grand Hotel Kronenhof is like a Wes Anderson movie brought to life. You join me in Pontresina, in Switzerland's Eastern Alps, a pretty little mountain town of 18th century villas and Belle Epoque buildings. The hotel itself is large and neo-baroque, crowned with a jaunty green dome, and was opened in 1848 before being expanded fifty years later when winter sports began to take off.
The English didn't invent skiing – that claim goes to the Norwegians – but we did invent the ski holiday, and the charming Kronenhof, and fellow grande dame The Kulm Hotel in nearby St. Moritz, were at the heart of pre-war high-society's snow-bound tourism boom.
The Glacier Express grips the sides of the mountains and speeds past tranquil lakes, over stone viaducts, through narrow tunnels
My party and I have arrived by rail. The Glacier Express line runs from Chur, south of Zurich, gripping the sides of the mountains and speeding past tranquil lakes, over stone viaducts, through narrow tunnels and reaching Pontresina at 1,800 metres. We're met by a Mercedes at the station and two minutes later swing into the cour d'honneur of the Kronenhof.
Many areas of the hotel have been recently refurbished. My junior suite – one of 112 bedrooms – blends classic and contemporary elegance, while the pale and calming lobby features majestic ceiling frescoes and is filled with light via the panoramic vista of the Roseg Valley. The cocktail bar, cigar lounge and billiards room are each cosy and sumptuous; tailor-made by designer Pierre-Yves Rochon for sophisticated après ski conviviality. The Grand Restaurant is a jacket and tie affair, with our hosts keen to preserve sartorial standards and the sense of occasion that greeted guests in previous centuries.
There is a maze of corridors in the bowels of the hotel leading to hidden treasures, such as a traditional pine-panelled stübli for intimate gourmet dining (where we make use of a table-side silver-plated duck press), a 19th century bowling alley where one can enjoy fondue, and a rustic party room/tavern filled with reminders of the past. This cellar was originally home to a wine shop, as well as stabling for horses that transported wine over the Bernina Pass. It was thanks to this trade that the hotel was able to survive the two World Wars, yet many of its British guests weren't so fortunate.
The basement space, filled with barrels, mismatched furniture, candles stuck atop wax-dripped champagne bottles and dozens of chandeliers hung inches apart overhead, is haphazardly lined with hundreds of old pairs of skis and poles, most unclaimed since 1914. The leather bindings are stiff with age, and each has a curling paper label attached with the owner's name written in cursive. 'Mon. Allen – 1 pair skis 2 sticks'; 'Ralph Walter, 16 Thorney Court, Palace Gate, London. To be kept for future use'; 'R. Blacker Douglass, Irish Guards'.
I did some Googling and found a handsome black and white photograph. Lieutenant Robert St John Blacker-Douglass, alumnus of Hazelwood, Wellington and Sandhurst, member of Guards, Queens and the Royal Automobile Club, won the Military Cross in the trenches at Cuincy in February 1915, aged 22, after he was wounded by a grenade while rushing the enemy barricade. Despite his injuries, he picked himself up and carried straight on, only to be shot and killed moments later.
The pistes are a short minibus ride away, but what Pontresina is most noted for is cross-country skiing. I'd never done it before, and came here to learn a new skill. You slide when your feet are together, but the narrow skis grip when you lift your heel and push. In downhill sections you stand in grooves, bent at the knees, and ski as if on train tracks. It takes concentration because it's easy to lose balance, especially on the flats, and a backwards tumble left me with an aching coccyx.
Enter one of the Kronenhof's trump cards – its 2,000 square-metre spa. This modern facility includes a 20m indoor infinity pool, Jacuzzi, a saltwater grotto, saunas, steam rooms, and a relaxing floatation room with underwater music. It makes me cringe whenever that 21st century Californian pseudo-word 'wellness' comes up.
In 1900, people here called it 'the cure' instead. The idea that Alpine air and some high-altitude activity could mend all your ailments. Pontresina was one of Switzerland's first 'cure stations'. Of course, after a few hours, spas can get very boring – and I suspect that's why the sport of bobsledding was born.
A nine-minute train ride (or five-mile drive) away from Pontresina lies its much more famous cousin, St. Moritz. Our destination is the Kronenhof's sister hotel, the 166-year-old Kulm, which in addition to 164 luxurious guest rooms (also undergoing refurbishment by Pierre-Yves Rochon) is home to the Cresta Run's clubhouse – the Gunter Sachs Lodge – filled with boisterous photos of brave Hooray Henrys and wealthy adrenalin addicts through the decades.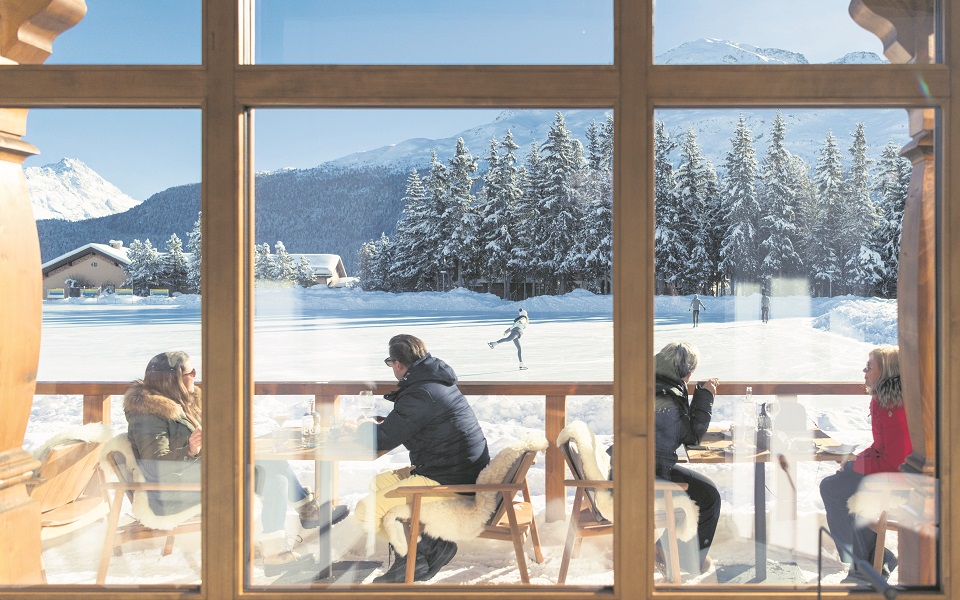 Sachs was an aristocratic German playboy, sportsman, art collector, photographer, one-time husband to Brigitte Bardot, scion of the Opel car company, and founder of the jet-set Dracula Club.
Between 1969 and his death in 2011, he was the chairman of the St Moritz Tobogganing Club. But the club itself dates back far earlier, to 1887, and it was established by the English, led by Major William Henry Bulpett.
Britain's ardour for the Engadine Valley's winters was first prompted by an invitation from the Kulm Hotel's founder, Johannes Badrutt, whose son later established the nearby Badrutt's Palace. One summer in 1864, joined at the Kulm by four English gentlemen, he enthused about the snow-blanketed landscape, sunny skies and mild temperatures of the quiet off-season. The guests, typically accustomed to dark, cold winters, thought he was pulling their legs.
Badrutt laid down a bet: Return to St Moritz in December for a trip away from the UK and if they didn't like it they'd be fully reimbursed. They came back to the Kulm and stayed until Easter, returning home tanned and full of enthusiasm. Soon, the Engadine was full of Brits and they started to seek new diversions, such as sledding. Our sporting adventurers kept crashing into each other, so steering apparatus was invented. Soon after, the visitors, together with hotel heir Casper Badrutt, carved a steep, twisty, perilous run out of the ice and the rest is history.
The injuries were considerable, and spectators watched from their open top Bentleys. Not much in St. Moritz has changed. The corridors of the Kulm are decorated with trophies from these winter games and others; skiing, curling, skating, skeletoning. Some are awarded to victors, others for the most dramatic crashes. The property also hosted the 1928 and 1948 Winter Olympics. Remnants remain, including the art nouveau Kulm Country Club – part ice rink tribune, part toboggan museum, and mainly a restaurant recently remodelled by Lord Foster, at cost: An example of another pioneering Englishman who wanted nothing more than to leave his mark on this sliver of the Swiss Alps.
After a day blasting down black and red runs, I retired to the Kulm's steaming outdoor infinity pool, where power jets soothe muscles and the air sparkles like champagne.
Visit St Moritz and Pontresina yourself
Grand Hotel Kronenhof winter rates start from £500; kronenhof.com. Kulm Hotel St. Moritz winter rates start from £785; kulm.com. One-way fares from London to Zurich on SWISS start from £76, and include all taxes, fees and surcharges, one piece of checked luggage and one piece of hand luggage; swiss.com. For more information on Switzerland, visit MySwitzerland.com; for holiday packages, train and air tickets, email sales@stc.co.uk
Find more travel inspiration on City A.M. Travel