Tokyo 2020: What Covid-19, no fans and public opposition mean for sponsors and the International Olympic Committee
The 60,000 seats of Japan's national stadium, built for the Tokyo 2020 Olympics, are coloured in muted shades of green, brown, beige and grey.
Architect Kengo Kuma chose those tones to fit his vision of the stadium, which he wanted to look as natural and organic as possible. Timber is the most visible material and exterior walkways are festooned with hundreds of plants.
Still, Kuma probably did not expect the seats to be on display as much as they will be over the next few weeks at the Games.
The decision by local authorities to keep spectators out of Olympic venues is just one symptom of the Covid-19 cloud hanging over Tokyo 2020.
Ahead of Friday's opening ceremony at the national stadium, newspaper polls this week showed that the Japanese public remained opposed to going ahead with the world's biggest sporting event this summer.
The line-up of world-class competitors has been thinned out by Covid cases and the prospect of strict lockdown living in the athletes' village.
Having been postponed once, the Tokyo 2020 Olympics has never shaken off doubts that it could be shelved again – even at the last minute.
For the many sponsors of the Games, the Tokyo organising committee and the International Olympic Committee (IOC), repercussions are inevitable.
"There's no point in trying to sugar-coat it," says Michael Payne, former IOC head of marketing. 
"All hospitality is cancelled, all showcasing is cancelled and a significant part of the sponsor programmes have had to be cancelled."
Tokyo 2020 sponsors like Toyota 'must risk manage'
Toyota is one of the IOC's 15 top-tier global sponsors, who also include Coca-Cola, Visa, Intel, Samsung and Alibaba.
Each pays vast sums to be associated with the Olympic movement; Alibaba's nine-year deal reportedly cost the Chinese e-commerce multinational half a billion US dollars.
This week it emerged that Toyota had decided not to air Olympic-related television advertising in Japan or send any of its executives to the opening ceremony because of concerns about a backlash.
"Public sentiment and the potential for it to become a super-spreader event are what make sponsors particularly cautious," says Professor Simon Chadwick, a sports business expert.
"Sponsors have got to risk-manage. They are constantly trying to assess what is appropriate for them to be doing as we go through the Games."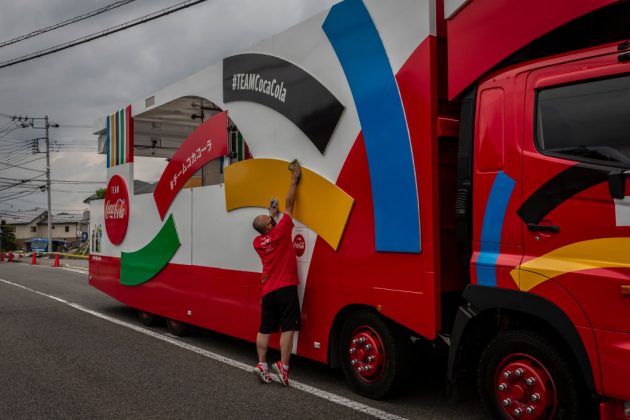 As a Japanese company, such concerns are felt more acutely by Toyota and the many lower-tier sponsors which have signed up as partners only for this edition of the Olympics.
These domestic sponsors have contributed a record $3.3bn to the Tokyo organising committee. That is triple what London 2012 and Rio 2016 generated and enough to cover half of its $6.7bn budget for staging the Games.
There are dozens of local partners, such as beer brand Asahi, which reportedly paid $125m to sponsor Tokyo 2020.
Unable to celebrate their one-off marketing investments as they had hoped, these are the companies most affected by the uniquely negative backdrop to this Olympics.
"The area of concern is around the relationship between sponsors and Japanese consumers and the Japanese public more generally," says Prof Chadwick, Director of Eurasian Sport at Emlyon Business School.
Local partners asked to pay extra during delay
Of course, the marketing plans of Olympic sponsors are not the only ones to be upended by the pandemic, and even local partners have had a few years of trading on their Tokyo 2020 tie-in.
"The relationship sponsors have is really based on intellectual property – so being associated with the Olympics," says Neil Hopkins, Global Head of Strategy at M&C Saatchi Sport and Entertainment.
"However much you spend, whether it's $50m-$100m on being a global partner to the domestic partners in Japan, the job they will have needed to have done is almost over."
Says former IOC official Payne: "It's not an end to the marketing programmes, but the cherry on the cake has been lost."
The one-year postponement of the Games actually cost domestic sponsors extra fees, as the Tokyo organising committee successfully argued that partners were getting more exposure. The IOC, by contrast, rolled over contracts that were due to expire in 2020.
Despite the record sums generated from local partners, Tokyo – the organising committee and the city – is not getting what it hoped.
Lost ticket sales are expected to amount to $1bn, while the area will not get the boost to tourism that other hosts do, regardless of whether it may want those visitors right now.
"No one can really compensate Tokyo for what is going to be a sub-optimal Olympic Games off the track," says M&C Saatchi's Hopkins.
"On the track they could break any number of records, but if there's no one in the arenas to watch it, it's going to suffer by comparison to previous Games."
Olympics tripled commercial revenue in a decade
While there may be financial hits, logistical challenges and reputational minefields related to Tokyo 2020, they are mostly localised and short-term.
Global top-tier sponsors like Alibaba are on long-term deals so their association with the Olympics is not dependent on the success or image of one Games.
And they are queuing up to back the IOC, which has not lost a single commercial partner during the pandemic and has seen revenue rocket in recent years.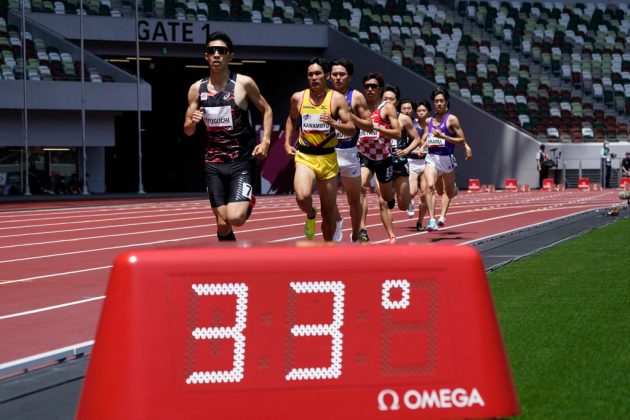 While the cycle from 2013 to 2016 brought in $1bn of commercial revenue to the IOC, 2017-21 has generated $2.2bn.
That figure is set to rise to $3bn for the period up to Paris 2024. As far in the future as 2029-32, the IOC already has $4.2bn locked in.
"Paris is on target with its marketing programme, LA is way ahead of target," says Payne.
"The problems or successes of the local marketing programme really don't carry forward to the local marketing programme of the next Games."
How global broadcaster deals bankroll Olympics
As impressive as the IOC's commercial revenue is, however, it is dwarfed by its broadcast income.
The sale of broadcast rights has on average contributed around 80 per cent of IOC revenue for Summer Games in the last 30 years.
For the Olympiad leading up Tokyo 2020, media companies have paid $4.5bn; around two thirds of total IOC income from the Games.
US broadcaster NBC, the single largest contributor to the IOC coffers, will show 7,500 hours of coverage. In 1996 it showed 200 hours.
"As long as it was going ahead and they were going to stick on TV there were no issues for the IOC because that's where they're getting paid," says one industry figure.
Empty seats are a bigger problem for broadcasters than sponsors, but can be overcome by cutting and editing closer to the field of play, says Payne.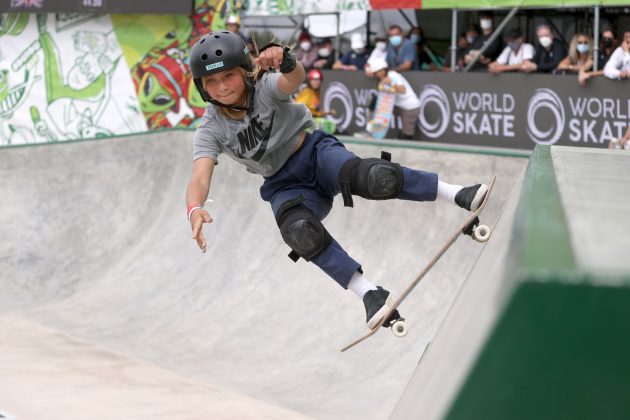 To compensate for the lack of spectators, broadcasters have planned some innovations for Tokyo 2020 that could be here to stay.
Athletes' families have been given cameras on which to record their reactions, which competitors will be shown on big screens in arenas or at trackside.
It is a reminder that "Olympians are not superheroes," says Payne. "A few, like Usain Bolt or Simone Biles, are but 95 per cent are your next-door neighbour or your cousin or whoever."
In the doomsday scenario that Tokyo 2020 is halted or cancelled, broadcasters and athletes will be the biggest losers. The IOC is insured. "I can't see it," says Payne.
Tokyo 2020 issues 'won't taint Olympic brand'
Whatever happens over the next three weeks, and at the Paralympics a month later, the Olympic brand seems likely to emerge largely unscathed.
That is particularly true in the West, where the Tokyo 2020 experience will be less "immediate", says Prof Chadwick.
"In some respects the Olympic brand is as prestigious as it was – or even maybe as tarnished as it was – because for people in Europe, North and South America, it's not close to us. The risk factor for the Olympic brand is much less than in East Asian and Japanese terms."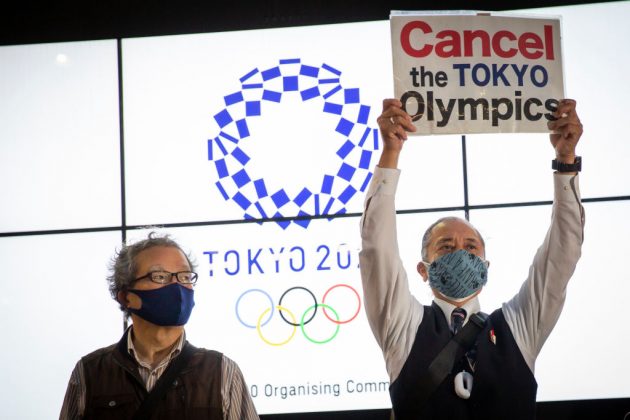 All editions of the Games are plagued by a degree of FUD – fear, uncertainty, doubt – which usually recedes once the festival of sport begins and people focus on the action.
"No matter what you throw at the Olympic brand – politics, boycott, scandals – it comes through stronger every time because of the symbolism of bringing the world together, celebrating humanity. That's what you'll see on television," says Payne.
"Like every Games, they will have their iconic sporting moments, their new sporting heroes. The Olympics has always proved a remarkable moment in time where you can remember what you were doing where you were in your life when you saw so-and-so win their gold medal."
IOC must show caring side – and attract youth
If there are dangers for the IOC, they may be the flip side to two of its biggest strengths: huge commercial power and a broadcast rights model that keeps paying out.
While Japanese officials have wavered over whether to press on with Tokyo 2020 this year, the IOC has been firm in its conviction – perhaps too much so, for some.
Former UK Athletics chairman Ed Warner has been particularly scathing of the IOC, writing in a blog post: "I hope its tin-eared intransigence is never forgotten or forgiven."
"What's key is that the IOC counters the narrative that it is a corporate juggernaut that rolls in and rolls out without due concern for countries or local populations," says Prof Chadwick.
"It has to demonstrate that it's not just an uncaring global monster and is taking steps to ensure the Games doesn't become a super-spreading event."
Of greater long-term significance is an issue that most sporting bodies are grappling with: how to engage younger audiences less beholden to linear TV broadcasts.
It has taken steps, like introducing skateboarding for Tokyo 2020 and launching its first foray into esports, the Olympic Virtual Series.
But it needs a "revised, refreshed and reanimated" broadcast offering that also appeals to digitally native consumers by LA 2028, says Hopkins.
"There are ways in which the Olympics is moving into a position where it can talk credibly to a younger audience. But it is probably still on a journey to get there.
"That's really the challenge it faces, much more so than whether there's people in the stadium in Tokyo."