The brands that won Euro 2020, from Volkswagen's tiny ball-carrying car to Bud Light 'box heads' and ITV super-pundit Emma Hayes
Italy were deserved winners of Euro 2020, which will be remembered as one of the best football tournaments all of time. 
Off the field brands have had their own competition for the hearts and wallets of consumers. Here are my thoughts on who emerged as the winners.
EE
EE is a long-standing sponsor of the England team and were a lead partner for Wembley Stadium in 2014. We've seen the telecoms brand's "Lions' Den" content series before but this time they nailed it. 
Broadcast from the team's base camp in St George's Park, hosted by Josh Denzel, "Lions' Den connected by EE" gave England fans the opportunity to interact directly with members of the England squad every day.​
Viewing figures of around 500,000 per show were very impressive and I personally loved the series.
ITV
ITV and BBC go head to head at every international football tournament and the former got off to a very good start at the end of May when they launched the "Good Times Start Here" spot with Ian Wright.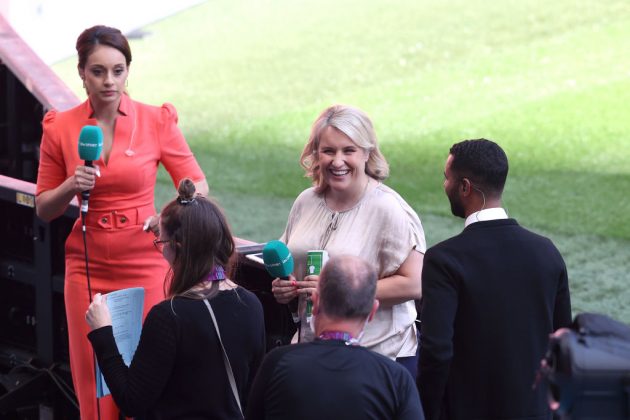 The BBC never really recovered and the battle was truly won when Emma Hayes announced herself as the pundit of Euro 2020.
ITV's semi final coverage hit a record 27.6m – a win for Hayes, Wright, Roy Keane and Gary Neville.
TikTok
TikTok's #wherefansplay has proven to be one of the most used hashtags of the summer so far. 
It applied a real-time marketing approach that provided an ongoing drumbeat of content, bringing together football and TikTok's community.
This was brought to life through both reactive and proactive content that dived into the stories as they broke. 
With glimpses of John Barnes, Ed Sheeran and David Beckham, it's been brilliant to watch and hopefully we'll be seeing a lot more of them at big tournaments in the future.
Volkswagen
Within minutes of the Italy-Spain semi-final #thecarisback was trending on Twitter. 
The tiny Volkswagen ID.4 once again transported the ball out towards the centre circle after going viral on the opening day of the tournament. Remote control cars at sports events aren't new but the VW ID.4 grabbed a lot of headlines.
By Sunday's final it had picked up 18k Twitter followers at the handle @tinyfootballcar.
Uber Eats, Deliveroo and Just Eat
All three home delivery giants have been ever-present throughout the tournament. Legends such as Eric Cantona,
Wayne Rooney and Chris Kamara have been used across multiple channels as the three brands have fought for the King of the Takeaways crown.
It's difficult to say who edged it as they all nailed campaigns across TV and social but a personal favourite was Jeff Stelling and Kamara's #bringithome video, shot after England's last-16 victory over Germany victory, which got 65,000 organic views.
It's safe to say the big three are here to stay when it comes to big tournament feasting.
Bud Light
The official beer of the England men's football team, Bud Light used a campaign in which close-up shots of Jordan Pickford, Kieran Trippier and Kyle Walker adorned the front of custom-designed multi-pack boxes, which fans could then wear in tribute to their heores. 
"Box heads" has been a hugely successful campaign and I saw many on my travels to games during the tournament.
Simon Dent is a sports business entrepreneur.