You've heard of Chatsworth, and Castle Howard, that Brideshead dream. You've heard of Blenheim Palace, the Duke of Marlborough's monumental home. But what about Wentworth Woodhouse, the biggest house in England?
Wentworth Woodhouse, the former seat of the Earls Fitzwilliam, could have been a house lost to history. Five miles from Rotherham, it sits in the anonymous south Yorkshire countryside, surrounded by once-thriving mining communities. Its facade is 606 ft, equivalent to about 16 London buses. Once the home of one of the richest families in the land, it now stands empty. There is no gift shop through which to exit. It is said to have 365 rooms, one for every day of the year. Time was when servants were specifically employed there to light candles. Guests were given confetti to scatter behind them before dinner, so that afterwards they would find their way back through the five miles of corridor. Wentworth Woodhouse is a monument to great aristocratic wealth. So how has it been forgotten?
Although Wentworth's history dates back to the 17th century, the beginning of the end of its life as a great stately home came in 1946. During the post-war coal shortage, Labour minister Manny Shinwell decreed that the estate, where the Fitzwilliam family had run a thriving mining business, would be given up for public use. Despite research showing that the coal was "not worth the getting", Shinwell ordered that open-cast mining would tear through the formal gardens, right up to the Fitzwilliams' "bloody front door".
The debris from this piled up "level with [the 8th Earl's bedroom window," wrote the author Catherine Bailey in her 2007 biography of the Fitzwilliams, Black Diamonds. Even the local miners were appalled. In April 1946 Joe Hall, president of the Yorkshire branch of the National Union of Mineworkers, described the work as "sacrilege… against all common sense."
But the family were powerless to stop it. Peter Wentworth-Fitzwilliam, the 8th Earl Fitzwilliam, watched as diggers wrenched up the gardens. Two years later, Lord Fitzwilliam was killed in a plane crash over France with his mistress Kathleen "Kick" Cavendish (nee Kennedy, sister of John F. Kennedy). With no sons, only a 13-year-old daughter (now Lady Juliet Tadgell), his title passed to a cousin, who had no heirs, before another, the 10th Earl, who died in 1979, also without children. That marked the end of the Fitzwilliams, and, some thought, the end of Wentworth Woodhouse. After all, what use would a house with over 300 rooms be without a family to live in it?
Having failed to convince the National Trust to take the house, the Fitzwilliams leased Wentworth to West Riding County Council, keeping a family apartment in the back. In 1949 Lady Mabel College of Physical Education moved in, and the 60ft square Marble Salon, where in 1912 the ballerina Anna Pavlova had danced for George V, became a gymnasium. When in 1988 the lease expired, the house went on the market. A year later it was sold to businessman Wensley Haydon-Baillie, and then to the architect Clifford Newbold in 1999. When in 2015 Newbold died, the house was once again up for sale. For a while, Savills had it listed for offers in excess of £8m, and reports circulated that it had been bought by a Hong Kong investment company. The National Trust were urged, again, to take it on.
Succour came when architectural historian Marcus Binney, a former editor of Country Life, secured funding enough to rescue the house for the Wentworth Woodhouse Preservation Trust (WWPT) to take on. The Treasury stepped in, gifting £7.6m to help with emergency repairs, and the house was saved.
Two years on, and work has begun in earnest to rescue Wentworth Woodhouse. Chief executive Sarah McLeod was appointed in 2017 and given a mammoth task. There's dry rot to tackle, asbestos to remove, over 100 drains to replace, and 14,000 new roof slates to put over the state rooms. She breaks it down into separate projects: to restore the house, at a cost of £79m, the stables for £39m, and the camellia house, for £1.5m. Parts of the main house will be open for tours, and the state bedrooms will be available for bed and breakfast use. Thankfully, McLeod isn't alone in her quest.
Local businesswoman Dame Julie Kenny is chair of WWPT, and her team has several other notable trustees – the Duke of Devonshire, whose uncle, the Marquess of Hartington was married to Kick Kennedy, and Sir Philip Naylor-Leyland, grandson of the 10th Earl, who might, in another universe, have inherited the house himself. Today, the Naylor-Leylands retain the estate surrounding Wentworth Woodhouse. Sir Philip's eldest son, 37-year-old Tom Naylor-Leyland is keenly involved with the project.
"There's a series of businesses in Wentworth village, including the popular garden centre, and we'd like to offer more experiences, rather than straight retail," he says. It's early days yet, but these might include Go Ape-style high wires in the woods, and mountain bike tracks. He has been galvanised by his family's legacy. "My ancestors were great innovators, and my ambition is to try in that spirit to be an innovator in a different way, to make Wentworth an even more attractive place."
But why should anyone care about this apparently ruined building? Merlin Waterson, the National Trust's former director of historic properties, is another WWPT trustee. "Wentworth Woodhouse is like a cathedral, as opposed to a parish church, it's on a colossal scale," he says. "I hope that when people go there, they think, yes, this is quite remarkable." After all, it was a place where extraordinary events unfolded.
Wentworth Woodhouse was built as the result of a family feud. In 1695, William Wentworth, 2nd Earl of Strafford, left the Wentworth estate to his nephew Thomas Watson, and his titles to his natural heir Thomas Wentworth. The estates and title split, the two men set about outdoing one another: Thomas Wentworth built Wentworth Castle, seven miles away, while Thomas Watson's son, Thomas Watson-Wentworth, 1st Marquess of Rockingham, began building the two houses that make up Wentworth Woodhouse. The first of these was a Baroque mansion facing west, then the height of fashion. Yet by the time it was nearing completion in 1734, the wind had changed. Rockingham, keen to impress his Whig colleagues, extended the house to please them, with a grander Palladian building facing east. The result is a gargantuan structure.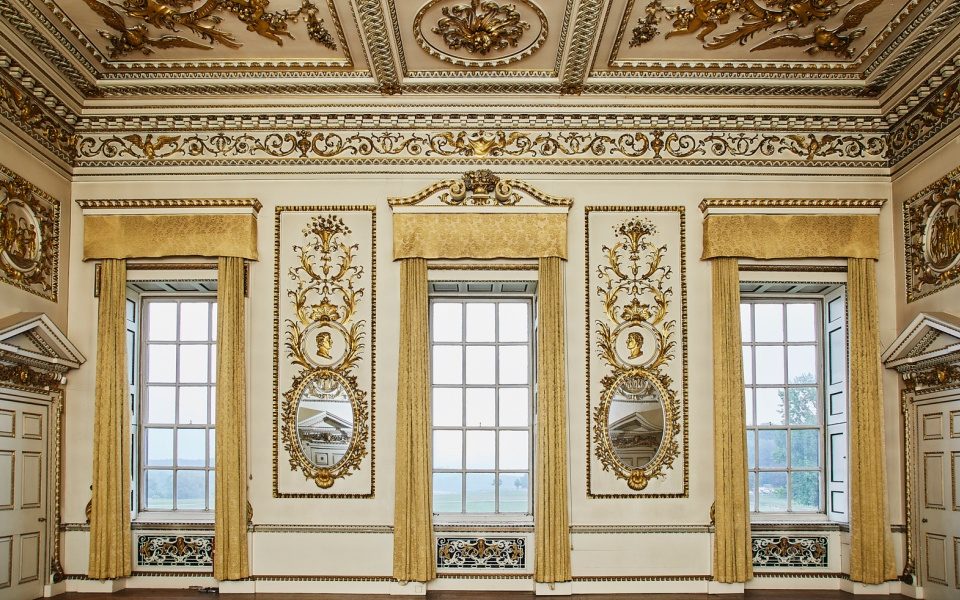 When in 1782 the 2nd Marquess of Rockingham, the former prime minister who had inherited his father's estate died, Wentworth Woodhouse was passed to his brother-in-law, William Fitzwilliam, 3rd Earl Fitzwilliam. And so began the opulent Fitzwilliam story at Wentworth Woodhouse. In 1807, for the 5th Earl's coming-of-age party, 10,000 guests were invited, who consumed 26 roasted sheep, three oxen, 240 bushels of wheat, and 473 bottles of "good wine" amongst the scoff. When the 6th Earl died in 1902 he left £2.8m, more than £3 billion today. Royalty visited: in 1912 George V and Queen Mary stayed for four days, and upon their arrival 40,000 people gathered to see them.
McLeod's vision is not to restore Wentworth to its original state, as a prominent house belonging to an aristocratic family – not least, as there is no family left. Nor does she wish to make it into a museum. "It doesn't have any contents – I don't want to fill it with reproduction furniture and have people looking at rooms set out like they were in its heyday." Of course a Russian oligarch could have bought it, she agrees. "But it's in Rotherham, not London." Instead, she wants Wentworth to stand up for itself, as a beacon of hope for the local area. She has no desire to turn it into "another Chatsworth or Blenheim", where visitor numbers in 2018 totalled 605,653 and 906,885 respectively, according to the Association of Leading Visitor Attractions.
"I want to retain its identity. People ask me if we are going to sandblast it, because it is black at the front [from the mining work] but I hope we don't. It's part of it." Revitalising Wentworth is key to the rebuilding of the surrounding area, too. "The project is critical for South Yorkshire," says Dame Julie Kenny. "Wentworth Woodhouse is a catalyst for change, and it can make Rotherham a destination of choice." As Bailey describes in Black Diamonds, Wentworth Woodhouse was a place where people came together. May Bailey, a scullery maid, remembered that "you could go anywhere in the park. You could walk right up't Wentworth House. You were never stopped." Dame Julie hopes that the restoration project will bring Wentworth back to the community. "The people of Rotherham feel that it's theirs."
Naylor-Leyland is realistic about the house today. "The truth is that it is far too large for us to afford. We couldn't afford to preserve it in the way that it should be preserved." The late James Lees-Milne, part of the National Trust's country houses committee, visited Wentworth Woodhouse in 1946. Afterwards he wrote in his diary. "It is certainly the most enormous private house I have ever beheld… Strange to think that up until 1939 one man lived in the whole of it."