Tennis' Wimbledon outcasts are shining at the Australian Open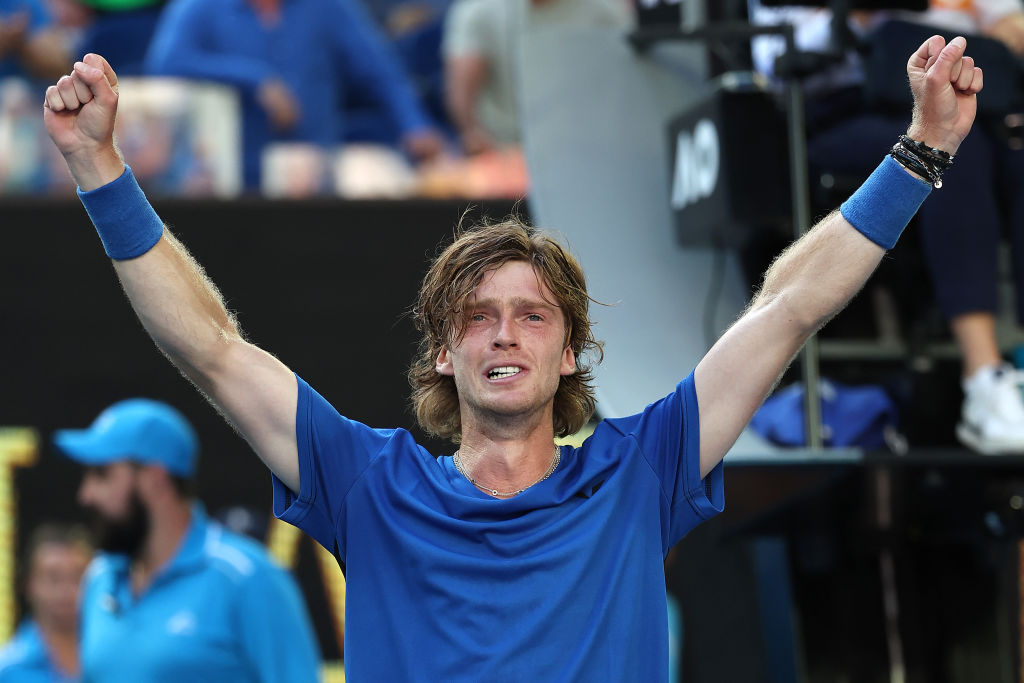 Russian tennis star Andrey Rublev will be one step closer to a maiden Grand Slam should he overcome Australian Open favourite Novak Djokovic this morning Down Under.
The player – currently banned from competing at Wimbledon because of his nationality – has been in fine form in Melbourne thus far.
The 25-year-old Muscovite has beaten the likes of Dominic Thiem, Briton Dan Evans and Holger Rune on his way to the last eight.
But in today's match against Djokovic, Rublev will face his sternest test.
Because the former world No1 is on the hunt for his 10th Australian Open title and 22nd Grand Slam.
And despite his hamstring appearing to bother him slightly in his win against Alex de Minaur, the Serbian is on fire at the moment.
Rublev is going to need everything he has got to have a chance against his opponent on the Rod Laver Arena this morning, but he will back himself.
If you were to use the pair's previous meetings, it doesn't look too good for the Russian, however.
The two have played each other on three occasions, twice on indoor hard courts – like the Australian Open courts – and once on clay.
Both indoor matches were won by Djokovic in straight sets while the clay clash was won by Rubvlev in three sets.
The two may be separated by one place in the pre-tournament seedings but Djokovic will be a huge favourite this morning – should his hamstring hold up.
Australian Open serving it up
Elsewhere in Melbourne, the women's semi-finals commence tomorrow with the pick of them Wimbledon champion and Russian-born Elena Rybakina's clash with Victoria Azarenka – who, like Rublev, is currently banned from Wimbledon due to her nationality.
The duo are 22nd and 24th seeds respectively but have been in astonishing form Down Under to reach the last four.
Azarenka has beaten the likes of third seed Jessica Pegula and Madison Keys while Rybakina has overcome world No1 Iga Swiatek and Jelena Ostapenko.
The Kazakhstani, born in Moscow, has dropped just one set on her way to the semi-finals while Azarenka has dropped two.
Should the Belarusian go on to win the title on Saturday, it will be on the 10th anniversary of her last Grand Slam win – in the same location in 2013.
It would be an astonishing achievement for the 33-year-old and polar opposite to her opponent tomorrow.
Rybakina, just 23, made the semi-finals last year Down Under and the quarters at Roland Garros before sensationally winning at Wimbledon against Ons Jabeur.
She could have another decade left on the circuit, as could fellow Moscow native Rublev, but the duo will come up against stiff, experienced competition today and tomorrow in matches that could define their careers.
It's ironic that when tennis is searching for the next generation, those who have been around for over a decade continue to be in the mix. It's testament to the catching up the youth must do to put their foot through the door – albeit Rybakina has a slam to her name.