Sunak arrived late to the business charm offensive and still can't catch up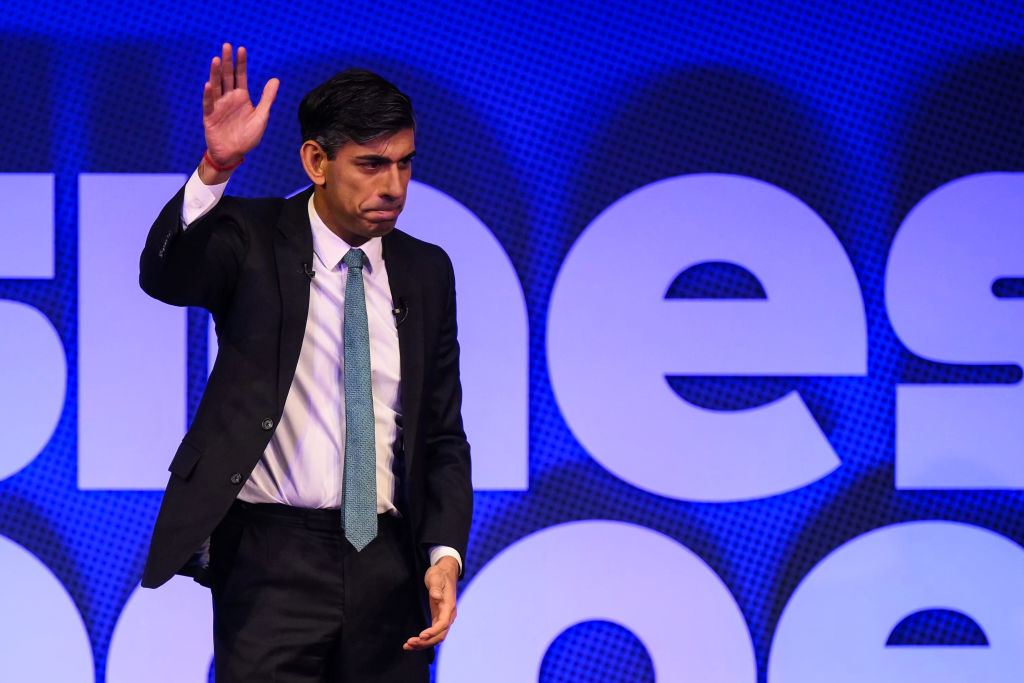 Rishi Sunak flirtatious dalliance with business leaders on Monday isn't enough to make up for months of neglecting policies to help British startups continue to grow and attract investment, writes Sascha O'Sullivan.
If Twitter is the social media platform for journalists, Instagram is for influencers and TikTok is for Gen Z and China, then LinkedIn is the site for lawyers, executives, and workplace well-being heroes.
And this is exactly where Rishi Sunak was on Monday, trying to convince London's business community he was on their side, followed by a love-in with chief executives at BusinessConnect at what was described as one of the "plushest venues" for a media event.
Sunak's flirtation with corporate bigwigs was surface level. There was a suggestion VAT-free shopping, a policy he scrapped in 2020, would be reinstated, but little else for London's business community to hang their hopes on.
Earlier this week, a report from Russell Reynolds Associates raised concerns over an exodus of top CEOs from the UK, while firms looking to go public are drawn into the open arms of the New York Stock Exchange.
To give a taste of some of the problems facing Sunak, enter Microsoft founder Bill Gates who last month posted a video picking up fish and chips in a self-driving vehicle he was riding around Central London. Wayve, the company behind the chippie-on-wheels, is a British AI start-up at the cutting edge of tech, yet largely ignored by Downing Street.
While Sunak was joking about Anya Hindmarch and cosying up to C.S. Venkatakrishnan (or "Venkat" as Sunak called him), the group chief executive of Barclays, at BusinessConnect, those in the admittedly niche, but high-potential industry have struggled to get a hearing over a piece of legislation originally promised last May.
The proposals for the legislation originally started back in 2016 before going through more than three years of consultations, which concluded at the beginning of last year.
Since then, zilch. A ready-to-go policy, which doesn't require financial capital, shelved and gathering dust. The UK, for Wayve, is an increasingly difficult and uncertain market.
Everything No10 is doing is through the lens of what happens on the doorstep in the run up to the local elections. Wayve might one day help transform the deliveries tossed waywardly on porches, but no one is asking local councillors for a driverless car to deliver their pizza.
If it can deliver a couple of polling points, it's worth their effort. If it's about regulatory change which would cost the government time, but ultimately make the economy money, it falls to the bottom of the pile. It's been left to backbench Tory MP, Ben Everitt, to campaign for self-driving cars.
Wayve has global potential, but moving to a market like the US, which has actively been working with the self-driving sector to overcome hurdles while maintaining safety standards, would make sense if the UK continues to stall.
If new rules don't make it in the King's Speech, Wayve and its ilk will have to wait until after an election.
In a completely different sector, Richard Dillon, the chief executive of Ivy Farms, a company developing lab-grown meat, has said openly they would look to move to the US if rules on food tech weren't changed quickly.
Ivy Farms is another successful UK company, originally spun out of Oxford University. But Dillon told City A.M. they were looking at "other potential launch markets, such as the USA or Singapore, where the regulatory environment will enable us to get our products to market sooner rather than later."
As part of an effort to stop the flow of firms to the US, the UK government launched billboards in Silicon Valley – yes really – to promote London to investors. Because investors famously make decisions based on roadside billboards and short films narrated by Stephen Fry.
Sunak was adamant that he was "unashamedly pro-business", and was keen to boast about his credentials for "smarter regulation", but the story on the ground is very different. While he might have a background and a natural ease with the C-Suite class, he doesn't just need to convince people of his competence, but of the Conservative Party's attitude to business after years of treating the City with scepticism.
Keir Starmer, meanwhile, has met with more than 1,000 different firms over the last three years. He too had a mountain to climb after the Corbyn era, but he's been slowly and steadily climbing it for sometime. Without a self-driving drone to wizz him up to the peak, Sunak is still a way behind.
Yesterday, the Labour leader and Shadow Chancellor, Rachel Reeves, were schmoozing with private equity bosses, who they plan to hit with a £400m tax raid if they make it to the doors of No10 and No11.
While the CBI is now almost completely defunct – for good reason – there is no direct line for Sunak to travel to between the business community. The CBI served a purpose for corporates to get their hearing in government, but it was also a streamlined way for the Prime Minister to win over a whole swathe of businesses at once.
At the moment the Conservatives will be busy going door to door for local elections in places like Bolsover and Southampton. But if he wants to catch up, he'll have to be out stomping the streets of the Square Mile and not just sending a few "congrats on the new role!" messages on LinkedIn.