SJ Berwin seals $1bn Asian merger with KWM tie-up
PARTNERS at SJ Berwin yesterday voted through the first ever merger between a UK and Asian law firm, giving their go-ahead to a deal that will create a practice with a turnover of more than $1bn (£660m).
From 1 November, London headquartered SJ Berwin will become part of King & Wood Mallesons (KWM), giving the Asian firm a foothold in London's legal market and marking the end of the SJ Berwin name, which will be dropped after a transition period.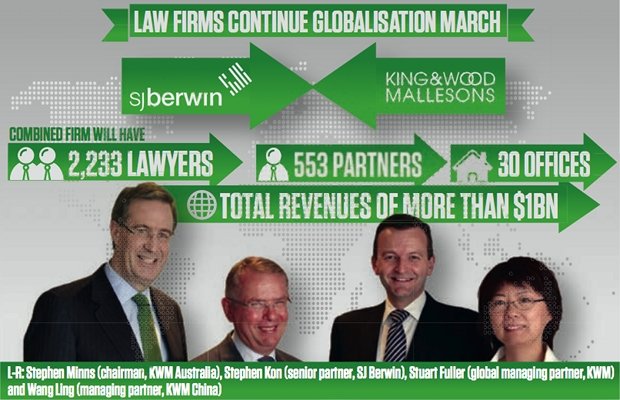 The combined firm will have more than 2,233 lawyers across 30 offices around the world including 553 partners – 94 of whom are based in SJ Berwin's City offices. When the tie-up goes live they will be joined by KWM's four London staff, while SJ Berwin's Hong Kong, China and Australia teams will move in with KWM.
Though formal combination discussions only started a few months ago, the relationship between the two firms was forged over several years, with particularly strong links across the practices' private equity arms.
The deal was given the green light yesterday in coordinated partner votes across the two firms' networks.
"We'd had common clients and projects for a while," SJ Berwin's managing partner Rob Day told City A.M. yesterday.
"That moved to the next stage when we realised that European and international clients wanted access to the high-growth Asia Pacific markets, while at the same time more investors from that side of the world were looking over here to invest."
KWM was formed last year by a tie-up between China's King & Wood with Australian firm Mallesons Stephen Jaques. It is structured as a Swiss Verein, meaning its four divisions – China, Hong Kong, Australia, and now SJ Berwin's UK and Europe operations – are financially independent.
SJ Berwin's senior partner Stephen Kon will become co-deputy chairman of the combined firm, along with Stephen Minns.
"There's a real sense of excitement," said Day. "I've already been bombarded by travel requests from junior lawyers."