What is City Talk?
City Talk allows marketers to connect directly with our audience by publishing content on cityam.com
Preview: Apple Q3 Earnings
We're deep into earnings season and there's one company that everyone will be watching this week.
Apple will announce its Q3 earnings after the market closes today, and there could be a mixed bag.
Revenue fell at the tech giant in the first two quarters of this fiscal year, and the firm was hit with a profits warning from Tim Cook at the start of the year. However, guidance for Q3 was better than expected, but even so, we could see a few surprises.
"What we know: It's tough in China, iPhone sales are not what they were, Services growth is strong," said Neil Wilson, Chief Markets Analyst at MARKETS.COM.
"What we don't know: if things have improved in China as was hinted at in the Q2 release and what the outlook for the rest of the year looks like. Q3 is always a bit dull, so as is often the case, the guidance for the rest of the year is key."
Past performance
In the Q2 report, Apple did report in-line earnings and upbeat guidance for the next quarter, despite ups and downs.
Guidance for the fiscal third quarter of $52.5bn-$54.5bn was particularly impressive, and well ahead of forecasts.
Despite providing a boost to the tech sector with excellent overall results, iPhone revenue dropped 17 per cent to $31.1 billion. Sales in Greater China were down 22 per cent from the year previous, but the report showed an improvement as sales picked up as the quarter progressed.
Overall revenues were down 5 per cent, in line with consensus. EPS came in at $2.46. 
Services were a success for Apple as services revenues climbed to an all-time high of $11.45bn, up 16 per cent from the year ago period. This is no surprise as the tech giant has focussed much of its attention (and investment) away from products towards services and software.
"Of course, this is very strong," Wilson said. "But we did note at the time some mild concern that the growth rate is slowing from the fiery levels we saw last year when we got +30 per cent prints."
What to expect
Today's report will include earnings for Q3, but also the outlook for the September and December quarters. This guidance will be particularly interesting given the worries about the iPhone. Consumers are becoming slower to ditch their current model for a new handset, a fact Time Cook admitted himself following the Q2 report. And this slowing is likely to be further impacted by the guidance for the 5G refresh.
Apple's recent acquisition of Intel's smartphone modem business for $1bn is allowing them to move forward with their plans for 5G. However, 5G is not expected until 2020 meaning that the new iPhone 11 model due in the next few months will likely only have small tweaks – something consumers are unlikely to be willing to sacrifice their current handset for.
It's quite likely, therefore, that consumers will wait for the release of the 5G models next year, putting further pressure on iPhone sales.
In terms of what to expect about services, Wilson said: "Not only are we looking at the absolute growth rate here, but also the impact on margins for the company as a whole and the shift in the balance. Apple Services margins came in at 63.8 per cent in Q2. For the group, management guided gross margin to be between 37 per cent and 38 per cent.
"However, Services makes up about 20 per cent of Apple's revenue, up from 16 per cent a year before – at what point can Apple start to guide its margins higher? This could be an area for an upside surprise, if not now then perhaps heading into the year-end. A slowing in the Services growth rate from the 16 per cent in Q2 would be a concern."
Apple launched a load of new services in March, so we'll be on the lookout for news about them – News Plus, Apple Arcade, and Apple TV Plus. After the Q2 report, Cook was keen to stress that the company has serious ambitions for these new ventures and insisted that they are not. The Q3 report should provide some early indicators on how these have performed.
Finally, we'll also be looking for any insight into how Apple thinks the ongoing trade war with China will pan out. Cook had been more positive in Q2, but the White House has insisted that there will be no tariff relief for Apple products made in China. And, the third quarter report could include scope for further acquisitions, if the recent Intel deal is anything to go by.
In terms of estimates, Wilson said: "Consensus estimates forecast revenues to remain flat year-on-year in Q3 at $53.4bn, with EPS seen at $2.10 against $2.34 a year before."
A closer look at share price
The profits warning at the start of the year saw Apple shares take a hammering, but shares have rallied close to 50 per cent since then.
"Breakout to $211 and beyond? Bulls looking for a break north of $211 but this could offer resistance. Sustained rally beyond $211 starts to bring all-time highs in view again. If there's disappointment, the support trend line comes in around $185."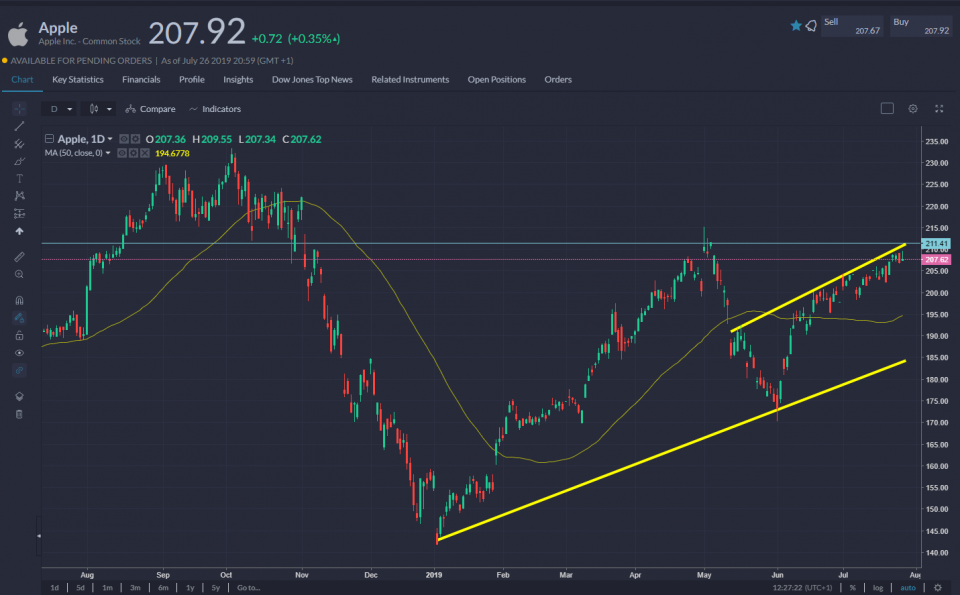 Key financials