Pressure tells as Johanna Konta feels the heat of Centre Court to exit Wimbledon in the quarter-finals to Barbora Strycova
Professional sport is an unforgiving environment.
When you're playing well Centre Court feels like a hospitable stage, the points coming at a steady pace, but when you're struggling suddenly the crowd feels oppressive and the ball unrelenting.
To see a sportsperson wither under the pressure is not an enjoyable sight – yet that's exactly what happened at Wimbledon this afternoon.
Read more: England's cricket stars have a trademark problem
Johanna Konta emerged in front of an encouraging home crowd for her opportunity to reach a Wimbledon semi-final against 23-time grand slam champion Serena Williams, who had earlier showed she is fallible after all while labouring past compatriot Alison Riske in three sets. In her way stood Barbora Strycova, the world No54.
The British No1 came out swinging, making all the moves and going for all the winners. At first it had the desired effect, with powerful ground strokes finding their mark as Konta raced into a 3-0 lead.
But while there were plenty of glory shots to draw the spectators' generous applause, there was also more than a fair share of unforced errors to elicit groans.
At first the positives outweighed the negatives, but as the match wore on the scales tipped inexorably in the wrong direction, as over-hit backhand followed netted forehand followed errant slice.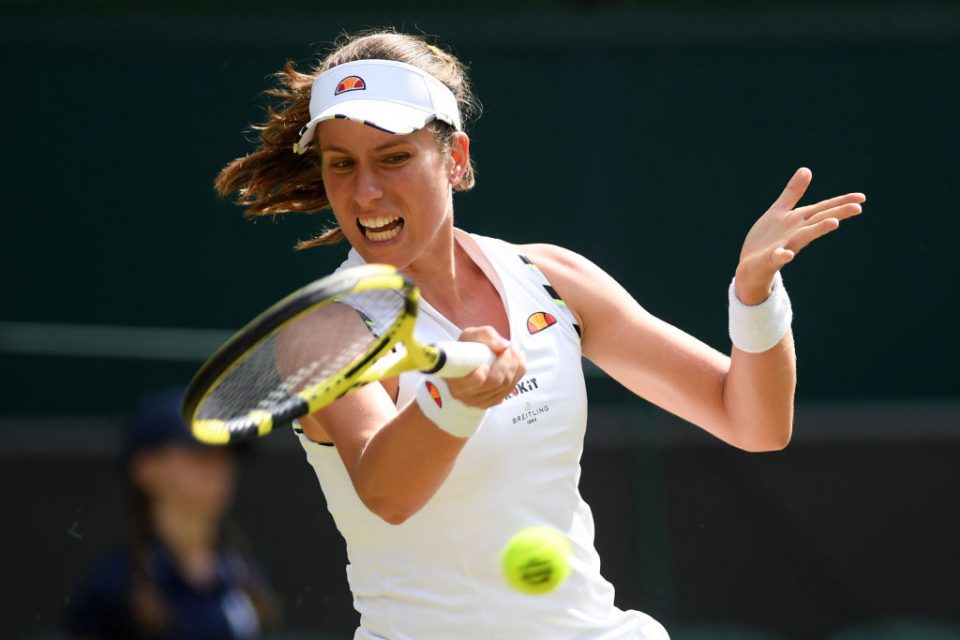 Strycova's unconventional slice-heavy style and propensity to keep the ball in play – what Konta later described as "moving very well", "moving the ball in a tricky way" and "slowing the game down" – proved the perfect game-plan to counter Konta's eagerness to force the pace.
What had looked like a confidence-boosting first set slowly slipped away, with a tie-break proving the turning point.
In the end, after so many memorable winners, all it took was Konta to hit a second serve return long and net a simple forehand to succumb 7-5 and surrender a crucial first set 7-6.
The statistics told the story. Konta: 19 winners, 22 unforced errors, 39 points won. Strycova: 11 winners, six unforced errors, 44 points won. 
Confidence drained
While her Czech opponent was emboldened, Konta's body language visibly sagged. She would have to come from a set down if she wanted to reach a fourth grand slam semi-final and her second at Wimbledon – and, from the outside looking in, it didn't look like a turnaround was brewing.
Konta's confidence drained away and no matter how many rounds of applause and shouts of encouragement came from the stands the match was heading in one direction.
The sixth game of the second set showed her mindset, as a long forehand gifted a break point, a double-fault presented another and finally an overhead volley blazed miles wide settled the score 5-1 in Strycova's favour.
When it came, the conclusion was befitting of the match. Konta pushes a mid-court backhand long to bring up a 7-6, 6-1 defeat. While a delighted Strycova soaked up the Centre Court appreciation and considered a first grand slam semi-final, Konta slunk off court disappointed.
In the following press conference she wore her emotion plainly. "I guess what happened is that I have an opponent on the other side of the court who has everything to say in how the match goes," she began, immediately on the defensive.
"Every decision that I made, every thought process, every opportunity that I gave myself, I have no regrets in doing. I did the best that I could. I still believe in the tennis that I play. I still believe in the way I competed."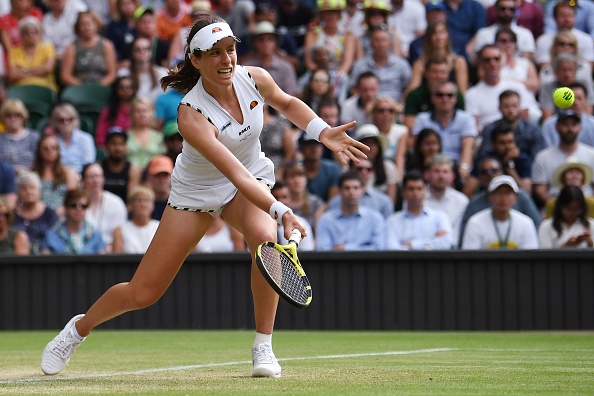 When her count of 33 unforced errors were ventured, the 28-year-old's emotion bubbled over, with Konta accusing her questioner of disrespect. It was a sour note to end her Wimbledon fortnight on – but one which perhaps mirrored her demeanour on court.
"I think the best I can do is put myself in the positions to give myself the opportunity to keep going further and further [in tournaments]. It will either happen or it won't," Konta concluded.

"I'm no less of a person or a player if I don't get past this point. Equally so if I do. I play this game with dignity and I love the sport."
Konta has her dignity, but her quest for a grand slam continues.
Main image credit: Getty Images