Oldroyd in Islington review: the ultimate local restaurant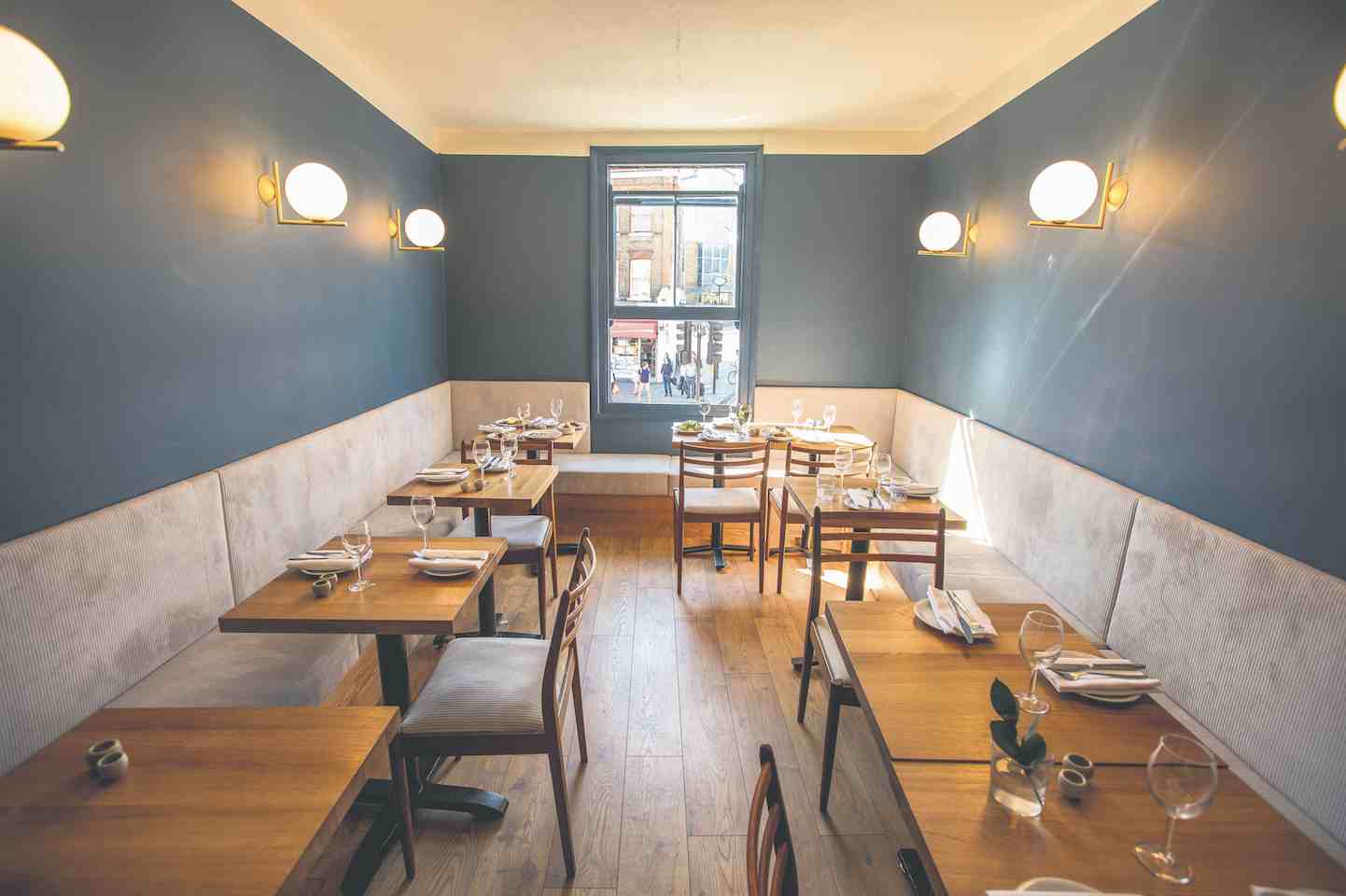 344 Upper Street, N1, www.oldroydlondon.com
FOOD ★★★★☆ | VALUE ★★★★★ | ATMOSPHERE ★★★★☆
Cost for two with booze: £85
Oldroyd may have been open a little while now, but what nicer way to end a nice year filled with nice meals than a trip to one of London's very nicest restaurants. Not best, necessarily, but there's no contesting its niceness. In a stretch of town now so mind-meltingly expensive that independent ventures struggle to gain a foothold, Upper Street's Oldroyd is a beacon of idiosyncratic homeliness, the kind of place a child – albeit a very middle class one – might come up with if you gave it crayons and asked it to draw the restaurant of its dreams (I have a feeling that the local Islington clientele are exactly the kind of people who would ask this of their children, by the way).
The former cafe is made up of a minuscule downstairs area with three tables and an open kitchen roughly the size of a sheet of A4 paper. There's a cocoon-like spiral staircase wrapped in linen sheets and an equally minuscule upstairs, painted a fetching deep-blue, with another half a dozen tables. It's what a Foxtons agent would describe as bijou. If you plan on swinging any cats, book elsewhere.
And you can book: unlike eponymous chef patron Tom Oldroyd's previous venture, Polpo (for whom he was chef-director), reservations are mercifully accepted, although the downstairs tables are available for walk-ins. On arriving you naturally gravitate towards the only available piece of floor real-estate, a small patch of land overlooking the bar-cum-kitchen-cum-pantry, which feels a little bit like standing at the counter of a kebab shop, only instead of the smell of grease, you're treated to wafts of fresh toast and garlic, and instead of bare-armed, hairy knuckled men in stained aprons, you have beautiful serving staff who smile at you like they're genuinely happy you're there. The lighting is dim without making you wish you'd brought a flashlight, the upstairs dining room – devoid of art or other decoration – is as comfortable as somewhere this size can realistically hope to be, which is to say only slightly uncomfortable. It's… well, as I said, it's nice.
The predictably, reassuringly small menu – three starters, five mains and two dishes that can be either – treads a little further afield than the Venetian Polpo, although not much further – it's mostly Mediterranean, with a little French and modern British thrown into the mix. The dishes are clearly designed to share but if you've just arrived from the 1990s you could conceivably order a starter, main and dessert and be none the wiser.
They'd run out of the wild mushroom croquetas with truffle mayo I'd had my eye on, but the duck liver parfait with red onion compote I grudgingly subbed in was a fine consolation, the liver creamy and light, the toast soft and thick, the relish sweet and oily.
The steak tartare with smoked anchovy, which I had as a starter, was chunky and full of the tang of gherkin and caper, although the anchovy didn't give it quite the salty kick I'd been hoping for.
Lamb and almond meatballs seems to be something of a signature dish, featuring three vast, fist-like globes slavered in thick salsa romesco (a nut and red pepper-based sauce) and topped with sliced pickled garlic. Very good indeed. Crab ravioli in a rich prawn bisque is a slightly more delicate affair but still has that punchy, home-cooked feel.
A pair of persimmon and pear sorbets were average, eliciting responses of "really?" and "oh", both far too meek to compete with the big flavours emanating from the chocolate and ginger brownie like shock-waves from an earthquake. That brownie, though. Wow. Huge it was, dripping with molten chocolate, too liquid to support its own weight, laced with ginger and hazelnuts. Great stuff.
Oldroyd is the kind of place you'd assume were ten a-penny in London but are actually in sadly short supply: a talented chef serving good, honest food at good, honest prices. A decent meal for two came to just £83, including coffees and a bloody mary. It's the archetypal "local" restaurant, somewhere you could imagine eating a few times a week if you happened to live round the corner (in that respect it reminds me of the equally superlative and equally rare Salt & Honey at Lancaster Gate). The physical limitations of the kitchen mean you won't find many frills but what you get is characterful food that wears the love that's gone into its creation on its sleeve. Did I mention it's nice? It really is very nice.