Mrs Doubtfire musical, review: As funny and heart-warming as the movie
Mrs Doubtfire musical review and star rating: ★★★★
Doing a version of Mrs Doubtfire for the stage sounds like a terrible idea. On top of the gut feeling – do we really need this – there are criticisms levelled by some in the trans community, arguing that the last thing we need is another man dressing up as a woman for laughs. But, it turns out, this adaptation is wildly entertaining, and it doesn't feel at all problematic.
How on earth have they done that? It's probably down to Gabriel Vick, the talented actor who plays Daniel, the deadbeat actor at the centre of the story who, after getting divorced, dresses up and pretends to be a nanny called Mrs Doubtfire in order to spend more time with his kids.
It's a tall task, but Vick brings much of the joy and sentiment Robin Williams brought to the film. Vick's entrance in Doubtfire's garb has been cleverly underplayed so as to not sensationalise the 'man in a dress' element; towards the end of act one Doubtfire appears at the back of a scene at the end of a song, rather than with some razzle-dazzle entrance, which feels sensitive. And her conversations with the three young children manage to feel earnest and sincere, with both lighter comic moments and more serious ruminations on a family going through the challenges of divorce.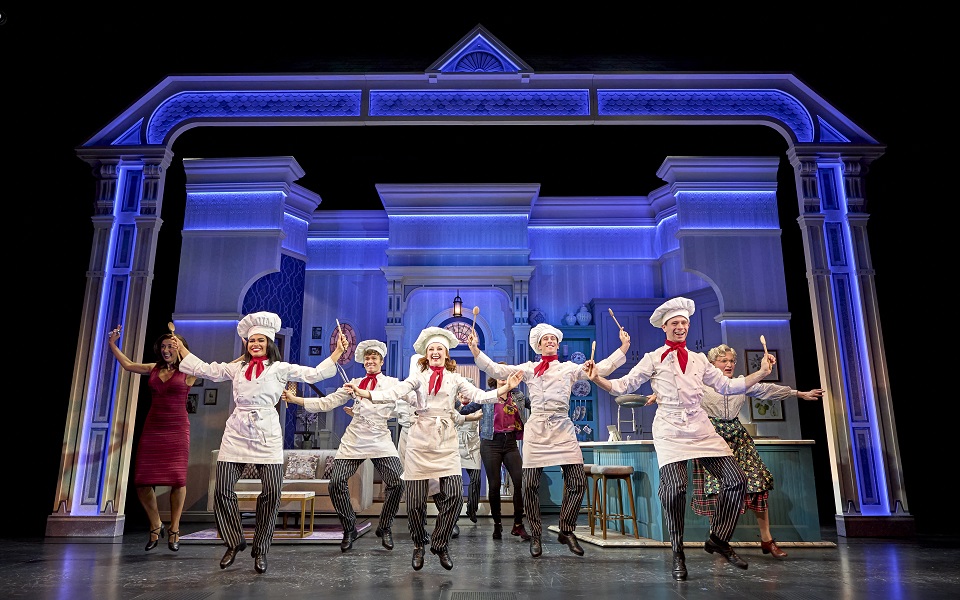 The make-up and costume is pitch perfect, almost exactly imitating the film, and Vick pays homage to Williams' Doubtfire in other ways too: one of the film's most famous moments was Daniel's job interview, during which he does impressions of pop culture figures to an unimpressed job centre clerk. In a politically motivated and updated skit, Vick mimics Boris Johnson defending his Partygate behaviour. In this scene and elsewhere, Vick blitzes through an amazing set of impressions and the jokes land. The rest of the cast, but in particular the three child leads, are brilliant.
This is not just an homage to the film: Jerry Zaks has brought to vivid life Wayne Kirkpatrick, Karey Kirkpatrick and John O'Farrell's script, which has some deftly creative ways of bringing the Doubtfire story to the stage. During a cooking segment (which in itself is one of the weaker gags) the ensemble take up the whole stage performing the YouTube cookery tutorial Doubtfire is watching on a small screen in the kitchen. An excruciating YouTube advertisement is even acted out; an example of how this story brings Doubtfire into the 21st century. Another scene sees Doubtfire learn to DJ and land a job as a TV host.
Did I mention that there are some absolutely cracking songs, including one called Bam! You're Rocking Now that half the bar was singing in the interval? It feels refreshingly 2023, which surprises me as much as it does you.
The Mrs Doubtfire musical plays at the Shaftesbury Theatre until 13 January 2024; visit the website
Read more: Diva exhibition at the V&A, review: a serious celebration of icons