Labour leadership race: Candidates clash over business as Kendall urges party to back "wealth creation"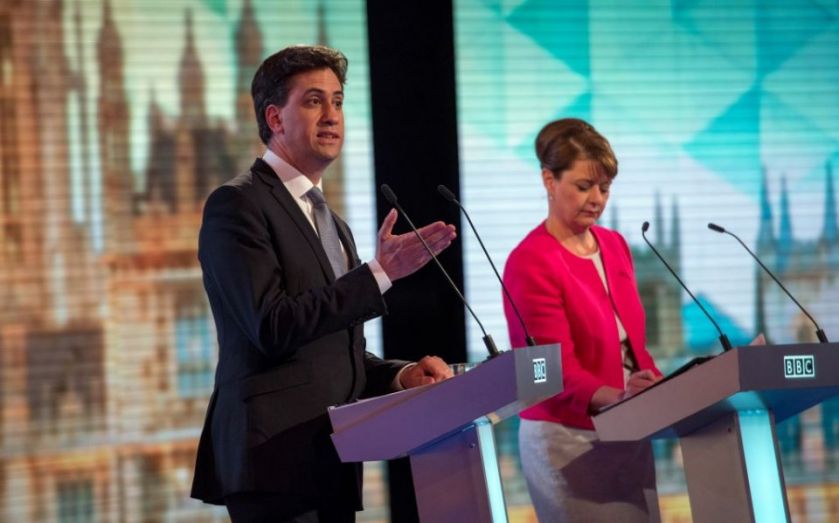 The four candidates in the race to succeed Ed Miliband as leader of the Labour party have clashed over the party's relationship with business in the first televised debate.
Andy Burnham, the favourite in the race, said that Labour had to be the party that helped "everyone get on in life".
Asked if a budget surplus was the most important thing for the government, Burnham said getting a "growing economy, decent jobs and strong public services" was a greater priority.
Read more: George Osborne to mandate budget surplus in the "good times" – but when was the last budget surplus?
He criticised a "chancer of a chancellor" for putting "politics over economics", although admitting that Labour "did let the deficit get too high in the middle of the last decade".
Meanwhile, Yvette Cooper told the audience in Nuneaton – a swing constituency in which Labour lost – that she "want[ed] to work with business to create the high-tech jobs of the future".
Read more: How the Labour leadership race is stacking up
Liz Kendall challenged Jeremy Corbyn's view that Osborne's austerity measures were wrong, after the left-wing candidate asked the audience why so many people were begging on the streets.
Corbyn also criticised Tony Blair's legacy, saying his New Labour government led to the "promotion of markets rather than a planned economy, so we ended up with a greater sense of deregulation than we should have had".
Kendall, seen as the Blairite in the race, called on Labour to "back businesses and wealth creation, because without that, we can't invest in the public services we need or create decent jobs".
She said the party could not tackle inequality and other issues unless the UK had a strong economy. In response to Corbyn, she said:
I don't agree with Jeremy on this. People didn't trust us on the economy or with their taxes. I believe in strong public finances because unless we balance the books, live within our means and get the deficit and debt down, we can't do all the things we are passionate about – like tackling inequality or homelessness.

We have to back businesses. We should be supporting people who bust a gut to set something up and work hard and create money.