Industry's burst of growth sends pound to 2009 high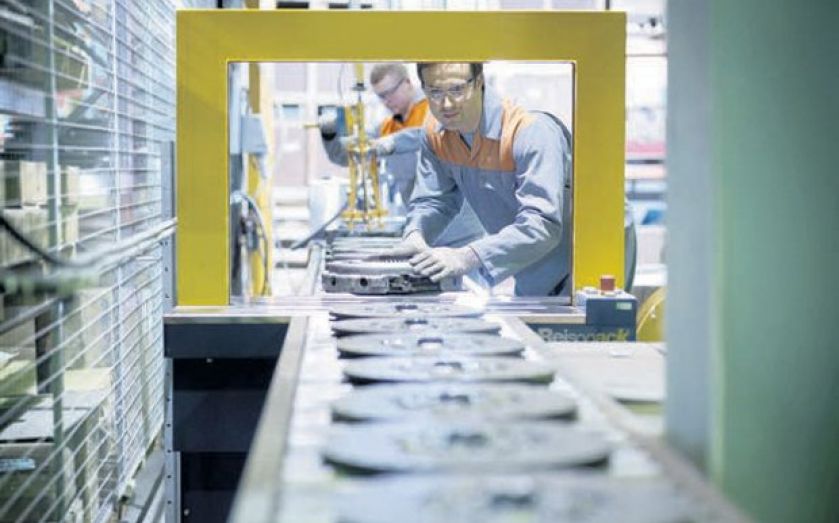 THE POUND surged to its highest level in nearly five years yesterday, following a strong suggestion that the UK's manufacturing sector is growing even more rapidly than previously thought.
Sterling jumped back above $1.69 for the first time since 2009, in the wake of the latest purchasing managers' index (PMI) for the UK's manufacturers, produced by Markit and the Chartered Institute of Purchasing & Supply.
The index returned to 57.9, much stronger than expected, and more than two points higher than the 55.8 recorded in March.
Any figure over 50 suggests that the industry is expanding. The output part of the index was particularly encouraging, at its highest in eight months. The reading indicates that the fairly quick recovery of the sector is not slowing yet, and the announcement drove the already-strong pound higher.
"While our view is for economic growth generally to moderate as we go through 2014, as yet there is little evidence to suggest this is happening," admitted Deutsche Bank's George Buckley.
The employment part of the PMI reading was once again at a three-year high, with employers pointing to the 12th month of improvement in hiring. If accurate, the sector will continue to contribute to the UK's declining unemployment rate.
The pound has risen considerably in the last year, up from just below $1.50 during some periods in the middle of 2013, climbing with the economy's decent recovery. In comparison, when the financial crisis hit, the pound's trade-weighted index dropped to the lowest level in 12 years.
"Despite sterling climbing even higher over the last month, April's survey pointed to an increase in manufacturing export orders," said John Bulford of Oxford Economics, suggesting that the strength of the currency is not seriously impacting outward trade as might be expected.