How a tea estate is helping to conserve Rwanda's rich biodiversity
There are only two things that most people think about when they hear "Rwanda": the country's unfathomable genocide, the 25th anniversary of which is in 2019; and, to a lesser extent, the critically endangered mountain gorilla.
But Rwanda is unrecognisable from how it was in the mid 1990s, and although the gorilla population is steadily growing thanks to conservation efforts, there are still just over 600 of these precious primates living in the Virunga Mountains. I wanted to dig deeper, to build a more well rounded picture of what is one of the smallest but most exciting emerging destinations in Africa.
Rwanda has a colour. It's a brilliant, verdant green. Volcanoes dot the horizon, and water from the lakes in the Albertine Rift Mountains run through numerous tributaries to the Nile and Congo. The highland areas are temperate tropics, and their montane forest ecosystems are wonderfully biodiverse. The Nyungwe Forest alone boasts 13 kinds of primates, lions have been reintroduced into Akagera National Park, and there are more than 600 species of birds.
The altitude, climate, and soil here are ideally suited to the cultivation of tea. You might raise an eyebrow at the thought of Rwanda as a tea producing nation, but the chances are that you've already drunk the nectar unknowingly. Tea is the country's largest export, and PG Tips and Lipton's are both major buyers.
I'm a lifelong tea addict, and the prospect of a tea tour in an unexpected destination will get me on a plane faster than almost anything else. Darjeeling, Assam, Nilgiri Hills… the tea's superb, but you're unlikely to try anything new. But Rwanda? Curiosity is a fearsome, irresistible beast.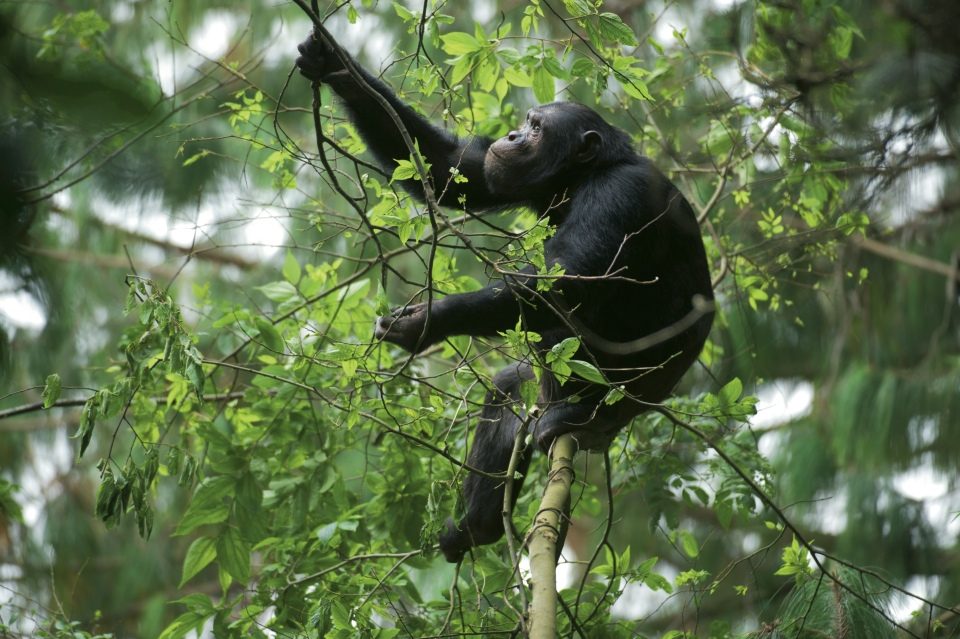 One&Only Nyungwe House opened its doors at the tail end of 2018. Flying overhead, you'd be hard pushed to spot it: the low rise buildings are at the very edge of the working Gisakura Tea Estate, tucked against the fringe of one of the last mountain rainforests on the planet. Birdlife International describes the Nyungwe Forest as "the most important site for biodiversity conservation in Rwanda", and in addition to the birds, you'll be surrounded by rare orchids and confetti-like clouds of butterflies. The hooting of chimpanzee will serenade you on a nature walk. Mornings start with tea, of course, and in my case a tea estate tour. Out on the plantation, I learned to pick the two top leaves and bud from each stem, clipping them off the plant with my nails.
The women around me made it look effortless, but as I proved through my own slow pace and lack of dexterity, there's a definite knack.
In the tea factory, the processing is a sophisticated art form. The foreman must know exactly how much the leaves have oxidised before he dries them; too little or too long, too hot or too cool, and the flavour will be completely spoilt. And no one likes the taste of burnt tea. Thankfully, he has years of experience under his belt, and there is a warm fug in the air that smells as if he has got it just right.
The tea bushes are omnipresent, wherever you are at Nyungwe House. They create a sense of calm, whether you are sipping tea (or even Rwandan coffee, if you are feeling like a rebel) outside on the deck, or gazing out through the windows of the spa.
But just as green, just as enticing, is the rainforest that is the tea garden's natural backdrop. The forest is so dense, so vast, that you feel if you turned your back on it for too long it would almost certainly envelop you with its magical creepers and tendrils. The light and the kind of creatures you will see are constantly changing, so it's necessary — and desirable — to take walks at different times of day, and after dark if the night is clear.
Read more: What is frankincense? And where does it come from?
The first thing to grab me in the forest was the abundance of butterflies and birds. The vegetation is dense, so I typically heard the chirruping, shrieking, and cooing before I spotted the flash of feathers higher up in the tree canopy. 27 of the bird species found are endemic — you will find them only here — and the guide could not only tell me the name of each bird we saw, but also tidbits of information on its mating habits, how it built its nest, what it most likes to eat, and so on. I was enthralled watching the sunbirds and flycatchers, but didn't want to linger too long in any one place else I miss the next exciting sighting which was undoubtedly just up ahead.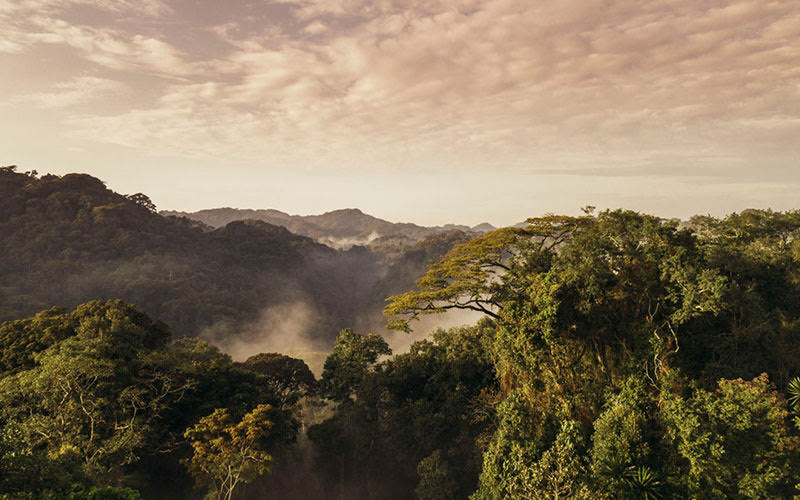 It's the unexpected nature of a forest walk which makes it such a delight. The guide might start out with a plan to head in a particular direction, but there are all manner of things which could make him change track, from a noise to a print to a fresh pile of poo.
The latter, depending on its size, shape, composition, and, yes, smell, could bely the nearby presence of a chimpanzee, or perhaps a Colobus or L'Hoests' monkey. Many of Rwanda's visitors come to track the mountain gorillas, but their slightly smaller, less rare brethren are arguably a much more entertaining attraction on account of their energy and agility.
So often we hear hotels and tour companies talk about "giving back" in abstract terms; here, it's much more physical.
There's a huge pride in the forest and keeping it pristine, which extends well beyond those employed by the resort or the national park. One of the most admirable aspects of Rwandan culture — and one which we could certainly learn from — is the concept of Umuganda. There's no exact translation, but it equates to coming together to perform public service for the good of society.
Umuganda takes place of the last Saturday of each month, usually for three hours in the morning. Every able bodied adult joins in, and Nyungwe House's guests are actively encouraged to participate, too. Most tasks on the estate revolve around environmental protection or improving infrastructure: things which everyone in the community can benefit from. So often we hear hotels and tour companies talk about "giving back" in abstract terms; here, it's much more physical. You contribute with your hands, your time. As you do so, you build rapport with those around you, supporting one another and occasionally bursting into fits of laughter when something doesn't go quite to plan.
I came to Rwanda for its tea and to enjoy the peace of a tea garden. What I will take away with me, however, are the unexpected sights, sounds, and smells of the rainforest, and the joy and camaraderie of joining in the weekly Umuganda. Rwanda has rebuilt itself, and continues to grow, one collective act of public service at a time.
---
Africa specialists Africa Exclusive (safari.co.uk; 01604 628979) will create a bespoke tea estate experience in Rwanda, staying at One&Only Nyungwe House (from $899 per night).