Harlequins chasing the American dream: Why the Premiership rugby club is moving pre-season to California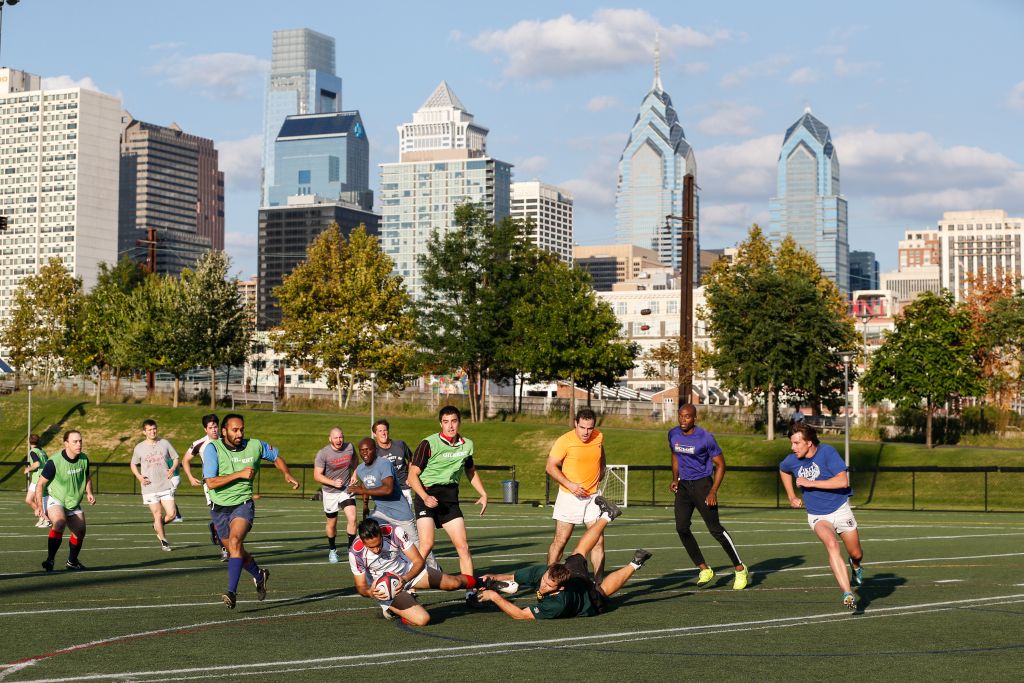 Rugby is the fastest growing sport in the USA and Harlequins are looking to ride the wave of its new found popularity by swapping the suburbs of West London for the sun of California in upcoming summers.
The 149-year-old rugby club is planning to play pre-season warm up games in America for the next four years, with the Golden State earmarked as a second home for the summer.
Opponents are yet to be confirmed but are likely to be made up of American teams or even the USA Eagles national side, who Harlequins beat in an exhibition match in Philadelphia earlier this year – the Quins' first visit to the US in the professional era.
Rugby's rapid growth in the US – participation is estimated to have risen 81 per cent to around 500,000 players between 2008-2013 – has attracted the interests of other Premiership clubs such as London Irish who will host a league fixture against Saracens in New Jersey in March, as well as international giants including New Zealand whose test against the USA last year sold out the 61,500 capacity Soldier Field stadium in Chicago – usually reserved for NFL games – and attracted nearly 1m TV viewers.
"We've looked at the US for quite a while and went out there to watch the All Blacks v USA game 18 months ago," Quins chief executive David Ellis told City A.M. "There was an expression used at one of the events: ' This is a sleeping giant and the sleeping giant is beginning to wake up.' And it really is.
Read more: London Irish will take Saracens fixture to New York as Aviva Premiership Rugby lands in America
"America is becoming quite competitive on the world stage. Two weeks ago they [USA] beat the Kiwis twice at the Dubai Sevens – it was fantastic. And then you've got the Sevens coming at the Rio Olympics and a world Sevens competition in San Francisco and San Jose in 2018 so there's a whole bunch of interest."
Harlequins have firsthand experience of the grassroots communities that have grown around the game in the States through affiliate clubs Dallas Harlequins and Hawaii Harlequins – both of which have existed for over 30 years.
Yet increased participation and a growing audience put rugby in America on the cusp of the professional mainstream. A first professional league – the Professional Rugby Organisation or PRO League – will launch next year featuring six teams from across the country made of mainly American players from college or amateur club teams as USA Rugby looks to capitalise on the growth in interest.
And Harlequins believe they can assist in the process – and best benefit from an emerging rugby market – by focusing their attentions to a particular region in California.
"America is so big we asked 'how can we have some real impact?' And decided to focus our energies on a region," explains Ellis. "We've agreed a four year memorandum of understanding with USA Rugby to go into the California region."
Stars such as Chris Robshaw, Mike Brown, Danny Care and Marlon Yarde will feature in first-team expeditions to the Golden State, but Quins will look to assist in the area's rugby development all-year round rather than offering an annual opportunity for some autographs – an approach Ellis refers to as "long-term locally relevant".
"Our commitment is to work out within the grassroots, the collegiate and the club side of rugby in America – similar to what we do here in the UK – to create, help and augment the pathways that will identify people into the sport and those with talent," says Ellis.
"We will build the relevance of Harlequins locally throughout the year and sort of top that off with the first team coming over and playing either USA or invitation sides in California."
But why California? Part of the state's attraction to Quins is "a great potential playing base" largely made up of Polynesian communities
"The main driver was the playing population – it felt like California was a good place to be", says Ellis.
"There is [a big polynesian population]. Manu who played in Northampton, now Toulon came from there. There's a great potential playing base which is something that we want to help tap into as well."