Fed pours cool water on recovery while AMP amps up
Crypto at a glance
It's been a relatively flat 24 hours in the crypto markets, with everything drifting slightly downwards over the last 24 hours. Bitcoin is down two per cent this morning, currently trading at around $39,300. Ethereum has also dipped below $2,500, as the alt markets continue to struggle to build any momentum. Bitcoin got a helping hand from El Salvador and Elon Musk last week. Where will this week's white knight come from?
It certainly won't be the US Federal Reserve or the World Bank, if yesterday's news is anything to go by. The World Bank yesterday refused to help El Salvador in its Bitcoin project, which is not altogether surprising though it may hold back the country's move to make the cryptocurrency legal tender.
Economists and investors were also yesterday focused on the Fed's press conference following a two-day meeting of the Federal Open Market Committee (FOMC). Fed officials caused a short-lived price bounce with the announcement that they're keeping interest rates low, though they also raised their inflation expectations and brought forward the next interest rate rise from 2024 to 2023, based on the "Summary of Economic Projections" (SEP) released Wednesday. Bitcoin is widely seen as a hedge against inflation, but it's also often treated as a risky asset whose value might drop if monetary policy gets tightened. Will it get an opportunity to prove its safe haven credentials?
In other markets, the decline continues, with a sea of low digit drops throughout the crypto markets again today. Only Solana (SOL) and Theta (THETA) are up today, as well as AMP, which is up more than 100 per cent in the last week. AMP is an Ethereum-based 'collateral as a service' token that helps to secure transactions and decentralise the risk of asset transfer in decentralised finance (DeFi). Can it keep rising and break the top 20 as others falter?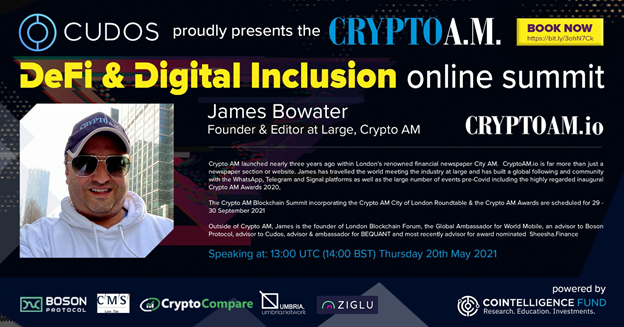 For those of you who missed the Crypto AM DeFi & Digital Inclusion online summit – you can now watch the event in two parts via YouTube
Part one…
Part two…
All feedback on Crypto AM Daily in association with Luno is welcome via email to James.Bowater@cityam.com ??
In the markets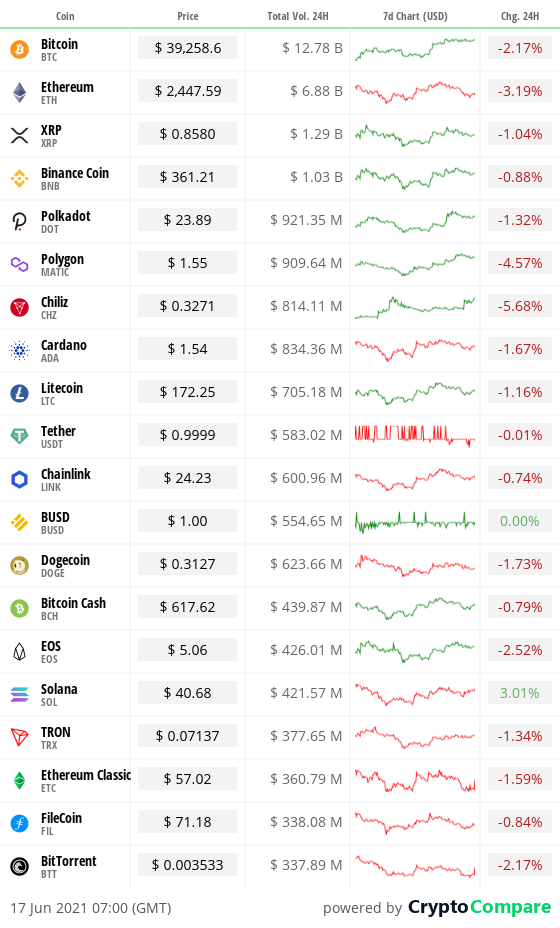 The Bitcoin economy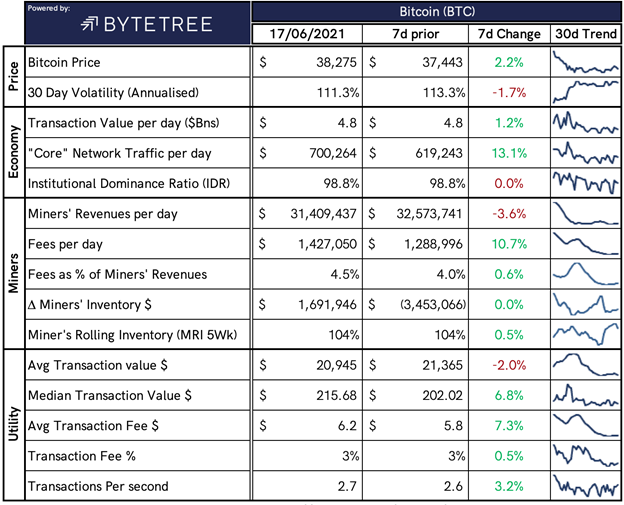 *Definitions and insights can be found at https://bytetree.com/insights/
Total crypto market cap
The total capitalisation of the entire cryptocurrency market at time of writing is currently $1,616,199,417,033.
What bitcoin did yesterday
We closed yesterday, June 16 2021, at a price of $38,347.06, down from $40,155.30 the day before.
The daily high yesterday was $40,516.78 and the daily low was $38,176.03.
This time last year, the price of Bitcoin closed the day at $9,480.26. In 2019, it closed at $9,320.35.
Bitcoin market capitalisation
Bitcoin's market capitalisation at time of writing is $735.41 billion. To put it into context, the market cap of gold is $11.526 trillion and Facebook is $938.76 billion.
Bitcoin volume
The total spot trading volume reported by all exchanges over the last 24 hours was $40,455,573,325, down from $46,311,599,737 yesterday. High volumes can indicate that a significant price movement has stronger support and is more likely to be sustained.
Volatility
The price volatility of Bitcoin over the last 30 days is 96.46%.
Fear and Greed Index
Market sentiment today is 26.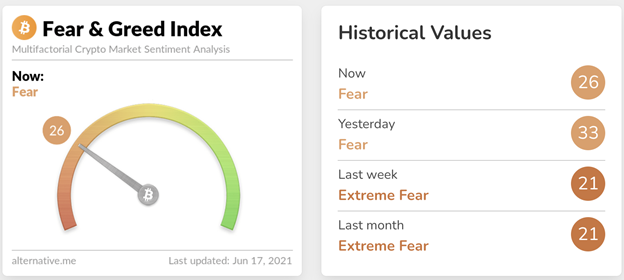 Bitcoin's market dominance
Bitcoin's market dominance today is 45.74, Its lowest ever recorded dominance was 37.09 on January 8 2018.
Relative Strength Index (RSI)
The daily RSI is currently 51.04. Values of 70 or above indicate that an asset is becoming overbought and may be primed for a trend reversal or experience a correction in price – an RSI reading of 30 or below indicates an oversold or undervalued condition.
Convince your Nan: Soundbite of the day
"Give it about a year and a half and retailers will all be on Opennode, so everybody will accept bitcoin. Then beyond that, I think [bitcoin] continues up because there are only 21 million of them."

– Tim Draper, Venture Capitalist
What they said yesterday
Try harder next time, statesmen…
President Bukele is giving lessons now…
Relentless…
Crypto AM editor's picks
Anonymous say video message to Elon Musk over Bitcoin meddling isn't theirs
Bitcoin investors are growing weary of Elon Musk's tiresome tweets
Google slowly opening its doors to cryptocurrency advertising
Cardano bridges the gap to China by teaming up with Nervos Blockchain
Crypto AM: Longer Reads
City AM Markets: What is Decentralised Finance (DeFi) by Aave
Crypto AM: Conversation with James Bowater
Crypto AM: Market View in association with Ziglu
Crypto AM: Technically Speaking
Crypto AM: A Trader's View with TMG
Crypto AM: Mixing in the Metaverse with Dr Chris Kacher
Crypto AM: Talking Legal
Crypto AM: Spotlight
Crypto AM: Founders Series
Crypto AM: Industry Voices
Crypto AM: Tiptoe through the Crypto with Monty Munford
Crypto AM: Definitively DeFi
Crypto AM Parliamentary Special
Part one of two – April 2021
Part two of two – April 2021
Five Part Series – March 2021
Part one…
Part two…
Part three…
Part four…
Part five…
Crypto AM: Recommended Events
Crypto AM City of London Roundtable
Crypto AM Blockchain & DeFi Summit
Crypto AM Awards 2021
September 29 and 30 2021
Cautionary Notes
It's definitely tempting to get swept up in the excitement, but please heed these words of caution: Do your own research, only invest what you can afford, and make good decisions. The indicators contained in this article will hopefully help in this. Remember though, the content of this article is for information purposes only and is not investment advice or any form of recommendation or invitation. City AM, Crypto AM and Luno always advise you to obtain your own independent financial advice before investing or trading in cryptocurrency.
All information is correct as of 08:30am GMT.