'Don't piss people off': Sir Richard Branson's advice for Extinction Rebellion is short and sweet
When Extinction Rebellion hit the headlines this time last year, its leaders can hardly have imagined the movement would gain support from one of the best-known names in global aviation.

Indeed, jet fuel is responsible for about 2.5 per cent of global CO2 emissions, and could even guzzle as much as half of the UK's carbon budget by 2050, according to some estimates. It is exactly this sort of industry that the group has pledged to turn on its head.

Read more: Here's how much the Extinction Rebellion protests
Nevertheless, here we are, cruising at 35,000 feet on a Virgin Atlantic jet flying from Heathrow to Tel Aviv, and the company's founder, Sir Richard Branson, is singing its praises.

"It reminds me of my teenage years marching against the Vietnam War," he tells City A.M. "The tremendous thing about those marches was that the Vietnam War was finally brought to an end."

"All of us have got to do everything we can to address climate change and we've got to persuade governments, companies, everybody, to do more.

"I'm very supportive."

It is a statement that will raise eyebrows in the City, where the publicity-hungry campaigners have descended this month. Protesters have blocked roads, glued themselves to buildings and even staged a bid to shut down London City airport.

Their goal? To highlight "the impact of financial institutions on the climate and ecological emergency". In that, they're echoed by such estimate City figures as Bank of England governor Mark Carney, who has warned that the creation of a "new, sustainable financial system" was "not moving fast enough".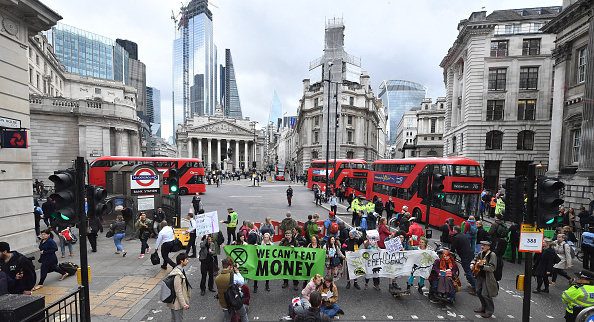 However, that is the very system in which Branson has thrived since he founded Virgin Records in 1972. Only yesterday, he announced that his space venture, Virgin Galactic, will float on the New York stock exchange on Monday, with Branson pledging to ring the bell himself if all goes well between now and then. Does he really want to tear it all down?

This is not what he is getting at, he concedes. "No. I think what we need is a tax on dirty fuel. But all that money, instead of just getting lost in the chancellor of the exchequer's coffers, should be invested in clean fuels to create a clean fuels revolution."

But pressure needs to come from more than the state, Branson adds. The key is "the private sector working with government," he says, which should "tell the companies themselves to invest their money into clean energy".

And for all his support, he still warns Extinction Rebellion not to "piss off the public".

"We all have to catch planes. But … we need to start getting a mix of clean fuels in the engines."

As he approaches his 70th birthday, the billionaire tycoon appears to have followed the lead of Bill Gates, Warren Buffett and Michael Bloomberg – global business figureheads who have shifted to a more philanthropic approach as they grow older.

At an event the next day in Tel Aviv, Branson continues: "Most of my time is now spent setting up organisations to tackle some of the big issues in the world. We find that very worthwhile."

Critics might point out that, at the same time, Branson is setting up a Virgin cruise line – Virgin Voyages. Its first ship, Scarlet Lady, is due to set sail next year to locations such as Miami, the Dominican Republic and Mexico. It aims to reduce its carbon dioxide emissions by converting the heat from the ship's engines into electricity – but it is hardly a green initiative.

Read more: Boeing invests $20m in Richard Branson's Virgin Galactic space venture
At the same event, Virgin Atlantic boss, Shai Weiss, told the gathering: "Business as a force for good is at the heart of what we do."

Whether Extinction Rebellion would agree is another matter entirely.