Don't let Covid spoil Valentine's Day – bring the party home
Usually the first busy night of the year for bars and restaurants, this Valentine's Day promises to be a more subdued affair thanks to ongoing restrictions. But don't let that spoil the romantic fun – here's a list of some ways to bring the party to you on 14 February.
Boisdale Valentine's Night Dinner Kit & Soul Show
City staple Boisdale is hosting another night of virtual eating and drinking this year, with live music accompanying the amazing Scottish fare delivered straight to your door. The Valentine's Night Dinner Kit & Soul Show promises "a sen­so­ry over­load in a roman­tic setting" – we can't wait. Order here.
Perrier-Jouet eco box Champagne
It is practically obligatory to celebrate Valentine's day with Champagne, and top pick this year will especially appeal to the ecologically-minded among us. Perrier-Jouët's new range comes in fully-recyclable eco gift-boxes, which are both super-luxe and super-sustainable.
The range of gift boxes are available for the House's classic, non-vintage champagnes – Perrier-Jouët Grand Brut, Perrier-Jouët Blason Rosé and Perrier-Jouët Blanc de Blancs. The perfect way to toast a lockdown Valentine's Day. Order here.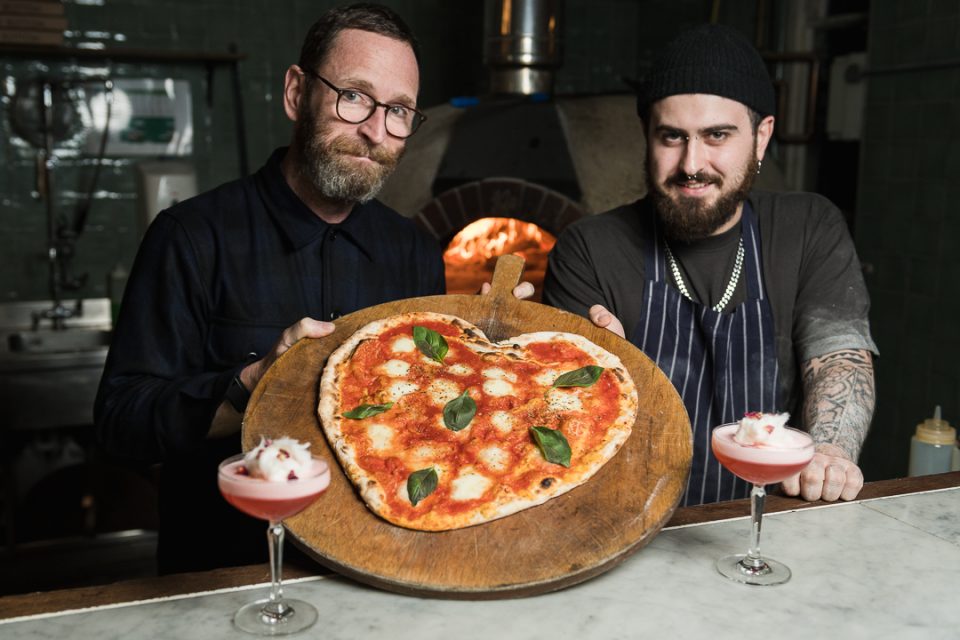 Tommy Banks and Made in Oldstead Valentine's Day Celebration Box
Tommy Banks and Made in Oldstead are offering a Valentine's Day Celebration Box. For £140 you can feed two with 6-course tasting menu and a bottle of 'Opposites Attract' red wine, showcasing an unusual blend of Shiraz and Merlot, two grape varieties not normally found in the same bottle.
The menu begins with fermented honey and oat sourdough with cultured butter, followed by smoked salmon with buttermilk and pickled fennel. For main, it's Tommy's signature salt-aged beef Wellington, served with beef fat potatoes and brassicas from Oldstead Grange.
The pre-dessert is a creamy milk pudding with Yorkshire forced rhubarb, followed by chicory root chocolate fondants with kernel clotted cream and a selection of farmhouse cheeses from Courtyard Dairy.
As well as using produce from the Banks' Family Farm, the menu also features ingredients from local, independent suppliers. There is also a vegetarian menu available. Order here.
The Plattery
Award-winning artisan food producer The Plattery has a limited edition Dine in for Two postal platter, the perfect luxury grazing feast to enjoy with your Valentine.
The Valentine's Day special includes smoked salmon blinis, a selection of charcuterie meats, cheeses, crudites, chutneys and seasonal fruit. The platter also includes white and dark chocolate dipped strawberries and two canned cocktails from Punchy Drinks.
The Valentine's Dine in for Two postal platter is priced at £35 plus delivery, available here.
Top Cuvee
Awarded a 2021 Michelin Plate for 'good cooking', Top Cuvée has put on a special Valentine's spread featuring a four courses menu ready to be heated at home, and a bottle of Le Grappin 'Saint Amore' Gamy from Shop Cuvée. There's also a scented candle in the box to help set the tone.
The box is priced at £99 for two sharing, with delivery available to London all weekend from 12 to 14 February. Order here.
Musette by Tom Aikens
Tom Aikens has put together a box of his most-celebrated dishes for customers to finish at home for Valentine's Day. The Musette by Tom Aikens kit brings true fine dining to your living room.
For £70 two guests will receive a sharing menu including a seven-hour shoulder of lamb with sides of spring onion mash, balsamic onions and French beans with confit garlic & shallots. For dessert there's Tom's signature dark chocolate mousse with chantilly and caramelised pistachio.
Delivered on Fridays and available nationwide. Buy it here.
Norma London
Norma has one of the hottest Valentine's kits around. With food and drink for two, it includes a bottle of Sherazade red, blood orange spritzes and marsala.
Food includes antipasti of homemade focaccia, scallops with bottarga and whipped ricotta; fresh pasta with Sicilian red prawns, chilli and fennel; and aged beef tagliata, raddicio, pecorino served with truffled potatoes and pecorino sauce. For sweets, there is dark chocolate, coffee and walnut cake with whipped mascarpone. Order here.
Nutshell at Home
Indulge your loved one with a Persian feast. Full of the flavours of the Middle East, this Valentine's Day package begins with a mezze selection of Bazaar Bread, and a silky smooth Jerusalem Artichoke Veloute.
The main event is seared quail with smoky hazelnut and date butter, saffron and ginger oil, grapes and bandari spices. For dessert it's chocolate and roses.
For an extra cost, Nutshell will include a Valentine's Day cocktail with barberry and thyme infused vodka with a small bottle of Prosecco to top it up with. From £80, order here.
Sussex Pass At Home Valentine's Day Meal Box
Sussex Pass restaurant recently launched Sussex Pass At Home, specialising in beautifully prepared meals and bottled cocktails made with Sussex-grown produce, alongside wines and spirits from local producers.
The Valentine's Day Sharing Box costs £100 and includes Dauphinoise potatoes, bacon creamed Savoy cabbage, a sharing cheese board, sparkling rose, and espresso martinis for two. Get yours here.
Hide at Home
With two matching wine flights to choose from, The Hide Valentine's menu includes raw red prawns, a retro cheese fondue with black truffle brioche, fresh pasta features with shellfish, a piece of Wagyu beef cooked over charcoal, and a heart-shaped vanilla cheesecake alongside a blackcurrant ice lolly. Prices are £195 or £265 per person including drinks. Order here.
Rick Stein AM to PM
Rick Stein is offering a full-day experience, starting with a Cornish breakfast in bed and finishing with a luxury dinner box.
The Luxury Breakfast Box, which costs £72.50, includes bacon, sausages, hogs' pudding from Tywardreath Butchers, St Ewe Grande Eggs and a bunch of other goodies. In the evening you can choose from a Valentine's Lobster Menu (£136) or Valentine's Steak Menu (£101).
Both include a half bottle of Rick Stein Champagne, chocolate hearts to share and a Jill Stein Padstow candle, scented with sea salt and samphire.
Order here.
Valencian Fine Dining From Arros QD
Arros QD's Valentine's Cook at Home offering is the closest you'll get to waking up in Spain this Valentine's day. Featuring dishes from three Michelin-starred founder Quique Dacosta, the box is available for nationwide delivery for £140. It contains seven dishes for two to share, and a bottle of Moet & Chandon or a selection of mocktails for two.
Order here.
Bottles 'n' Jars
City A.M. columnist Bert Blaize is offering a decadent boozy at-home Valentine's experience through his wonderful Bottles N Jars. The hamper includes Rosé Brut Rosanna by Ettore Germano, Giuliana Vicini Montepulciano d'Abruzzo 2019, salted Marcona almonds, Perello Manzanilla olives, 18 months aged parmesan, Ortiz anchovies, tomato frito sauce, Perello caperberries, gentile lumachelle pasta, Casa Ezeiza chocolate cigarillos and, to make the hamper even more special, Music To Drink Wine To. Order here.
Iberica
Iberica has launched a Valentine's Day offering to bring the food, wine and culture of Spain to your doorstep. The San Valentin Gift box costs £70 and will include Raventos Blanc, blanc de Nuit Organic sparkling Rose, two cava glasses, a heart shaped Juan Pedro Domecq, award winning jamon Ibérica, and four chocolate hearts from London's most luxurious handmade fresh chocolate shop, Melt Chocolatier in Notting Hill. Order here.
Game Bird at the Stafford London
This classic British dining room, famed for its occasion-worthy dinners in the heart of the West End, is running a spectacular Valentine's feast box.
Chefs Jozef Rogulski and Ben Tish have put together a three-course menu of classic British dishes to share at home. With simple instructions, this is a hands-off, restaurant-quality Valentine's supper.
The £180 box includes treacle cured fillet Rossini and milk chocolate and passion fruit tart. Order here.
Libertine's £50 Cheeseburger
The UK's National Burger Award Winner Libertine has put together a Valentine's cheeseburger and cheesecake kit. For £50 this DIY kit will provide you with cheeseburgers, deep fried pickles, cheesy tater tots, cheesecake and canned rosé from NICE Wines.
Order here.
Galvin at Home
Chris and Jeff Galvin, founders of Michelin-starred Galvin La Chapelle are pleased to announce the launch of their limited-edition Valentine's at-home feast, available through their nationwide delivery service, Galvin at Home. The service offers recipients the chance to cook Michelin-starred dishes for themselves in just 15 minutes. With step-by-step videos and clear instructions included with each delivery, the team is on hand through the cooking process, making things easy for even the most unaccomplished home cook.
Dishes include roast duck magret with king cabbage, duck leg boulagère and thyme jus, or a vegetarian option of black truffle and artichoke risotto. Head sommelier Stephen Nisbet has put together a set of wines to accompany the feast. Order here.
One Fine Dine Valentine's Menu
One Fine Dine's Valentine's Menu, priced at £195 for two, includes a lavish 3-course meal, amuse bouche, petit fours, bottle of wine and a printed menu to evoke that restaurant vibe. Delivery is included and the menu is available to order throughout February. Order here.
Passione Vino's San Valentino's Box
The legendary Luca Dusi of Passione Vino has created a box containing all his favourite flavours for the perfect Valentine's treat. In the gold hamper (£150), Luca has selected a velvety red "Velluto" Valpolicella Classico DOC Meroni (2018) from Veneto and a sparkling minimal intervention Lambrusco from Emilia Romagna.
In the platinum box (£190) you'll find an exquisite Franciacorta from Lombardia and Valtellina red from Dirupi (his favourite supplier). Gorgonzola, grissini and olive oil are included in both. Order here.
Ottolenghi Valentine's Hamper
The Ottolenghi gang have come up with a colourful Valentine's hamper packed full of sweet treats. Baked goods include Tahini Linzer Hearts; White Chocolate and Strawberry Brittle Hearts; Valentine's Shortbread; and Chocolate and Cherry Marshmallow Kisses. It's priced at £55 with optional fizz from £30. Order here.
Homeslice masterclass
Homeslice Founder Mark Wogan will be hosting an hour-long virtual pizza and cocktail class this Valentine's Day, with participants being sent their package in advance, with ingredients to make two pizzas, two cocktails, and one large brownie, all for just £45 including delivery.
At 6pm, Mark will guide you through making your masterpiece, before bartender extraordinaire Alex King explains how to create a Turkish Delight cocktail made from Beefeater gin, grenadine, crème de cacao and rose water, garnished with dried rose petals and candy floss. Order here.
Shuck Off Coronavirus with Bentley's
Treat your loved ones to an oyster and champagne night from century-old restaurant, Bentley's Oyster Bar & Grill. Chef Patron Richard Corrigan has created a luxurious hamper (£95 for 2 people) featuring a selection of 12 Rock and Native oysters, Tabasco and Bentley's shallot vinegar, all to be paired with a bottle of Piper Heidsieck champagne. Award-winning Oyster Shucker, Federico Fiorillo, will be on hand with an exclusive masterclass to teach you the art of opening oysters, as well as with a history of the champagne and its tasting notes. Order here.
Self-Care Sundays with Lucy Carr-Ellison and Jemima Jones
Culinary duo Lucy Carr-Ellison and Jemima Jones, have created a Valentine's hamper featuring both foodie and self-care delights. Their beautifully wrapped box includes a bottle of 47 Ad Prosecco Frizzante, two engraved glasses, a Yolke silk eye mask, and two 'Love is in the air' Heather Evelyne candles. There will also be a selection of homemade white chocolate, cardamom and raspberry truffles. Price: £95 plus postage. Order here.
Love Will Terre Us Apart
Pied à Terre, one of the longest standing Michelin-starred restaurants in London, has created the ultimate luxury hamper to enjoy this Valentine's Day. Highlights include Gillimard Pink Champagne, Scottish oak smoked salmon and foie gras terrine, sourced using Pied à Terre's 30-year long relationships with the very best suppliers. Price: £99 plus delivery. Order here.