The new Lord Mayor Alan Yarrow rehearses for Saturday's show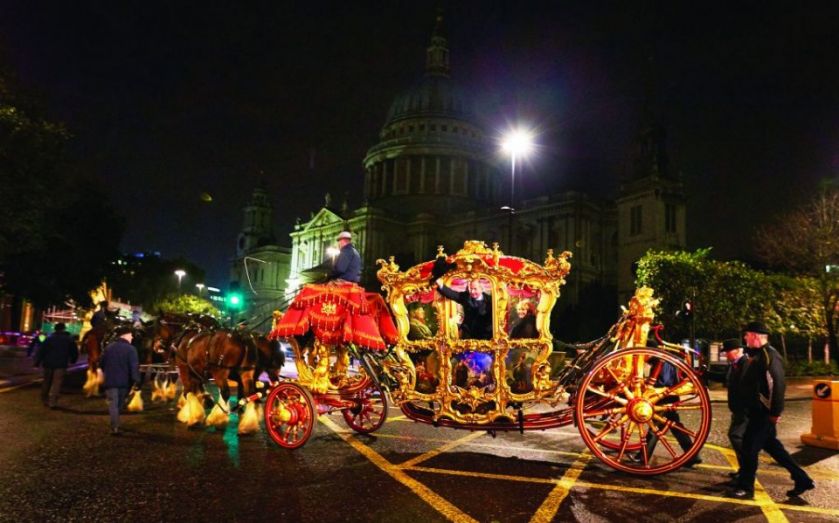 Anyone motoring through the City at 4.50am yesterday would have had quite the surprise. The next Lord Mayor, Alan Yarrow, was being trotted through the streets in his horse-drawn golden carriage in rehearsal for Saturday's Lord Mayor's Show.
"We had to get up early for the practice, but I think we all enjoyed it," pageantmaster Dominic Reid told City A.M. "There's something magical about being able to move around the City in an 18th-century coach when no one else is around."
The first Lord Mayor's Show was in 1215 and the annual event hasn't lost any of its appeal. Some 500,000 spectators are expected to shuffle into the City to watch the parade, which will have around 7,000 people taking part in its procession.
One of the highlights of this year's show will be the Magna Carta. The City of London Corporation's copy of the ancient charter is to feature in the parade, being carried in a carriage ahead of Alderman Alan Yarrow's golden state coach – incidentally it was issued in the same year as the first Lord Mayor's Show.
"It won't be the flashiest part of the procession, but it's one of the most historically significant," Reid told us.
This year's Show officially confirms Alderman Alan Yarrow as the 687th Lord Mayor of the City of London. Alderman Yarrow, currently chairman of the Chartered Institute for Securities and Investment, has spent most of his career at private bank Kleinwort Benson.
It promises to be an awesome show – don't miss it.