Every season the first international break interrupts the flow of the new Premier League season, putting it on hold after just four matches.
It tends to leave the league table in peculiar shape, this time with Leicester City and Crystal Palace in the top four, Chelsea, Tottenham and Manchester United languishing in mid-table, and Watford plum last.
For Palace in particular, the break will have frustrated, with the potential to halt the progress they have made.
Read more: England's front three are as good as any but defence and midfield needs improvement
Roy Hodgson's side are seemingly over-achieving so far, with seven points, including a win at Old Trafford. They also picked up a win and draw at home to Aston Villa and away to Everton respectively, both of whom were reduced to 10 men.
Big question marks loomed over the club heading into the season, with minimal transfer activity and a stubborn refusal to let talisman Wilfried Zaha leave at any price south of £100m; the Ivory Coast international has reportedly parted ways with his agent this week due to his failed transfer away from the club.
But a respectable point at Goodison Park on the opening weekend set the tone and acted as a reminder of this side's ability to grind out results when their backs are against the wall. In fact, it's how they prefer it.
A defeat to newly-promoted Sheffield United followed by a 2-1 victory away at United underlined that very point, and it is away to the so-called Big Six, or teams such as Everton who are deemed superior to the chasing pack, that they do their best work.
More points away
Palace were the only side to collect more points on their travels than at home last season and have finished higher in the away form table than the home one for five successive seasons – keeping them up in three, including last.
They go into Saturday's fixture away to Tottenham as the last side to have won away at United, Arsenal, Manchester City and Liverpool in the Premier League.
Palace's ability to defend resolutely is the foundation of their success in these games, while players like Zaha, Andros Townsend, Jeffrey Schlupp and Jordan Ayew allow the team to quickly transition into attack. There appears to be no more room for Christian Benteke or any other target man.
The likes of Patrick van Aanholt, Martin Kelly and James Ward – part of a back four that now includes the experienced Gary Cahill – may not be considered among the league's elite defenders.
Defensive shape
Yet it is the way the Eagles set up tactically away and against better opposition where they derive an advantage; sitting deep and inviting pressure until the final third, where they mop up almost everything thrown at them.
In these games, the role of midfield trio Luka Milivojevic, Cheikhou Kouyate and James McArthur is crucial. The three have an unrelenting desire to win the ball back and insatiable appetite for hard-work.
They may not be the most creative midfielders, but they are capable of distributing the ball effectively to one of the more creative attacking players before dropping back into shape.
In Palace's 2-1 victory over United last month, they ceded 72 per cent of possession, completed just 231 passes – less than half of United's – and scored twice from only three shots on target.
It took United until the 89th minute to equalise and it was a similar performance at Old Trafford the season before that saw Palace draw 0-0.
Beating the best
Their 3-2 victory at the Etihad Stadium in December last year bore the same hallmarks, with 21 per cent possession, 213 passes completed and three shots on target.
The game will be remembered by most for Townsend's thunderous goal of the season, yet for Palace it was confirmation they could deliver against the very best by using their ability from counter-attacks and set pieces.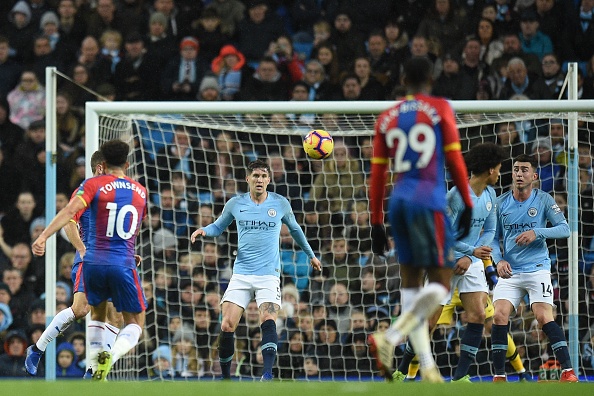 It was a similar story at the Emirates Stadium in April when Palace all but ended Arsenal's top-four hopes with another 3-2 triumph.
As with City, rarely do opponents keep a clean sheet at Arsenal, but Palace were able to take a 3-1 lead on both occasions before holding out for the win.
The Eagles' win at Anfield came back in April 2017 – the last time Liverpool lost at home in the Premier League. Sam Allardyce was in charge of Palace at that point, but under Hodgson they have developed into a side capable of upsetting the best regularly, despite the opposition knowing their game-plan.
Read more: Raheem Sterling hits new heights and shows why sponsors are in hot pursuit
Tottenham will be comforted by their 2-0 win against Palace in their inaugural match at the new stadium in April.
They did, however, knock Spurs out of the FA Cup last season, and travel to north London tomorrow to face a side who have struggled to get going so far this season, winning just one of four matches.
There is no doubt that, despite current form, Hodgson's side will be underdogs going into this fixture – but that's exactly how they prefer it.