Driven: The 10 best supercars money can buy from 2021
Supercars are all about excess. Ferocious acceleration, top speeds of around 200mph and price tags in six or even seven figures are just some of the attributes of the current crop.
It's more than simply a numbers game, though. The modern supercar represents the pinnacle of automotive engineering, demonstrating what can be achieved when you push road cars to the absolute limit. Aston Martin, Ferrari, Lamborghini, McLaren and Porsche are all illustrious names that feature in our top-10 list.
Here are the best new supercars you can buy in 2021, with our choices presented in alphabetical order.
Aston Martin DBS Superleggera
Thanks to its 5.2-litre twin-turbocharged V12, there are few finer ways to tackle a cross-continental road trip than the Aston Martin DBS Superleggera. That's assuming you can live with its 22.9mpg thirst.
With 725hp and 663lb ft of torque, Aston's GT supercar will hit 62mph in 3.4 seconds, before reaching a top speed of 221mph. It even has four seats, although nobody will want to spend too long in the back.
We said: 'The DBS Superleggera is Aston Martin's answer to the Ferrari 812 Superfast. On the road, it is a relentless and extraordinary performer'.
Read our Aston Martin DBS Superleggera review
Ferrari F8 Tributo
What a fantastic way to pay tribute to Ferrari's turbocharged V8 – voted one of the finest engines of the past couple of decades. The 3.9-litre V8 in the F8 Tributo produces a mighty 720hp to make it feel eye-poppingly fast. Like, 0-62mph in 2.9 seconds fast.
On the road or track, few cars offer the same depth of feel, feedback, precision and confidence. It is deeply satisfying to drive, and a testament to the degree of engineering development by Ferrari.
We said: 'The Ferrari V8 sport Berlinetta line began with the 1975 308 GTB. This F8 Tributo is the latest and greatest in that sequence. But the last in the line? We shall see. If it is, though, the Tributo name will be justified. This is the finest imaginable tribute to a remarkable run of mid-engined Ferrari V8 sports cars'.
Read our Ferrari F8 Tributo review
Ferrari 812 Superfast
The 6.5-litre V12 in the Ferrari 812 Superfast is a fabulous engine. Aside from the soon-to-be-replaced Lamborghini Aventador, it's the only naturally aspirated V12 engine in production. No superchargers, turbochargers or electric motors: just a ravenous hunger for revs.
It's not as plush as a Bentley Continental GT, but it's practical enough for crossing entire countries in a superfast time. Zero to 62mph in 2.9 seconds and top speed of 211mph leave you in little doubt that this Ferrari has what it takes to justify its name.
We said: 'We reckon the Ferrari 812 Superfast has the finest engine of any new car. With 800hp going through the rear wheels, it's wildly intense'.
Read our Ferrari 812 Superfast review
Ford GT
Purists might point to the 3.5-litre Ecoboost V6 in the Ford GT as a reason for it being unfit to sit at the supercar table, but they would be missing the point. This homage to the GT40 original of the 1960s is brutally quick, helped in no small part by the fact that it weighs little more than a new Ford Focus.
More than just a cliched race car for the road, the Ford GT feels ready for Le Mans. Extensive use of carbon fibre, scissor-style doors and 656hp are the ingredients for an incredibly exotic supercar.
We said: 'It responds like a race car. Anti-lag technology keeps the thrust coming, while the dual-clutch gearbox never pauses for breath. Its suspension is taut and nailed-down, its steering telepathically direct. Switch into Track mode and the whole car drops by 50mm, but even in Normal it feels fiercely focused. However, while its sheer speed intimidates, its balanced, cohesive chassis does not. By the time my brief session comes to an end, I'm convinced I could win Le Mans'.
Honda NSX
In common with the Ford GT40, the original Honda NSX is famous for giving Ferrari a bloody nose. The new Honda NSX hasn't troubled Maranello in quite the same way, but it's a very modern take on the supercar formula.
Highlights include a pair of turbochargers, three electric motors and a nine-speed gearbox driving all four wheels. It's properly quick, yet you can cruise silently in town using electric power only. A 0-62mph time of 3.3 seconds and fuel economy of 26.4mpg are unlikely bedfellows.
We said: 'The Honda NSX is a supercar for the modern era – riotous fun with a conscience. Even without the whiff of nostalgia, it lacks the charm of the original, but as the car industry rushes towards electrification, it feels forward-thinking and right for its time'.
Lamborghini Aventador SVJ Roadster
The 6.5-litre V12 in the Lamborghini Aventador SVJ Roadster develops 770hp at a heady 8,800rpm, launching it to 62mph in less than three seconds. Hold on to your hats, because it'll even hit 200mph with the targa roof off.
This is Lamborghini at its outrageous best, with scissor doors in the style of the Countach and a louvred engine cover in a nod to the Miura. The inside is as wild and flamboyant as the outside, which is the kind of sauce we demand from Sant'Agata Bolognese.
We said: 'For sensory overload and sheer supercar theatre, the SVJ Roadster is king. Yes, a (much cheaper) Lamborghini Huracan Evo is a far better all-rounder, but [my son] isn't bothered about that. He's already changed my desktop wallpaper and wants an Aventador poster for his room. Well, we can all dream'.
Read our Lamborghini Aventador SVJ Roadster
Lamborghini Huracan Evo RWD
Would you trade a little power and performance for the thrill of a rear-wheel-drive supercar? We would, which is why the Lamborghini Huracan Evo RWD makes our list of the best supercars. Lamborghini, you had us at 'RWD'…
Its 610hp naturally aspirated 5.2-litre V10 might be 30hp down on the standard Huracan Evo, but it's also 33kg lighter. It'll sprint to 62mph in just 3.3 seconds before hitting a top speed of 202mph. Crucially, it feels more alive and nimble in corners; you might be going slower, but the RWD feels faster.
We said: 'With only two driven wheels, the RWD is a tricky prospect. You feel the car move around in corners, its steering more nuanced and throttle-dependent, its handling edgier and more exuberant. It rewards commitment and demands respect, particularly on damp roads. On a track, it would be an absolute hooligan.'
Read our Lamborghini Huracan Evo RWD review
McLaren 720S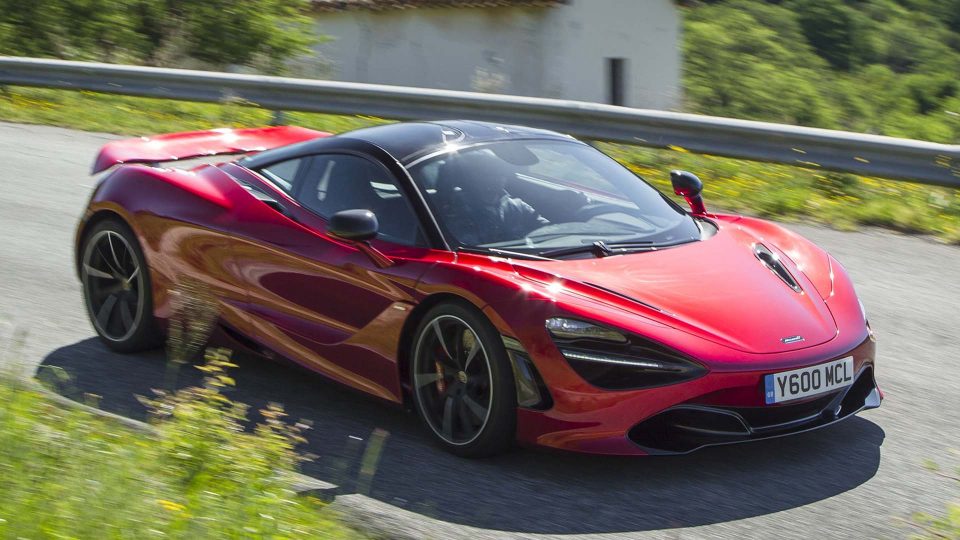 We declared it 'the new supercar benchmark' when we first drove the McLaren 720S in 2017. Even now, four years later, the thought of spending some quality time with the 720S makes the hairs on the back of our necks stand to attention.
The Huracan Evo and F8 Tributo might have the edge in terms of outright excitement, but the McLaren is a supercar you could live with every day. A fairly modest footprint makes it ideal for a British B-road, while a 720hp 4.0-litre V8 is plenty quick enough, thank you.
We said: 'Seven days with a supercar makes one weak. Especially when it's the 212mph McLaren 720S'.
McLaren 765LT
The LT (Longtail) name is shorthand for McLaren's track-focused supercars. This makes the 765LT the hardcore version of the 720S; faster, more powerful, lighter and more extreme than the supercar you could you use every day. Novices need not apply.
Power rises 45hp to 765hp, the weight drops 80kg to 1,229kg, and the 0-62mph time falls to a wild 2.8 seconds. The Pirelli Trofeo R tyres and carbon-ceramic disc brakes leave you in little doubt that the 765LT was designed for the track, leaving the 720S for the Sunday morning blast to the corner shop.
We said: 'This isn't a hold-on-and-hope rollercoaster ride. The McLaren's hydraulic steering overflows with tactility and its chassis is benign and forgiving. Oversteer is there if you want it, of course, but the 765LT rewards tidy lines and accurate inputs, not heavy-footed hooliganism'.
Porsche 911 Turbo S
The Porsche 911 Turbo S might cost £160,000, but it offers the performance and pedigree to rival some seven-figure hypercars. Its 3.7-litre flat-six engine develops 650hp, helping it to hit 62mph in just 2.8 seconds.
Also available as a Cabriolet, the 911 Turbo S is arguably too fast for the road, but we could say the same about the other nine cars on our list here. Certainly, few cars are as capable and covetable as the Turbo S. Where the old 991 Turbo felt slightly sterile, the 992 is exuberant and engaging.
We said: "Point-to-point, I'm not sure anything is quicker. And no rival offers greater bandwidth either. The Turbo is easygoing enough to drive every day and comfortable enough to cross Europe in a single bound. Yet it's also a richly rewarding sports car, with nuanced steering, unflappable body control and malleable, rear-biased balance. Porsche's purist GT division lent a hand with chassis development – and it shows'.
Read our Porsche 911 Turbo S Cabriolet review
Tim Pitt writes for Motoring Research