Bad news for miners but good news if you want to go jewellery shopping for a ring, diamond prices are down 28 per cent according to Moody's
Diamond prices are set to fall further, as low consumer demand continues to put pressure on miners, according to Moody's research.
The price of rough diamonds dropped 18 per cent in the first 11 months of 2015, and are now down 28 per cent from their peak in the summer of 2014. Prices are now at a three year low.
Sales of diamond jewellery have fallen, thanks in part to a corruption crack-down in China, while margins have been eroded by the strong dollar, leading to oversupply in the market.
Read more: Should you buy diamonds as an investment?
Growth in the global diamond jewellery market slowed to three per cent in 2014, from 12 per cent in 2012. Alrosa, the biggest rough diamond producer in the world by volumes, expects the market to contract by 0.5 per cent in 2015.
The supply glut is compounded by lack of bank credit for cutters and polishers – the intermediaries before diamonds make it to the shops – 72 per cent of whom are in India, and forced to stockpile diamonds, further reducing demand.
Russian mining company Alrosa reduced prices for its gem-quality stones by three per cent in February 2015 followed by another three per cent in April and eight per cent in the third quarter, and has allowed its long-term customers to defer up to half of their allocated supply.
De Beers – a subsidiary of Anglo American, which owns an 85 per cent stake, and the biggest rough diamond producer by value – reduced prices by eight per cent between the end of 2014 and June 2015 and then cut them by a further eight to 10 per cent in August. It too allowed its approved buyers to defer their orders given the weak market.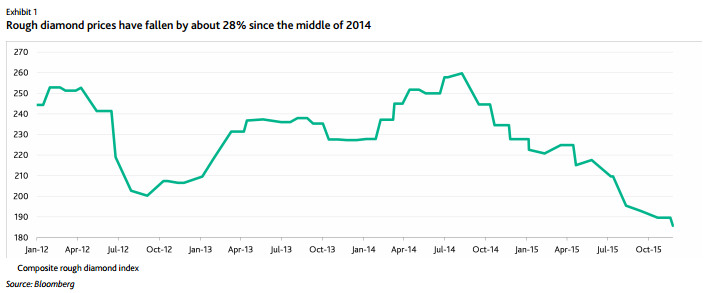 Denis Perevezentsev, a Moody's vice president, senior credit officer and author of the report, said:
The latest drop in diamond prices, which are down about 28 per cent from a peak in 2014, may be insufficient to revive demand and we think producers may have to cut prices further as supply and demand challenges continue into 2016.
While the strong dollar has eaten into sales revenues, (as it cuts the price of diamonds, which are sold in dollars) production costs in Russia, Australia, Botswana and South Africa will be kept down thanks to their currencies' depreciation against the dollar, slightly offsetting the losses.
About 29 per cent of the world's diamonds were mined in Russia last year, with 18 per cent coming from Botswana, 12 per cent from Democratic Republic of Congo and 8 per cent from Canada. The rouble, the Australian and Canadian dollar, the Botswana pula, and South African rand have fallen fallen dramatically against the dollar recently.
Three producers account for 64 per cent of the world's diamond supply, which means production and prices have not varied as wildly as the rest of the commodities market. Alrosa has a 28 per cent market share, De Beers represents 25 per cent of the market, and Rio Tinto has an 11 per cent share.
Perevezentsev added that the decision to scale back production and/or sales will help rebalance the market over the next 12-18 months. And from 2023, a lack of new discoveries will reduce production, boosting prices up again.
In the third quarter of 2015 Anglo American announced it cut De Beers' production of the precious stone by 27 per cent to six million carats due to "current trading conditions". It trimmed its full-year guidance to the lower end of its range at 29m carats.
Big miners, like Alrosa and De Beers, also mitigate price movement by tying their customers into fixed long-term contracts.
Alrosa and De Beers reported Earnings before interest, taxes, depreciation and amortization (Ebitda) margins of 45 per cent and 25.5 per cent respectively, in 2014. Meanwhile jewellery retailers themselves report margins of around five to 25 per cent.