Aviva share price rises after full-year profit leaps and final dividend gets a 30pc boost
The figures:
UK insurer Aviva said full-year operating profit rose six percent to £2.17bn in 2014, slightly above forecasts of £2.15bn.
It proposed a 30 per cent increase to its final dividend taking it to 12.25 pence per share, cheering investors and pushing the company's share price up six per cent to 564 pence per share at pixel time in mid-morning trade.
Net income rose 91 per cent to £1.68bn and new business jumped 15 per cent to a record £1bn.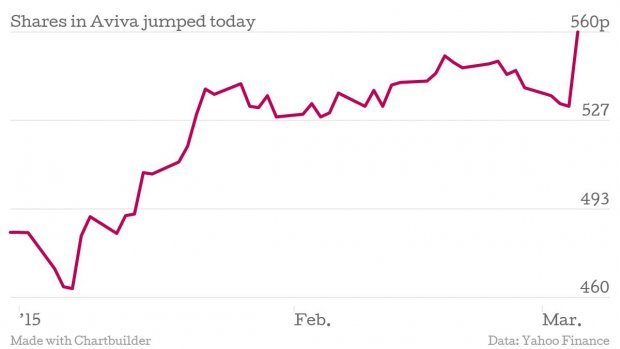 Why it's interesting:
Aviva is in the midst of a turnaround story which has seen it cut hundreds of jobs and hack off several businesses, but today's results show that the sometimes difficult changes are starting to pay off.
The company is now on strong footing ahead of a £5.6bn merger with rival Friends Life due to complete next month. Although some investors had been critical of the acquisition from Aviva's perspective, its chief executive Mark Wilson has pressed on regardless.
However, going forward, it will have to contend with Chancellor George Osborne's shake up of pensions.
Pensioners are no longer obligated to buy an annuity which would provide life-long retirement income until they die, and they get the first 25 per cent of all withdrawals from their pension pots tax-free and the remainder taxed as income.
What Aviva said:
Mark Wilson, group chief executive, said:
These results show tangible progress, with all key metrics moving in the right direction. Cash is up 65 per cent, operating earnings per share is up 10 per cent, value of new business is up 15 per cent and book value is 26 per cent higher.

Operating expenses are £571m lower than our 2011 base-line, debt ratios are down and our full year combined ratio of 95.7 per cent is the best in eight years.

We have entered 2015 in a position of strength … nevertheless, it would be wrong to assume that our turnaround is nearing completion as we have further to travel than the distance we have to come.
In short:
While shares in Aviva soared as investors cracked open the champagne, they should watch out for the froth as chief Executive Mark Wilson issued a very cautious outlook.