His time and effort may be taken up by how to clear a handful of hurdles as quickly as possible, but Andrew Pozzi has plenty else on his mind.
The 27-year-old world indoor hurdles champion over 60m is currently working hard to translate his success into medals over 110m.
Last year he moved from Loughborough to Formia in southern Italy to work with renowned coach Santiago Antunez in a bid for glory at September's World Championships in Qatar and the Olympic Games in Toyko – as of today, precisely one year away.
Read more: British runner Laura Muir making up for lost time after late decision to focus on the track
But had things gone differently, Pozzi could easily be spending his time in the City rather than on the track.
Having completed an undergraduate degree and then a masters in business management at the University of West England and mulled over a PhD in corporate social responsibility, Pozzi had an open mind about his career path.
Injuries meant his place in Team GB for the Rio 2016 Olympics was far from certain and for a time he considered a job in equity capital markets with Credit Suisse.
Ultimately his fitness problems subsided and athletics took over again, but Pozzi's interest in business remains – and remains useful while making his way in elite sport.
"There's lots of stuff that crosses over," he tells City A.M.
"For me, stakeholder management is a big one at a really basic level. As an athlete you're pretty much self-employed, but you've got to work with the governing body, your manager or agent who organises the races, sponsors, physios and doctors and often there can be conflicts between those kinds of things.
"Being self-employed a lot of my study around finance and accountancy was very useful in setting up and trying to look after myself financially.
"Athletics is a strange sport. It's not heavily regulated or controlled.
"For example, if you're a footballer you're always signed to a club and it's quite straightforward, with the club looking after all of your needs.
"As an athlete, even at a professional level, it's very much self-driven and managing that is quite tricky."
Church and state
Pozzi competed at the 2012 London Olympics while still in his second year at university and found his studies a perfect counterbalance to training six days per week.
These days his spare time is taken up by learning Italian and Spanish, but his business background still informs the way he thinks about athletics.
"For a while I was looking a lot at the way money was being used in our sport," he says.
"There are ways in which I felt, from an athlete's point of view and with some understanding of management and finance, that it was being poorly directed.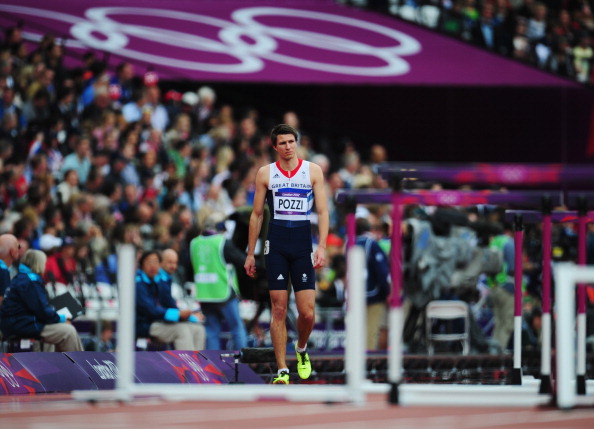 "I kind of felt a little bit too close to it at the time, as an athlete within the system, and subsequently took a step back from it, but it's something I'm incredibly interested in. I think athletics could benefit greatly from better financial understanding."
Pozzi, who is in a relationship with British heptathlete Katarina Johnson-Thompson, is measured in his criticism of British Athletics.
He believes that communication between the governing body and the athletes needs improving, with matters currently kept "very separate, like church and state".
"I think it would be really good to have an interface between the business side of things and the actual athletes," he says.
"Because the athletes are always saying, 'performances are the purpose of the governing body, so why are there loads more back-office staff and what are they doing? Is the revenue which is being generated coming back into performance, or is it being lost in the business side?'.
"It's very tricky for both, not having a clear integration."
For now his focus remains on acceleration, barrier spacing and stride length, but Pozzi's overlapping passions means that, should he wish, he could clear the hurdles to a future in sports governance or finance down the line.
To hear more about Andrew and for commercial and partnership opportunities please contact info@summussports.com
Main image credit: Getty