Accountants at PwC and EY set aside their differences to play on a giant bouncy castle next to their office buildings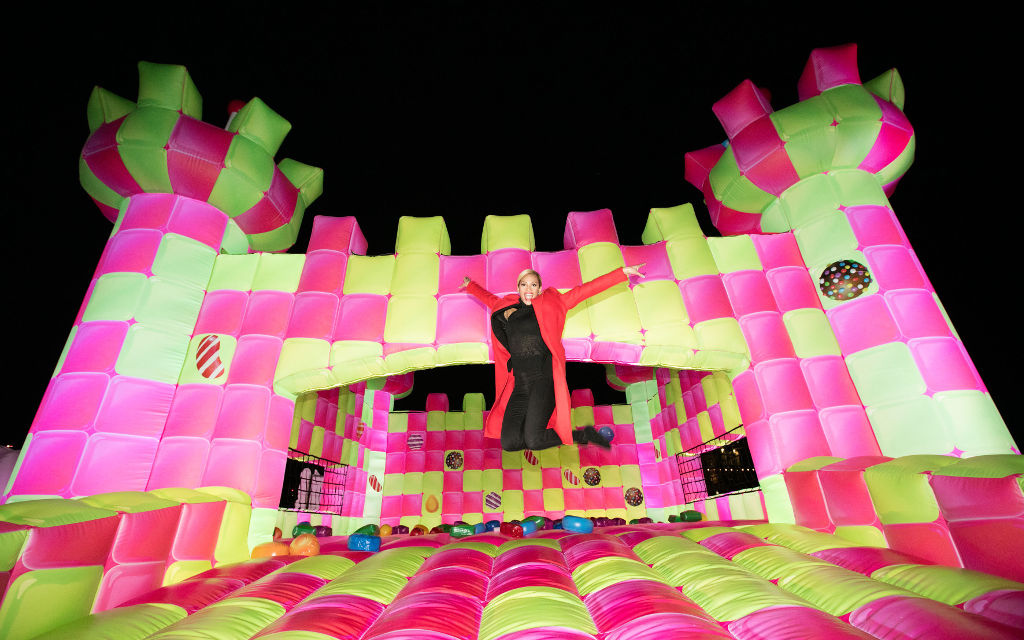 It's well known in the City that the big four audit firms are notoriously competitive. When PwC moved to its current premises at More London by Tower Hill, the firm installed automatic shutters in its windows to prevent neighbours at EY's headquarters from spying.
But accountants and analysts took it to another level last night when they battled on a bright pink bouncy castle outside their own offices, provided by the creators of mobile game Candy Crush, King Digital Entertainment.
King, the gaming firm bought out by Activision Blizzard last week, launched a spin-off of its now-infamous mobile game Candy Crush at More London on Wednesday evening, installing an enormous bouncy castle next to EY and PwC's offices.
Named 'Bouncingham Castle', gaming chiefs called on singer Alesha Dixon to unveil the adults-only inflatable monolith near Tower Bridge, inspired by the new jelly-themed competitive game Candy Crush Jelly Saga.
According to the games company, the castle emits "the smell of raspberry jelly within its walls" as well as playing noises from the game when jumpers bounce on certain squares, bringing the mobile gaming app to life.
The castle stands at seven metres high and eleven metres wide, as tall as a house and the length of a double-decker bus; providing accountants with plenty of room to use the installation as a weapon.
The castle was open to the public, and needless to say More London's financiers couldn't resist a quick bounce on their way to the station.
One graduate at PwC couldn't decide whether he was more impressed by the castle or Alesha Dixon.
The Capitalist was told that, on hearing about the bouncy castle, teams both audit firms took inspiration from another one of Activision Blizzard's infamous video games Call of Duty, and planned to use installation to launch themselves into each other in a gruelling, colourful attack.
A first aid crew was on hand to make sure the financiers played nice.