Yahoo's email servers have suffered a fault that has blocked users around the world from using the service, with many complaining they cannot work.
The problem has also hit the email services of UK companies Sky, BT, and Talktalk, which piggyback off Yahoo's network.
Read more: Natwest and RBS website outages hit online banking customers
Yahoo said on Twitter: "We're working diligently and will do our best to keep you in the loop as we work to address technical issues with accessing some of our services. We will be posting as soon as an update is available and thank you for your patience!"

Yahoo first alerted its customers to the fault some time ago. Although some users say they now have access to their emails, others say they are still blocked.
BT tweeted: "Yahoo is currently experiencing a global outage, which means that many of our customers are unable to access their BT Yahoo email accounts. Yahoo is working to fix the issue as quickly as possible, we're sorry for any inconvenience caused."
Sky's customer services tweeted: "We apologise for any inconvenience caused and we are working hard to restore services as soon as possible."
Mapping the Yahoo Mail outage
Outage monitoring site Downdetector registered thousands of complaints starting at 8am today, with most users coming from the UK while India and the US were also affected.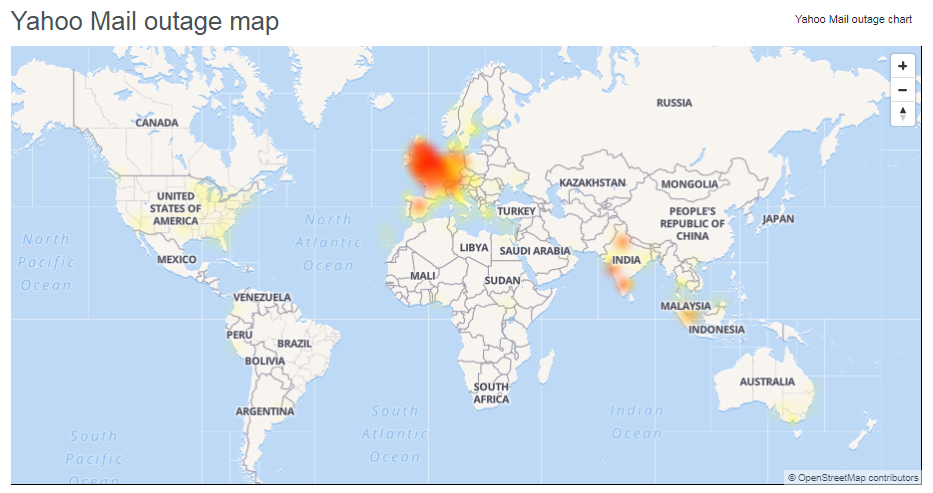 Users took to Twitter to express their anger at the outage, which has stopped many working.

Yahoo Mail down: Twitter users vent anger
One angry Twitter user said this was not the first problem with Yahoo's emails this year.

He tweeted: "I have been contacted Twice already by @SkyUK just this year about a #YahooMail security breach who advised me I had to change my password for security reasons. Today's failure does not surprise me but its getting a complete shambles now!!"

Once the biggest email provider in the world, Yahoo has fallen dramatically behind Google's Gmail in recent years. Gmail has well over 1bn users, whereas Yahoo had just over 200m in 2017.

Read more: British Airways IT outage forces airlines to cancel flights